MTS, the mobile service operator which now has operations within 9 circles in the country, has rolled out a new dongle that is customizable and has got its price listed as Rs. 1299.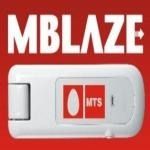 The newly launched MTS dongle can be customized using music, gaming or lifestyle themed stickers in order to give them a personal touch. MTS's new dongle will bring along with itself some additional benefits such as free 15GB data along with some value added service that are valid for six months. The customers are require to pay an amount of Rs. 1299 and get a first recharge of Rs. 888 done on the internet connection in order to get 8GB of free data usage free along with a validity of 30 days.
Additionally, the company is also offering as a freebie a free data worth more than Rs. 2600 along with value added services MTS TV, MTS Music and MTS Games on Demand worth more than Rs. 700.
But, at the same time in order to seize the free data the customers are required to do a recharge of Rs 248 for six months in order to avail the 4GB free data and unlimited access to social networking sites such as Facebook, LinkedIn and Twitter. The following three months will bring to the customer 3GB of free data which will then followed by 1GB free data in the fifth and sixth month. These freebies will be complimentary in addition to the regular data of 1GB that the company offers under the Rs. 248 plan.