This is a little old news (about 3-4 weeks old), but we felt it is important to highlight it again as lot of news gets lost in the middle of information overload these days!
MTS India launched its first CDMA smartphone to commemorate its achievement of reaching 10 million customer base. The handset is called as MTS Pulse which is basically a rebranded version of HTC Hero CDMA. The sweet deal is here is that MTS is offering the handset FREE if you subscribe to a one year contract with MTS for a minimum monthly plan of Rs. 1,500. First let's have a brief look at the handset and then will find out more details about the contract.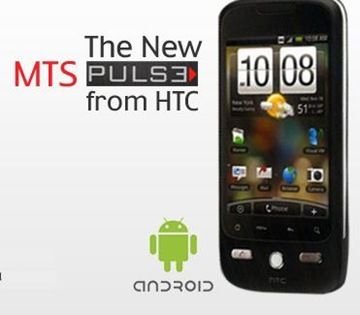 MTS Pulse is an Android smartphone (running version 2.1) powered by 528 Mhz Qualcomm processor, 288 MB RAM. The handset has a 5 mega pixels rear facing camera and has a 3.2 inch touchscreen display with a resolution of 320×480 pixels. The connectivity options include Wi-Fi, Bluetooth, GPS and micro SD Slot (that can support upto 32 GB; and a 8GB card is supplied free along with the handset). The phone operates on CDMA/EVDO frequency. Therefore, you do not require any SIM Card and the phone is tied to the operator. 1300 mAH Battery provides decent backup. The main disadvantage being the handset cannot be upgraded to froyo or beyond.
Now back to the contract. There are 3 options:
Option 1: Under option 1, you subscribe to Rs. 1,500 monthly plan for atleast 1 year. You get MTS Pulse handset free. You get 1500 minutes of talk time free, 1500 text messages and 1500 MB of data free every month as part of the plan.
Option 2: Pay Rs. 6,000 upfront and pay Rs. 1,000 per month for 12 months. You get 1000 minutes of talk time free, 1000 text messages and 1000 MB of data free as part of the plan every month.
Option 3: Pay Rs. 16,000 upfront and you are free to choose any plan from MTS that you like. You can even pay the Rs. 16,000 in twelve equal interest free installments).
Now, to the big question. Is this deal worththe money? Well, it depends on your mobile usage plan. If you are loyal customer of MTS and are a heavy user and prefers touchscreen phone, then you should take this offer without any thought. For others, you can buy even better handsets at lower price and choose any plan and any operator that you like.
But, what is commendable about this initiative from MTS is that they are enforcing the belief of "operator subsidized phones concept" that is prevalent in the developed countries. There are enough customers out there who are very loyal to the operators. Some of them are definitely missing out on these kind of operator subsidized phones. Few operators are offering it here and there. But it's high time that this becomes mainstream in India too…!