"A first look at Motorola's latest flagship, the Moto Turbo"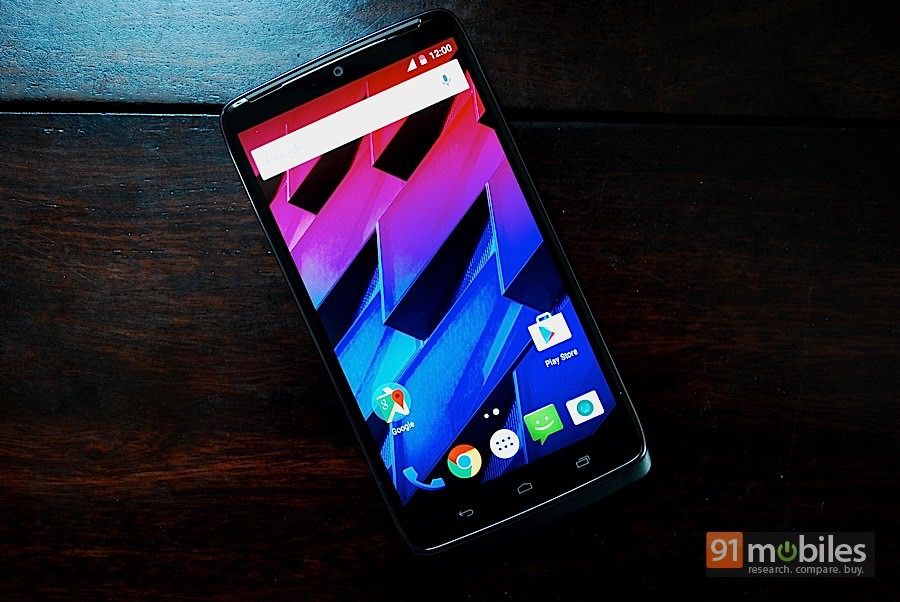 Motorola made quite the splash in India last year with its affordable-yet-powerful lineup consisting of the Moto E, Moto G and Moto X. The brand followed suit with second-gen variants of all three devices, and is now targeting the premium flagship space with the Moto Turbo. Known in other markets as the Droid Turbo and Moto Maxx, the Moto Turbo is priced at Rs 41,999 in India and available exclusively from Flipkart. Given Motorola's past pricing strategy, the steep price of the Moto Turbo might come as a shock to many, but one look at the specs and you might be pacified. It features a 5.2-inch QHD AMOLED display, and is powered by a 2.7GHz quad-core Snapdragon 805 chipset, working in tandem with 3GB of RAM and 64GB of storage. Photography is handled by a 2MP camera up front, and a 21MP Sony sensor with dual-LED flash at the back. Fuelling the device is a generous 3,900mAh battery. As with all Motorola smartphones, the Moto Turbo also runs a stock version of Android, in this case v5.0.2 Lollipop. We have the Moto Turbo in our labs and we're going to begin by giving you a first look at the smartphone and its box contents.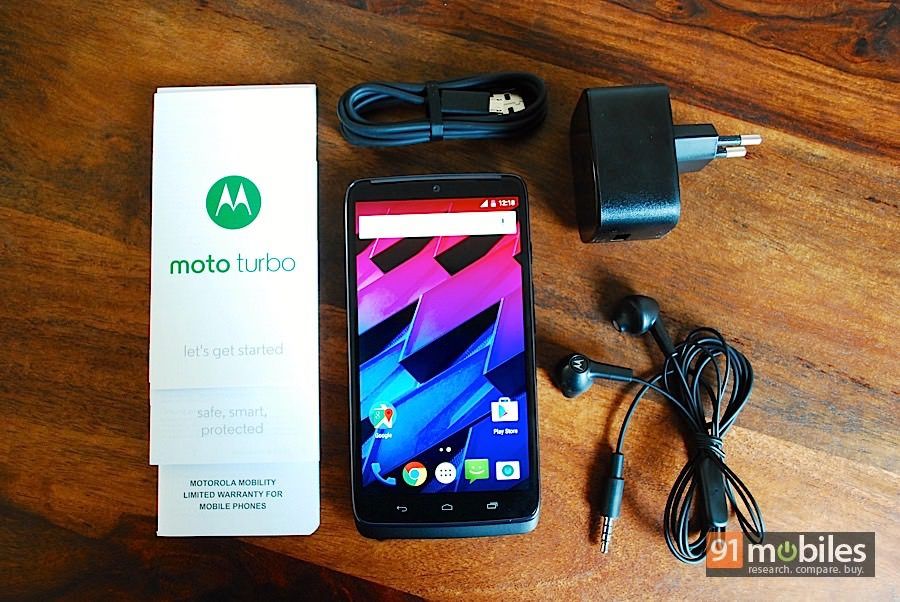 The Moto Turbo comes in a rather bulky cardboard box. It opens like a book, to reveal the smartphone right on top. Below it is paper case which holds the start-up guide, warranty and safety information. Tucked away underneath you'll find a wired headset with a mic, a micro-USB cable and a 2-pin wall charger. The 15W charger (called the Motorola Turbo Charger) is equipped with Qualcomm's QuickCharge 2.0 tech, which the company claims can deliver up to 8 hours of usage after just 15 minutes of charging.
Now that we've taken a look at the box contents, let's move on to the smartphone itself. The Moto Turbo won't win any awards for thinness or lightness, but it boasts great build quality. The front of the device features narrow bezels on the top and bottom, and the 5.2-inch screen size ensures it isn't too unwieldy to hold in one hand.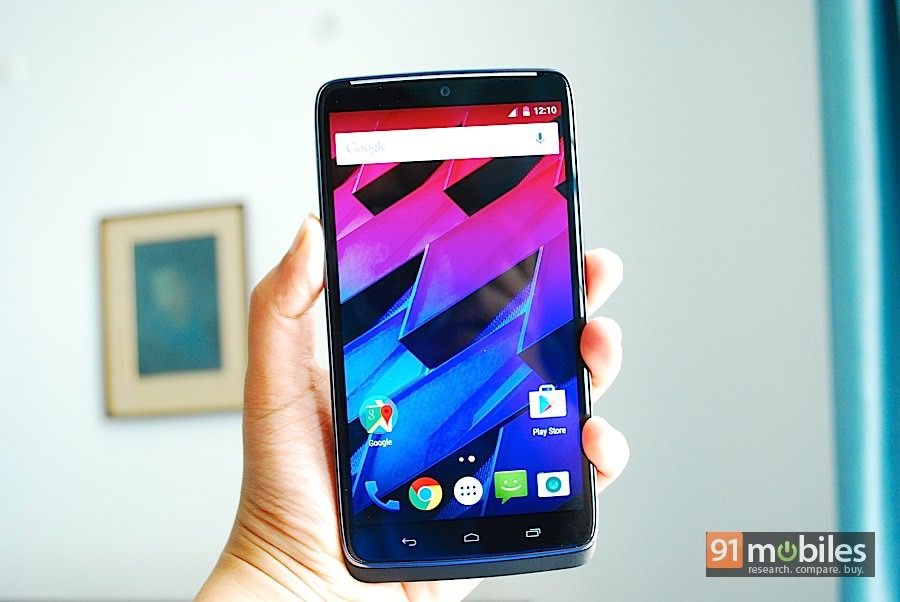 With its 2K resolution, the display gets a pixel density of 565ppi, and it looks fabulous. It's clear and sharp with great viewing angles and vibrant colours, thanks in part to the AMOLED technology. Corning Gorilla Glass 3 and a water-repellant nano-coating provide protection from scratches and splashes.
Above the screen is where you'll find the 2MP primary camera and sensors. On the fascia is a row of capacitive backlit Android keys, along with two microphones. A rubberised material surrounds the edges, and juts out slightly below the chin. The right spine is home to the power button and volume rocker. The latter also doubles up as a SIM card tray, and can be pried out to reveal a single slot for a nano-SIM. The 3.5mm audio jack is on top, while the micro-USB port is at the bottom.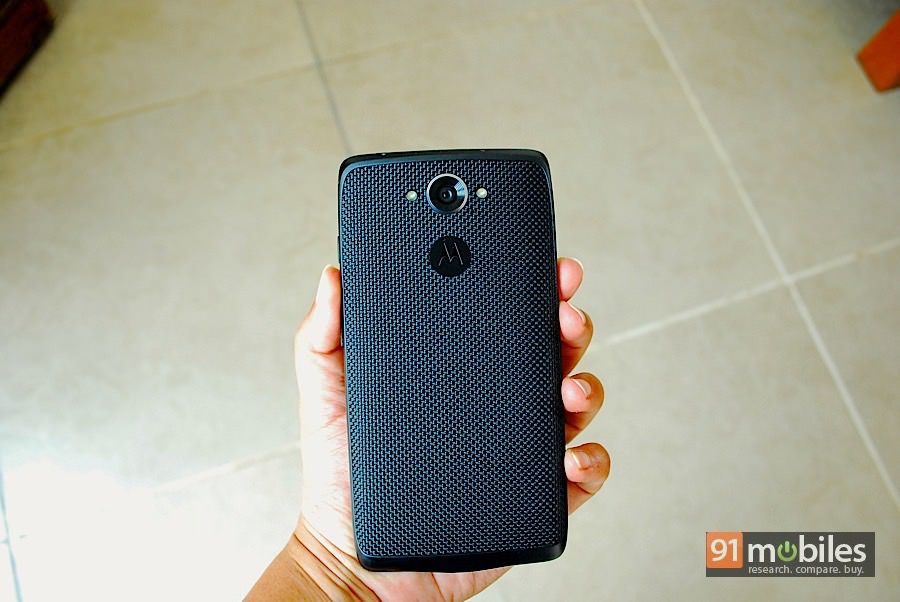 The back panel though is where things get really interesting. Instead of the usual metal or plastic, Motorola has opted for Ballistic Nylon to adorn the rear. This tough woven material looks gorgeous, and its textured finish provides good grip while keeping smudges and fingerprints at bay. The Moto Turbo is also available in a Kevlar edition in the US, but this isn't available in India. The rear panel holds the primary 21MP camera, flanked by an LED flash on either side. The dimpled Motorola logo has been replaced with an embossed metal plate. The rear camera has a wide f/2.0 aperture and can record 4K video at 24fps, but we'll save our comments on image quality for later.
Like we mentioned earlier, the Moto Turbo runs a nearly stock version of Android Lollipop. The usual Motorola suite of enhancements is present, including Moto Display, Moto Alert, Moto Voice and more. We've already explored these in detail in our Moto X review, and we'll recap on them when we review the Moto Turbo too. In India, the device is available in a single 64GB storage version. On a fresh reboot, there's 53GB of space available. Even without a microSD card, that should be plenty.
In terms of connectivity, the Moto Turbo offers dual-band Wi-Fi 802.11ac, Bluetooth 4.0 LE, NFC, A-GPS and 4G. Unfortunately, the only Indian LTE network supported is Band 3, which is yet to launch here. The more popular Band 40 is not supported, which considering its price, could be a put off for many. The 3,900mAh battery is one of the highlights of the device, and should last a day and a half at least, taking into account the 2K display. Apart from the Turbo Charger included in the box, the device also supports wireless charging, although you'll need to buy a Qi wireless charger separately.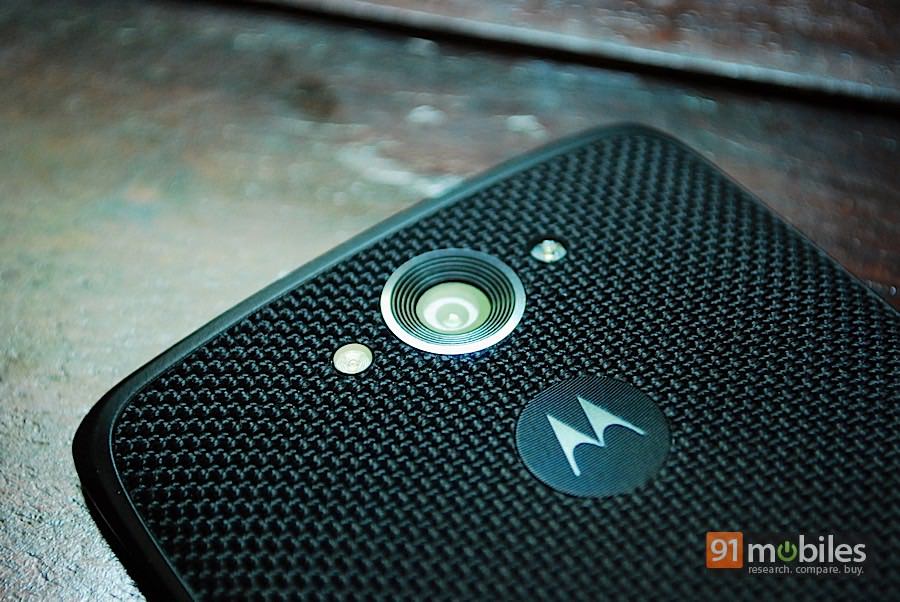 From our first look at the Moto Turbo, we're already impressed with its display, build quality and specs. However, we'll need to go through our usual testing process before we give you our verdict, so stay tuned for our review.