Motorola Droid RAZR and RAZR MAXX are one of the most popular Motorola devices during the past some time. But the only point at which these two smartphones felt left behind was the absence of the latest Jelly Bean OS. Now, the tech manufacturer is unfolding the Android 4.1 (Jelly Bean) operating system update for these two of its innovation.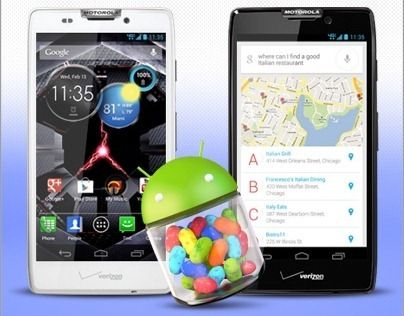 Motorola Droid RAZR and RAZR MAXX tasting the Jelly Bean would be able to access the Google Now, which is these days considered as a revolutionary feature. The update will also introduce the voice search and expanded notification feature to the two smartphones. Thus, Motorola now being owned by Google seems to be acting quite sensibly by updating its devices.
For all who don't know, Google Now enables a user to keep a track record of his/her busy life. It generates notifications automatically even before the user asks for it. It will enable the Motorola Droid RAZR and RAZR MAXX to deliver sports scores, updates from stock exchange, weather forecasts along with major traffic updates.
The Voice Search allows a user to ask any question and get back the answer automatically. The device will either give a spoken response or deliver search results that will answer the user's query. Whereas, the Expanded Notifications feature enable the user to call or message someone directly from the missed call notification.
The Jelly Bean update for the Droid RAZR and RAZR MAXX will arrive in stages, just like most of the OTA updates.So, don't worry if you have not found it yet on your device as it will arrive eventually.