Motorola drew the attention of the world yesterday by announcing the super cool, ultra-thin Android smartphone called Droid Razr. Motorola also announced one other product called MOTOACTV – The ultimate Fusion of Fitness and Music. Motoactv is a fitness tracker cum music player that can be worn around your arm or wrist. This is a very intelligent device. Look at the things that the device can perform:
Tracks the time spent, distance covered, speed captured and calories burnt.
Accusense Sensors and GPS tracking to monitor your indoor/outdoor running or cycling performance.
Can store upto 4000 songs. Intelligent enough to learn which songs motivates you [Achieves this by combining that data about performance, song played during performance etc.,]
Designed for rough-and-tough conditions. Motoactv is sweat-proof, rain-proof and scratch-proof [thanks to corning gorilla glass].
Touchscreen display automatically adjusts the brightness to lighting conditions.
Audio coach gives you updates and keeps you motivated [through the online content]
You can sync your workout data with the MOTOACTV.COM website and share your data with your social circle. You can see where you stand!
Features ANT+ and Bluetooth 4.0 connectivity options.
Comes with built-in FM Radio.
Features 1.6 inch touchscreen display!
2 weeks of standby and 10 hours of battery life.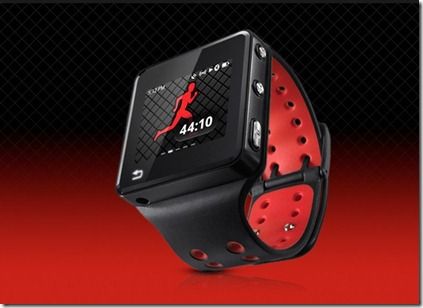 Motoactv is compatible with Android Smartphones. You can install the Motoactv Android App from the Android marketplace. This app does two things. First, the app allows you to take calls or make calls through MOTOACTV device. The devices talk to each other through bluetooth. Just make sure the devices are within the bluetooth range! Second, the app can download the vital data from MOTOACTV device to your android smartphone which you can use to analyze your performance and make your fitness plans. Sounds cool!
Let's come to the pricing and availability. The device is not available in the market yet. Motorola will launch this device in US by november 6, 2011. There will be two versions of motoactv. Motoactv 8 GB will cost $249 and Motoactv 16GB will cost $299.