"Which 'droid will you pick?"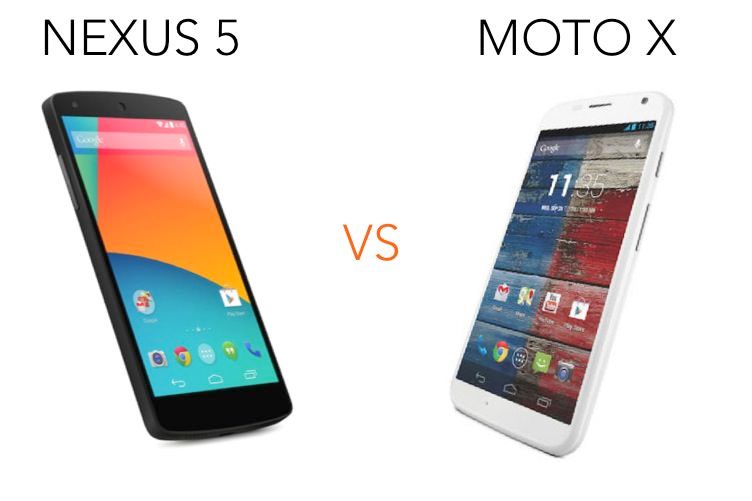 Launched in India last year, the Google Nexus 5 has been a favourite with Android fanboys. A combination of killer specifications, unadulterated Android KitKat and Google branding make it a formidable device, even among its heavyweight counterparts like the Samsung Galaxy S4, HTC One and LG G2. The Moto X, recently launched in India despite being a few months older than the Nexus 5, doesn't offer those premium specs, but with its unique features and colourful variants, is a refreshing alternative to your standard Android smartphone. With both the Nexus 5 and Moto X hitting the sweet spot priced under Rs 30,000, a comparison between the two is inevitable. For those of you who can't decide, we've stripped them down to their bare specifications, so you can decide which one to tuck those bills into.
Design
The good news is that no matter which device you pick, you won't be dealing with the cheap stuff. Both smartphones sport a soft-touch, rubberised rear panel, which besides providing a good grip, also tends to be more sturdy than the flimsy plastic running rampant among their kin. The Nexus 5 is offered in black, white and more recently, a luscious red edition. The Moto X, on the other hand, offers a wider choice. Apart from black or white, you can get it in red, Royal Blue, Turquoise or even with real wood back panels finished in Walnut or Teak.
Display
If you like larger displays, the 5-inch screen on the Nexus 5 might catch your fancy. The Moto X isn't too far behind though, with a 4.7-inch display. In terms of resolution, the Nexus 5 goes all out with its 1080p resolution, resulting in an ultra-sharp pixel density of 445ppi. The Moto X gets a slightly subdued 720p panel, with a 312ppi pixel density. Both displays offer Corning Gorilla Glass to safeguard against scratches.
Performance
The Nexus 5 gets a powerful quad-core Snapdragon 800 processor clocked at 2.3GHz, paired with 2GB RAM and Adreno 330 graphics. The Moto X, on the other hand, feeds off a slightly underpowered 1.7GHz dual-core Snapdragon S4 Pro processor, along with 2GB of RAM and an Adreno 320 GPU. While the Nexus 5 might outperform the Moto X in benchmarks, lets not forget that the latter rocks a co-processor, which handles voice commands and analyses data from the various sensors, taking a load off the main chip and translating into better battery savings too.
Cameras
The Nexus 5 has received a lot of flak for its underwhelming camera from the start, despite Google rolling out various updates to get it up to par with the competition. While it sports a pair of 8MP rear and 1.3MP front cameras, the Moto X's 10MP rear and 2MP front shooters offer superior resolution. However, they both have their trump cards. While the Nexus 5's camera features OIS (Optical Image Stabilisation), the Moto X offers a slick Quick Capture gesture to start the camera with a double twist of the wrist.
Software
Both smartphones stick to plain vanilla Android 4.4.2 KitKat operating systems. The Moto X does add in a few software tweaks though, but doesn't clog the phone with extra apps and bloatware like many brands are wont to do. Instead, it offers some thoughtful and intuitive controls which lend it a futuristic air. While both the Nexus 5 and Moto X respond to 'OK Google' voice commands, the Moto X's
Touchless Control
functionality ensures its always listening, so you can use voice commands even when the display is asleep. It also offers a host of other features, such as
Active Display
which displays notification icons when the phone detects activity,
Assist
which reads out notifications when you're driving, and
Motorola Connect
to reply to texts from your browser.
Storage
Unfortunately, both the Moto X and Nexus 5 don't offer expandable storage, so you'll have to make do with what you get. The Nexus 5 is available in 16GB and
32GB
variants, while the Moto X is only available in a 16GB version (there's a 32GB model available internationally).
Battery
While the Nexus 5's battery has a marginally higher 2,300mAh capacity compared to the Moto X's 2,200mAh, the latter offers better battery savings thanks to its diligent X8 processor.
Price
As always, the biggest decider in any comparison is price. The Nexus 5 retails at Rs 28,999 (16GB), the Moto X is priced at Rs 23,999. The
wood back
variants will set you back by Rs 25,999, which is still a good Rs 3,000 cheaper than the base Nexus 5.
Verdict
We're going to be honest with you. If you were to compare the two devices on paper, the Nexus 5 would win hands-down for its powerful configuration. But tech specs aren't indicative of an overall user experience, and that's where the Moto X really shines. The bottomline is, if you're looking for a fully-decked, powerful Android smartphone, the Nexus 5 wins hands-down. But, if you're willing to forgo the top-of-the-line specs for a device that's both feature-packed and intuitive, the Moto X is the dark horse that might be worth your money.