No smartphone has created as much brouhaha in recent times as the Moto G, and not without good reason. We've been getting innumerable queries from our readers on the features and capabilities of Motorola's comeback vehicle in India, and while you'll have to wait just a little more for the full review, here are some of the common queries and our answers: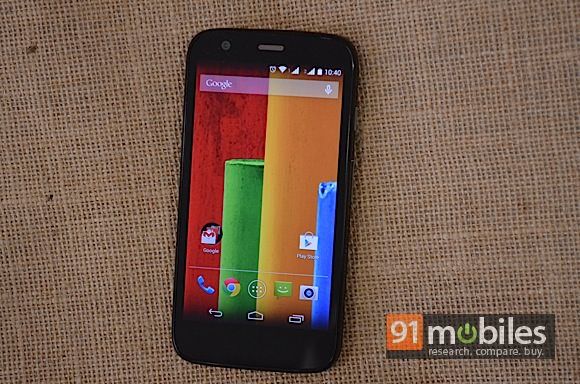 What SIM card does the Moto G accept?
The Moto G available in India is a dual-SIM device and accepts micro-SIM cards in both the available slots.
Does the Moto G have a microSD card slot for memory expansion?
Sadly, no. And that's one of its major downsides.
Does the Moto G have FM radio?
Yes, it does. So you can enjoy music even if you're bored of tracks stored locally.
So the Moto G comes in 8GB and 16GB variants. What's the actual storage capacity I can make use of?
The Moto G 8GB will give you about 5.5GB to use, while its 16GB sibling will offer about 13GB, give or take a few.
Does the Moto G support USB On-the-Go or USB host functionality?
Yup, the Moto G supports USB OTG and all you'll need to make use of it to connect external flash drives is a cheap adapter and a free file manager app such as
Astro File Manager
from Google Play.
What kind of dual-SIM support does the Moto G feature?
The dual-SIM Moto G available in India supports dual standby. This means that one of the two numbers will be unreachable to callers if the other one is in use.
Does the Moto G support 3G on both SIM slots?
The answer to that one is yes.