"The affordable Moto E comes packed in a compact box, which doesn't really hold any surprises"
The budget smartphone segment in India is a boiling cauldron, with a smorgasbord of brands, both local and global. It's also the most price-sensitive, where a difference of a few hundred rupees matters, and potential buyers are looking to squeeze the most out of their dough. Available specs vary too, and usually, the one that can offer the best specs stands out the most. Everything isn't just about specs though, and quite a few other things also get weightage – right from the brand name to post-sales support. Brand repute, in fact, is something that's given a lot of importance, since the budget consumer covets something that's reliable and will last a long time. With its Moto E, Motorola has dived head-first into this tumultuous arena, hoping its offering will be able to find similar success as its chart-topping Moto G.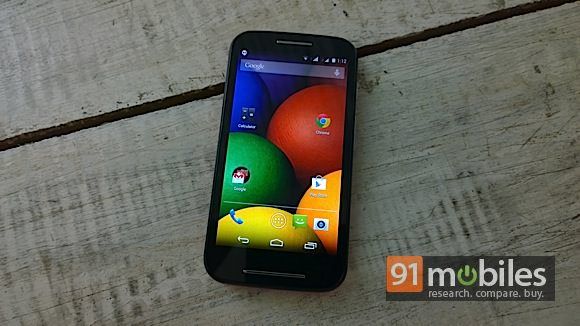 Priced at Rs 6,999 and available exclusively on Flipkart, the Moto E seems to have created a big wave, considering it was sold out on the very first day. It'd be too early to say that it's a huge success, but it does look like Motorola has a winner on its hands. The Moto E looks like a compelling device with dual-SIM support and good specs for the price, and the fact that it runs the latest Android KitKat, that too a near-stock build with the company promising a guaranteed upgrade to the next version bodes very well for it. And based on our first impressions, we know it sports a solid build too. While a full review, coming up shortly, will reveal the exact details, let's take a quick look at the box contents.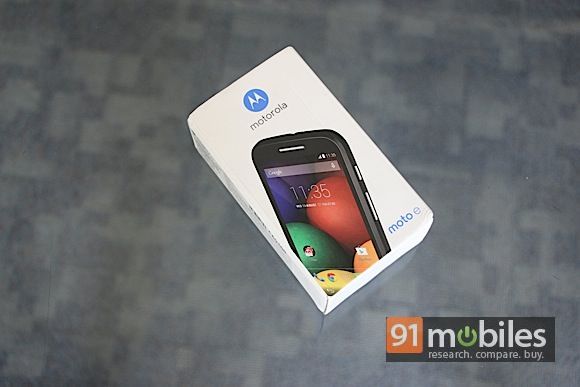 Opening the compact box reveals the device sitting snugly inside. Next, we opened the flap to discover the exact same contents as the Moto G retail package.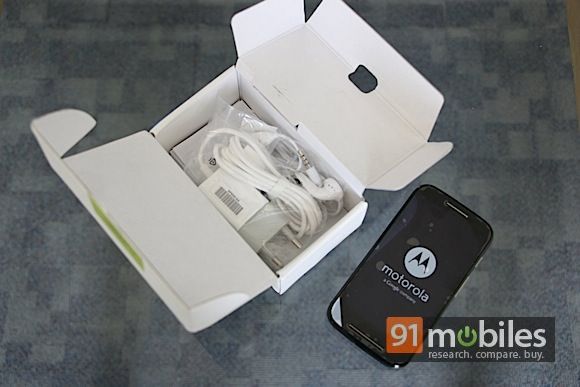 A two-pin 550mA wall charger came out next. It's a white-coloured contraption and comes with a fixed cable, again, just like the Moto G. A white wired headset is also included.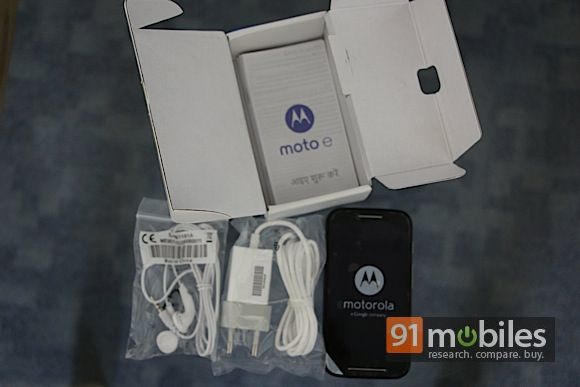 All that's left inside are a few leaflets making up the Getting Started guides and warranty info. We looked very hard, but couldn't find any USB to micro-USB cable for transferring data, so it seems you'll have to get one on your own. The Moto G pack didn't have one too. Now the Moto E may be a budget device, but we don't think including a USB cord would've added significantly to Motorola's cost – so this is definitely an unwelcome exclusion and quite inconvenient for those who don't have a spare one lying around.

That of course, doesn't take away anything from the fact that the Moto E looks like a worthy device in the sub-Rs 10,000 category, and we can't wait to put it through our extensive review treatment… watch this space.

Related read: Moto E first impressions