"The highly-affordable Moto E could create waves large enough to rock the budget smartphone segment in India"
Motorola's touting the Moto G as its largest selling handset ever, and we don't really have a reason to doubt that. It could've flipped the carts, so to speak, for the online retailer Flipkart too, with whom the manufacturer has an exclusive tie-up to sell its smartphones in India. The Moto G is certainly a very compelling smartphone in its price category, being disruptive enough to make rivals rethink their pricing strategies. We definitely loved it when we reviewed it and think it's the most value-for money smartphone we've seen in recent times. Today's a brand new day however, and Motorola's now ventured into the budget segment with its super-affordable Moto E… eying the lucrative slice of the sub-Rs 10,000 smartphone pie in India. This is a category that sees the maximum volumes and at first glance, the Moto E looks like it has what it takes to create a big ripple, which is obviously what Motorola wants.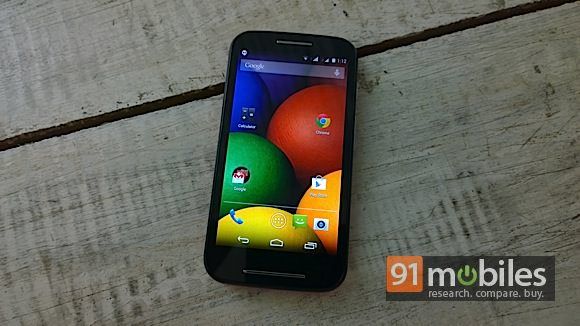 At the global launch event in New Delhi today, Motorola unveiled the Moto E amidst much fanfare, and we were around to get a glimpse of it first hand. We did play around with a demo unit as well, and here are our first thoughts.
Both the Moto G and the Moto X follow a similar design language, with a sturdy build and a curvy rear that feels extremely comfortable when held in the hand. The Moto E is no different. It feels even more compact than the Moto G, thanks to a marginally smaller screen, but otherwise follows the same design ethos and port placement.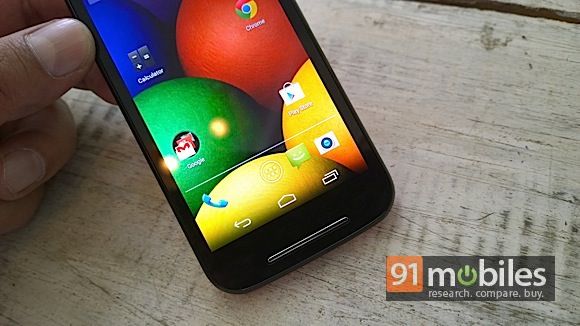 Fitting beautifully in a single hand, the Moto E feels solidly built. The 4.3-inch qHD display takes center stage of course, with no other hardware controls on the fascia. Offering a pixel density of 256ppi, the IPS display features an anti-smudge coating and Corning Gorilla Glass 3.

The front is otherwise plain Jane, with the screen surrounded by a black bezel. The monotony (when the screen is off) is only broken by a pair of chrome-finished strips on the top and bottom – forming the earpiece and mic array. Apparently, the phone speaker is also integrated into the bottom strip. There's no front-facing shooter, so no video calling or selfie-related shenanigans, alas.
Chrome-finish power and volume keys are placed on the right, again similar to the Moto G. The 3.5mm audio socket is on top, with the micro-USB port at the bottom.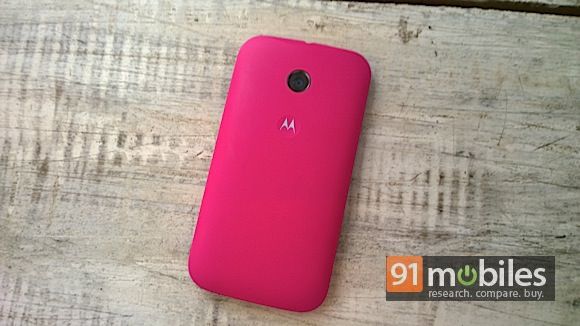 At the rear, there's a 5-megapixel camera, but an LED flash is nowhere to be found. The snapper supports modes like one-tap capture, burst mode, panorama, Auto HDR and tap-to-focus.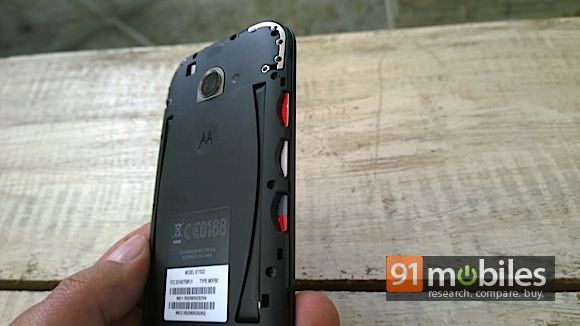 The rear shell can be pried open to reveal the 1,980mAh battery, which cannot be removed. On the right, you'll find a pair of micr0-SIM slots, with a microSD card slot for expanding memory. The Moto E will be made available in black or white, but conforming to expectations, you can customise it with interchangeable rear shells available in a variety of hues. There are nine shades available, to be precise, and an extra shell will cost you Rs 899. You can also opt for a grip cover, available in five colours and priced at Rs 1,099.

Inside purrs a dual-core Snapdragon 200 chip running at a clock speed at 1.2GHz, along with a 400MHz Adreno 302 graphics processor and 1GB of RAM. There's 4GB of internal storage, while the aforementioned microSD card slot can accept another 32GB. The connectivity options cover 3G, Wi-Fi, Bluetooth 4.0, GPS and GLONASS.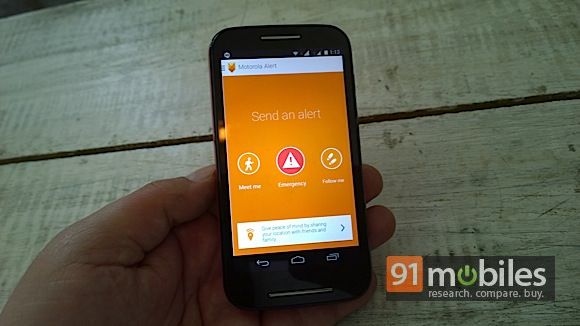 When it comes to software, the Moto E runs a near-stock iteration of Android 4.4.2 KitKat, and Motorola's promising a guaranteed upgrade to the next major refresh of Google's mobile platform. Motorola Migrate and the highly-useful Assist automation app we saw on the Moto G and Moto X are preloaded here as well, but the Moto E boasts a new software feature in the form of the Alert app. This location-based service enables features like Meet Me and Follow Me, for sharing location and helping others track you, respectively. In addition, it also enables an emergency alert feature, much required in this day and age especially for users of the fairer sex.

In our brief time with the Moto E, we found the device quite responsive and it didn't show any signs of lag. It'd be too early to comment on its overall performance, camera capabilities and battery life for now though, till the time we can get our hands on one for a proper review.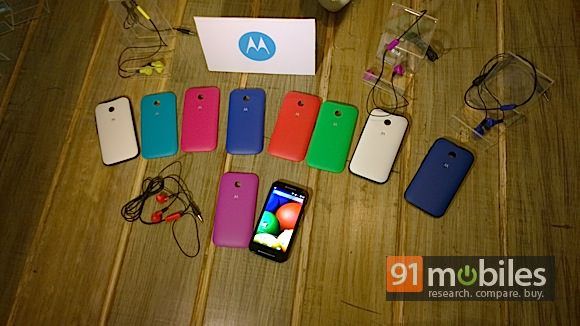 The Moto E doesn't sport a 720p display as we expected earlier, but the pricing is also slightly lower than expected… which makes things even in our eyes. Priced at an enticing Rs 6,999, the Moto E comes across as another smartphone from Motorola that offers superb value for money. Competition is searingly hot in that price segment, but we think the Moto E has what takes to be another bestseller. The device will be available on Flipkart starting midnight tonight, and there are a bunch of mouth-watering launch day offers up for grabs, including 50 percent off on cases and a Transcend 8GB microSD card.