"The super-affordable Moto E looks great value for money, but there are a few caveats"
At first glance, it seems Motorola has killed it once again with its latest offering, the Moto E. The budget device's more accomplished sibling, the Moto G has been widely reported to be a huge success for the company, and apart from being Motorola's chart-topping handset, it set another precedent when it launched exclusively online. The sub-Rs 10,000 price category could be a different ballgame though, since it sees more cut-throat competition and is more sensitive to small differences in cost, specs and maybe, the perceived brand value too. That said, the Moto E certainly seems to have all the right ingredients – affordable price, decent specs, dual-SIM support and the backing of a multi-national brand. Motorola's bestowed it with a solid build – a highly coveted trait in any price segment, but possibly, even more so in the budget category. The manufacturer has also taken care of those who desire customisation options by offering interchangeable rear shells in multiple hues. Other popular features like an FM radio are also included, along with an emergency alert feature that could offer that extra peace of mind, especially for ladies. In our eyes though, one of the most compelling aspects about the Moto E is that it runs Android KitKat, and that too a near-stock build. Secondly, Motorola is guaranteeing an upgrade to the next major refresh of Google's mobile OS… and this definitely bodes well for those who choose to buy it.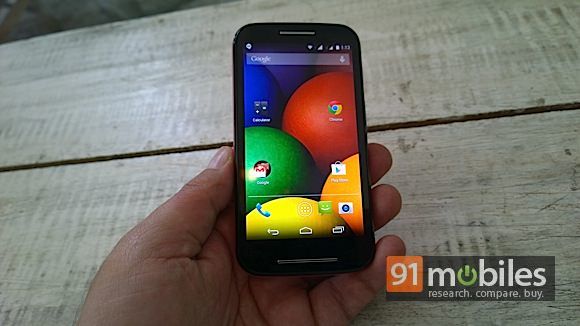 We have a full review of the Moto E coming up shortly, but before that, let's try and address a few commonly-asked queries regarding its specs, feature set and capabilities. As usual, we'll start with taking a look at its core specs.
So how about a spec lowdown and the pricing?
The core specs of the Moto E include a 4.3-inch, 960 x 540 display, which hides a dual-core Snapdragon 200 processor running at 1.2GHz. The display is layered with Corning Gorilla Glass 3 protection, which is quite a feat at this price point. The innards also include 1GB of RAM and Adreno 302 graphics. The 4GB internal storage can be augmented by another 32GB thanks to a microSD card slot. The dual-SIM smartphone lacks a front-facing snapper, while at the rear, there's a 5-megapixel fixed-focus shooter making up the photography department. There's no flash either. A 1,980mAh non-removable battery powers the show. The Moto E will set you back by Rs 6,999.
What kind of SIM cards does the Moto E support? What about its dual-SIM implementation and 3G support?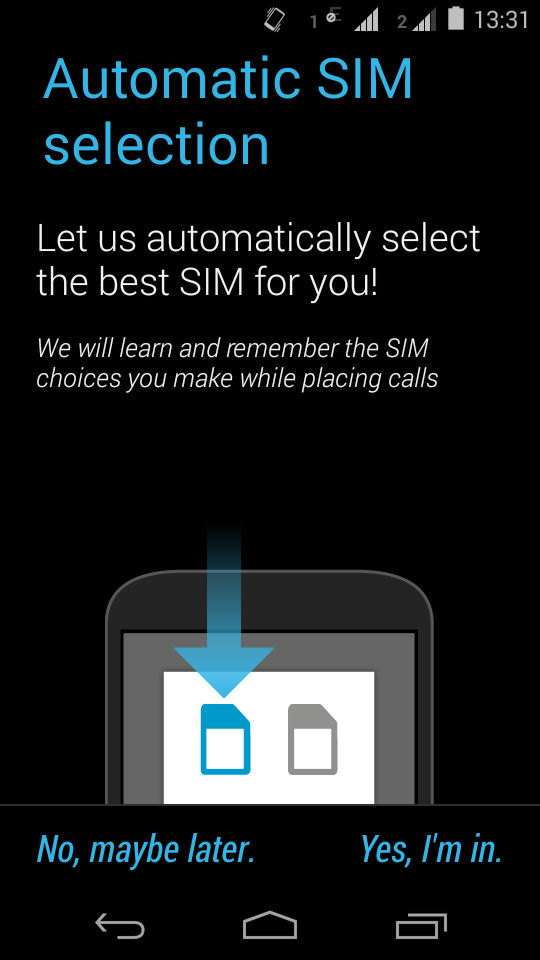 The Moto E accepts a pair of micro-SIM cards, and supports 3G on both slots. The device is a dual standby handset, and uses call forwarding on both SIMs so you don't miss calls. It also remembers your SIM preferences when you make outgoing calls, and learns from your usage patterns.
Apart from dual-SIM and 3G support, what are the other connectivity options available?
The other set of connectivity options are standard and nothing to write home about. There's micro-USB of course, (but no cable provided in the box, so you'll have to get one on your own), and you also get Wi-Fi 802.11 b/g/n, Bluetooth 4.0, A-GPS and GLONASS, along with Wi-Fi hotspot capabilities.
Out of 4GB, how much is user accessible? Does the device support USB On-the-Go?
A little under 2GB is available to use out of the box, which could be problem since you can't have too many apps installed, or download heavy games such as Asphalt 8: Airborne. Unfortunately, unlike the Moto G and the Moto X, the Moto E doesn't support USB OTG for connecting external flash drives.
Anything I should know about the software? What about preloaded stuff?
The Moto E runs an almost stock version of Android KitKat 4.4.2, and as we mentioned earlier, Motorola has promised that the handset will be upgraded to the next version as and when it becomes available. Since the implementation is stock, you won't find any hardware keys on the fascia. Motorola's included all the usual Google apps on the Moto E, along with its Migrate app that lets you transfer personal data from other smartphones.
The highly-useful Assist automation app is there too, but doesn't include the Driving mode which is only available on the Moto X and a few others like the Droid Ultra and the Droid Mini for now. A new app exclusive to the Moto E currently is Alert, and this enables location sharing and tracking features, along with the emergency alert feature.
Any other features of note?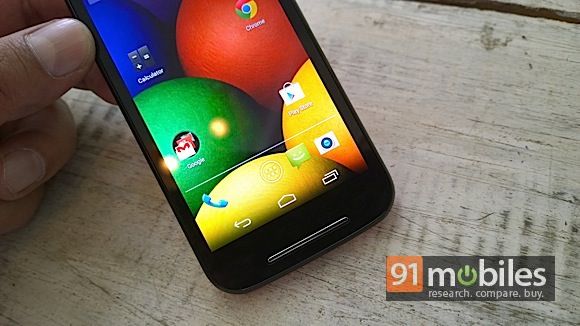 Sure, there's an FM radio that should come in handy when you're bored listening to stored music. Also worth noting is the front-facing speaker that can churn out audio without muffling it when the device is lying flat on a table.

As you can make out, the Moto E's got quite a few things going for it, but there are some sore points too… like a missing front shooter for example. Watch this for the full review, coming very soon.

Related read: Moto E unboxing | Moto E first impressions