"We spent a couple of weeks with the second-gen Moto E. Here's how our experience went"
When Motorola launched the Moto E (review | FAQs), the device set many benchmarks in its segment… the smartphone with highest display resolution in its class, a protective layer of third-gen Gorilla Glass, the first device with Android KitKat, and many more. Fast forward to almost a year later, the smartphone has got a successor, which also boasts some highlighting features such as a clever design, and Android Lollipop among others. However, the landscape has also changed drastically and the phone will be fighting a tough battle against a few devices, some of which also follow Motorola's model of aggressive pricing and online-only sales.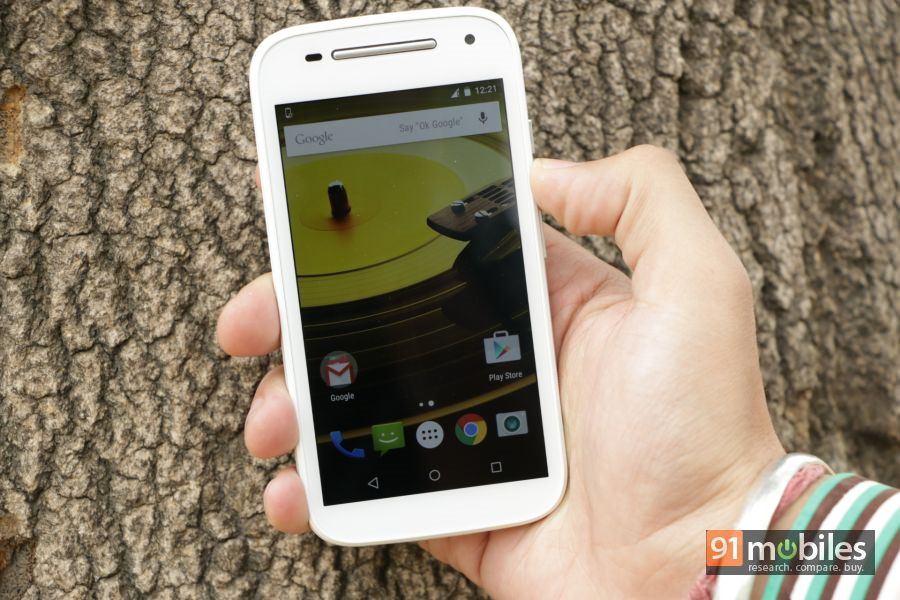 But we know that it takes more than just specs to offer a superb user experience. So, is Motorola able to pull that off successfully with its latest offering? Let's find out with our in-depth review of the Moto E (2nd-gen).
Specs at a glance
Measures 129.9 x 66.8 x 12.3 mm
Weighs 145g
4.5-inch display with qHD resolution
1.2GHz quad-core processor
1GB RAM
8GB in-built storage with support for microSD cards
5MP rear camera with autofocus and f/2.2 aperture
VGA front shooter
3G, Wi-Fi, Bluetooth and GPS
2,390mAh Li-ion battery
Android 5.0 Lollipop
Thick and curvy, heavy yet ergonomic
Most often than not, the new-gen devices are leaner and lighter than their predecessors, while offering a bigger display panel and better hardware specs. Motorola's second-gen Moto E surely satisfies the latter criteria, but hasn't slimmed down a bit as its waist measures 12.3mm – same as the original Moto E. It tips the scales at 145g, which is in fact 3 grams heavier than its previous iteration. But we aren't complaining, since the Lenovo-owned brand has improved handling even further in the new smartphone… it fits in the hand well and can be used for long durations comfortably thanks to the curved rear.
In terms of design elements, the phone is largely similar to its predecessor. The biggest change that will catch your attention is the single speaker above the display in contrast to dual front speakers in the Moto E (2014). The speaker is flanked by a proximity sensor and ambient light sensor on one side and a front shooter on the other. Apart from that, the major portion of the front is covered by the 4.5-inch display, compared to 4.3-inch screen size offered by its previous avatar. Due to the increase in screen size, the handset is also slightly larger at 129.9mm while the width is almost the same. Like all Motorola offerings, the new Moto E gets software keys for navigation.
The material used for the construction of the phone doesn't give away its budget roots, even though it's plastic. Instead of the rubbery texture in the first-gen Moto E, its successor features a matte finish at the back, offering superior grip. The device also has a band with a ribbed pattern running along its edges, which also adds to the grip. The band houses a power button having a similar texture, and the volume rocker on the right. Due to the different texture, one can instantly differentiate between the power and volume keys. Up top lies a 3.5mm socket for inserting earphones, whereas the base sports a micro-USB port.
Unlike the Moto E (1st-gen), its successor is a unibody smartphone, which means the rear panel isn't removable. Now, you'll be wondering where the SIM card(s) or microSD cards go. Well, that's something which Motorola has ingeniously hidden… the band which we were talking about earlier is actually removable, exposing a pair of micro-SIM card slots along with an expansion slot. That's not the only use of this design implemented by the brand. Users can swap these bands to ones with different hues to add a dash of personality to the new Moto E (which itself is available in standard black or white options). These Motorola bands are available in six different colours such as red, blue, purple, and yellow among others, and can be bought separately in packs of three.
The curved back of the second-gen Moto E features a primary camera along with a microphone and Motorola's trademarked insignia in a dimpled area. All in all, Motorola's budget device definitely scores high on the design aspect as well as the handling factor. Making the device durable is its nanocoating, providing it imperviousness against water splashes. It may not be completely waterproof or be able to survive submersion, but this is still an important point in its favour.
Bigger viewing area, but not necessarily better
The 2014's Moto E showed that the budget devices needn't have a pixelated display. At a time when WVGA and FWVGA resolutions were a trend, the device sported a qHD resolution on its 4.3-inch display. Its successor also continues with the same resolution of 960 x 540 pixels on a slightly larger 4.5-inch display. With a pixel density of 245ppi, the display on the Moto E (2nd-gen) offers sharp text and brilliant visuals.
However, the display isn't as good as its predecessor as viewing angles are limited, and we found it difficult to read it under direct sunlight. Add to it, the fact that the competition has trumped the brand by offering an even better resolution of 1,280 x 720 pixels… available on some rival models priced similarly. However, the second-gen Moto E is still amongst the very few offerings in its segment which gets a protective layer of Corning Gorilla Glass 3, making its display resilient to scratches. There's also an anti-reflective oleophobic coating on the display, though we didn't find it effective and the screen was indeed a fingerprint magnet.
Lollipop made sweeter with Motorola's enhancements
Following the footsteps of its predecessor, the 2015 Moto E is amongst the first devices in its price band that offers the users a sweet taste of Android 5.0 Lollipop. Not just that, the brand has ensured that the users can enjoy Google's latest design language dubbed Material Design, since the OS hasn't been customised at all. What you do get however, are a few enhancements from the company, which offer a lot of convenience and were hitherto available only in its flagship offerings.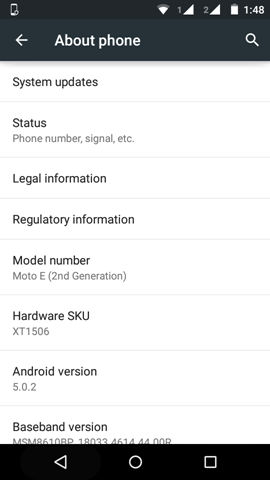 The handset comes with Google's latest mobile platform out of the box, and as noted in our initial impressions of the OS, using it is a delight. There are several changes – both big and small, and they add a lot to the user experience. As of writing this review, the search behemoth has also introduced Android 5.1, but our review unit hasn't received this update yet and runs v5.0.2.
Talking about special touches from Motorola, then the most useful feature is the ability to view missed notifications without any action. Yes, Motorola's popular Moto Display functionality has made its way to the second-gen Moto E, offering you notifications whenever you take it out of the pocket or pick it up. However unlike Moto X, which utilises an AMOLED panel for the same, Motorola is using the Lollipop's functionality dubbed Ambient Display.
There's also the Moto Assist app that automates the phone behaviour in various situations like meeting and sleeping. For instance, the app can integrate with your calendar and will automatically reply to missed calls from your favourites group in case you're in a meeting.
If you don't want to miss a special moment for shooting, then you can quickly open the camera on the Moto E (2015) straight from standby by flicking your wrists twice. You can also flick your wrists to switch between rear and front snappers. All of these options are neatly available in one app dubbed 'Moto', making them easily accessible and configurable.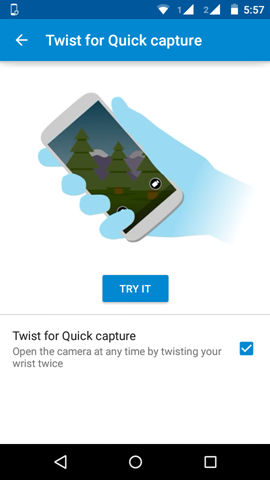 The phone also ships with the Motorola Alert app, which debuted with its predecessor. It allows you to share your location to friends and family, along with setting up an emergency mode.
These enhancements from the brand add a lot of convenience, and ensure that the user experience isn't hampered since there's no bloatware. In fact, apart from a few apps from Google, the new Moto E doesn't come with any apps preinstalled.
The cameras are better than its predecessor, but not the competition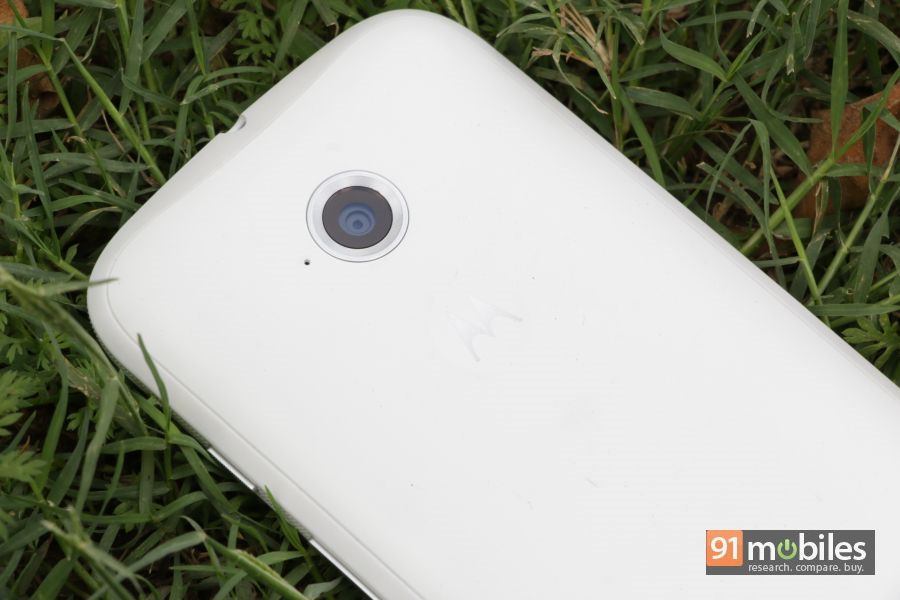 The first-gen Moto E was a great device in almost every sense, except for its camera department. The device only featured barebones 5-megapixel fixed-focus shooter at the back. In comparison, the new Moto E comes with a 5MP primary sensor having an autofocus mechanism, along with a VGA shooter at the front.
The camera interface on the smartphone continues to be minimal allowing users to focus on the view and quickly capture images or video. There's barely anything on the screen apart from the video mode and the option to switch to the front camera, since the shot can be taken by tapping anywhere on the screen. In case you want to access settings, then you can swipe from the left to access a semi-circular carousel offering the ability to enable HDR mode, change aspect ratio, turn on the focus and exposure bracket, etc. To see the images clicked from the phone, you can swipe from the right. If you want to click photos in burst mode, then you can long-press the volume button. While we loved using the Motorola camera app, we found it to be buggy as we ran into 'camera restart' errors quite a few times.
While the megapixel count remains the same, the Moto E (2015) comes across as a better shooter than its predecessor. It reproduces sufficient amount of details and good colours, which can be used for sharing on social networks. However, it struggles in the low-light conditions since it doesn't even have an LED flash to provide illumination. Here's a look at a few of the shots captured with the handset.
The device can also shoot videos in 720p resolution at 30fps. However, when we consider the competition, then the camera department of the Moto E (2nd-gen) fails to impress as most devices in this price range offer 8-megapixel shooters with LED flash and a 2MPa snapper at the front for capturing high-quality selfies or making video calls.
A fine performer
Apart from the cameras, the hardware has also received a refresh in the second-gen Moto E. Instead of a dual-core chipset, the device draws power from a quad-core processor. The same chipset (Snapdragon 200) powers the smartphone as before, but performance is smoother thanks to four cores thrumming at 1.2GHz. The Adreno 306 GPU takes care of graphics rendering. Combined with a gigabyte of RAM, the handset is able to deliver a lag-free usage experience. No matter how many apps we were using concurrently, the phone was able to work well, although the response wasn't instantaneous.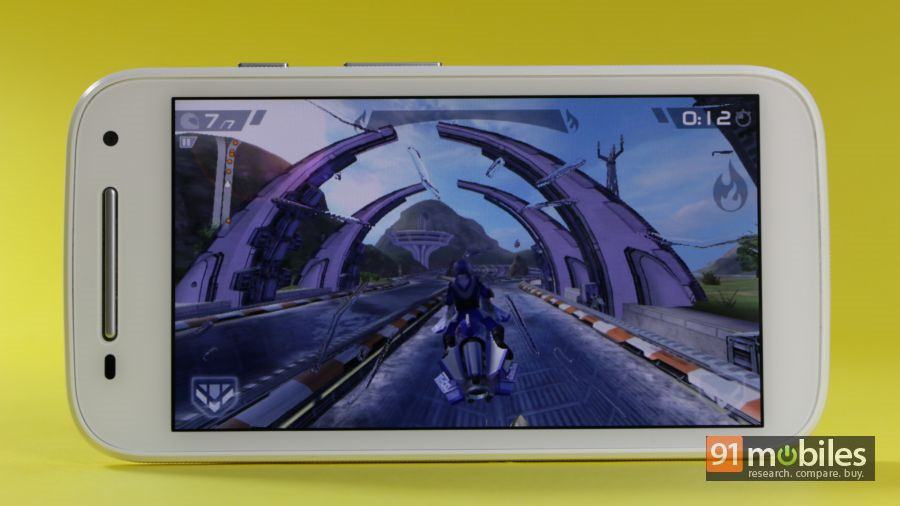 While we enjoyed using the new Moto E for basic tasks and multitasking, gaming was another story altogether. There were several jerks while playing graphics-heavy titles such as Riptide GP2 and the graphics weren't smooth either. Like most smartphones, the device also suffers from heating issues if its processor is pushed for 20 minutes or more.
Unlike the paltry 4GB storage available in is predecessor, which isn't enough for installing apps let alone multimedia content, the second-gen Moto E comes equipped with twice the memory. Out of 8GB storage available on board, users will be able to access 4.6GB for installing apps or storing content. The storage can be topped further with the use of a microSD card, with a supported capacity of up to 32GB. Sadly, the device doesn't come with USB On-the-Go capability, which means that you can't plug in your flash drives to the new Moto E.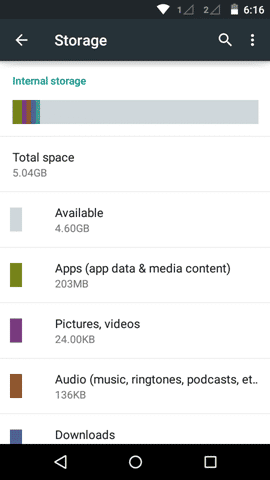 Battery is another area where the new Moto E has received some love. Instead of the 1,980mAh unit in the older model, this phone sips juice from a 2,390mAh embedded Li-ion battery. In fact, not just its predecessor, the device boasts better battery capacity than its higher-end siblings, the second-gen models of the Moto G (review) and Moto X (review) too. However, you can't expect long-lasting performance from the same, and at best, it'll be able to an entire working day. In case you are using battery-draining features such as 3G, Wi-Fi hotspot or GPS, then the device will die even earlier. In our battery rundown test, where we play an HD video on loop with Wi-Fi off and both the brightness and volume set at 50 percent, the phone lasted around seven hours, which is less than the average run time scored by most devices.
There's an option called battery saver which turns off cellular data and reduces device's performance to elongate its life. The feature can be manually turned or you can also set it to automatically come to the fore when the phone's battery drops below a certain level.
Verdict
Just like a mystical bird Phoenix, Motorola seems to have risen from the ashes to live up to its rich heritage of 88 years. Within a couple of years, it has changed its parents from Google to Lenovo, yet it has made sure that its sights are set on its strong product line targeting different price segments. While its high-end offerings, the Moto X and Moto Turbo (first impressions) offer a flagship experience to users, the Moto G is an affordable option that offers a wholesome experience. But perhaps, the Moto E is its most ambitious offering – aimed at first-time users who are moving from a feature phone to a smartphone, thereby unlocking a whole world of possibilities for them.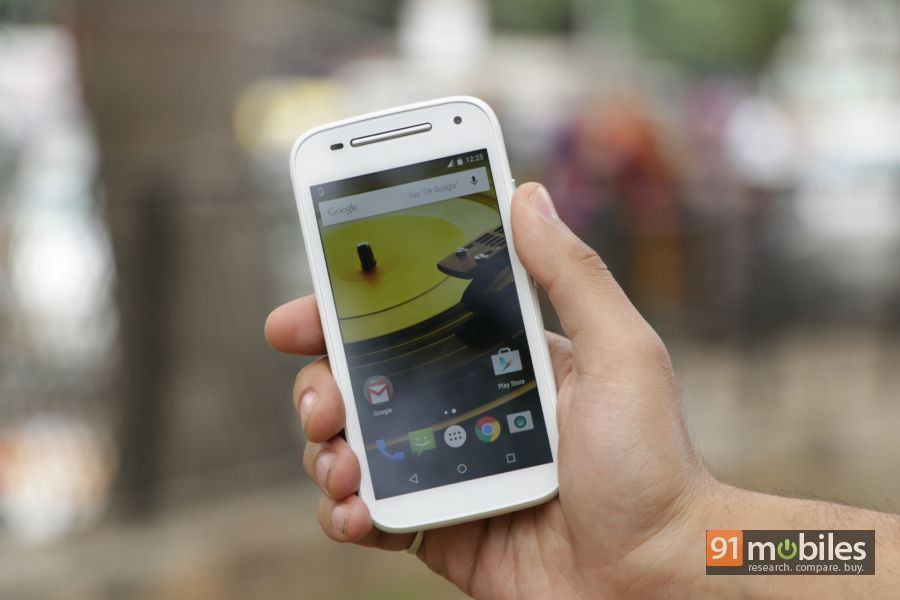 The first-gen Moto E was definitely able to do that. Additionally, it also brought the focus of other brands to the budget segment giving consumers a lot of choice. Its successor and namesake, the Moto E, also tries to do that and brings forth a decent set of specs along with the lure of Android Lollipop, plus some premium niceties in terms of software – all at the same price tag of Rs 6,999. Being targeted at emerging markets and first-time users, the Moto (2nd-gen) also has a 4G variant, but that's yet to arrive on our shores and will be priced slightly higher.
This makes for a difficult case in favour of the new Moto E. While its predecessor was the first in its price band, it'll have to compete against a lot of feature-packed offerings. Prime amongst those are the recent launches in the Indian market, the Lenovo A6000 (first impressions) and Xiaomi Redmi 2 (review | FAQs). Both of these devices pack better processors, which are 64-bit compatible and also support 4G connectivity, along with flaunting bigger displays (with HD resolutions) and better snappers.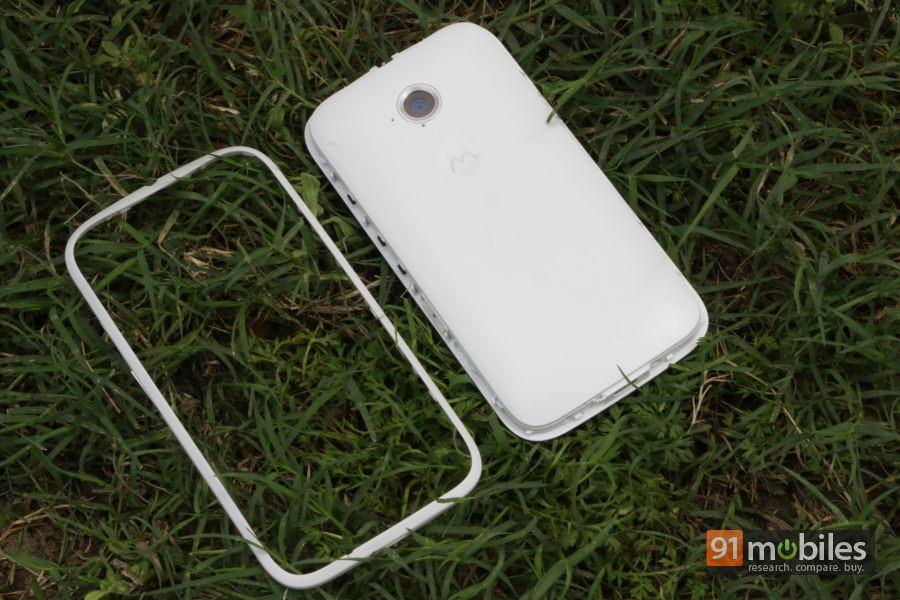 To sum up, the Moto E (2nd-gen) definitely gains an edge in terms of its software – the latest version of Android, plus features like Moto Display, but fails to make a mark when it comes to its core hardware. It's a very capable phone, but we can't recommend it wholeheartedly considering the competition.
Price: Rs 6,999
Editor's rating: 7 / 10
Pros
Superb build quality
Gorilla glass protection
Latest iteration of Android
Motorola enhancements
Cons
Average hardware
No support for 4G connectivity
Photos by Raj Rout