Since we've already made smartphones an integral part of our life, it makes sense to start using them for more tasks, which can save our time as well as make us more efficient. One of the things, which people always complain about is falling behind their schedule or forgetting to do something at a particular time or wasting time to find some fact/place/restaurant on the internet, and that's when a personal assistant can come to the rescue which reminds one about such things or helps answering queries. Some people try to make use of Sticky notes, notebooks, internet, etc. to write down these things and thus try not to forget. But, it's not a foolproof solution and that's why we think Smartphones could be used for such needs as well.
While, there were several apps or ways for using our smartphones for these tasks. The rise of smart personal assistant actually started with Siri, which was initially launched as an app for iOS but later got acquired by Apple and is now a default app for iOS platform. Google countered the Siri app with their own version of Google Now for Android, which was also launched few days before as an update to Google Search in iOS. Here's what we think about such apps (available for iOS platform) and their capabilities:
Siri is like a personal assistant and knowledge navigator always a button away from your home screen. One can converse with it and it tries to help by itself or else search internet for the answers.
How to use
1) To enable Siri, you've to go to Settings > General > Siri and turn it on (supports only iOS 5 and above).
2) One can start Sir with any of the three methods-
Holding the Home button for few seconds
Pressing the button on your earphones or Bluetooth headset
Lifting the phone to your ear
3) Once started, you can give it voice commands for whatever action you intend to do.
Features
Siri can help one with following things-
Setting Appointments
Setting Reminders for Birthdays, etc.
Giving weather information
Sending text messages
Reading text messages
Searching internet or asking questions
Write notes
The good and The Bad
One thing which you will definitely like is that Siri can be used to dictate and then write any content with full text formatting such as Period, comma, Question mark, Exclamation mark, Smileys, New Line <message>, New Paragraph <message>. Siri also can be used for striking any kind of conversations, no matter whether it can answer/ search for any command, this can sometimes turn out to be really funny and good way of passing time.
The big disappointment comes from the fact that Siri is not yet optimized for Indian accents. It takes more than 6-7 times for Siri to understand our request and even then the results are nowhere near to the searched phrase. Siri also doesn't provide Maps and Navigation for countries outside US. Because of this it also can't be used for local search of a restaurant or cinema hall. It can be used for fixing appointments for you, but will never listen what the event is and till what time the meeting exists. Also, if Siri could be integrated with other apps like Emails, from which it can read out the content, then it will find more usage.
In short, Siri act as a personal companion, but has no power to search and can't think beyond.
Google Now uses a intuitive Card based interface, where the required information is neatly organized in the form of cards.
How to use
1) Download/ Update Google Search app from iOS store.
2) Open Google search app.
3) You'll be welcomed with familiar interface of Google having a search bar, with option below for Apps, Voice and Goggles.
4) Swipe up the screen to view the cards.
5) If you don't need the cards, you can swipe them away to remove.
Features
In comparison to Siri, Google Now can provide lots of information since it's integrated with Google Services like Search, Gmail, Maps, etc. It can give following information:
Weather
Stock information
News
Directions and navigation
Sports score update
Appointment
Gmail (can give Flight details, courier package information from the emails)
Movies
Translating text
Cards can be turned on/off from settings option.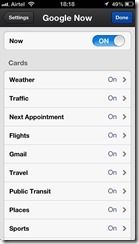 The good and The Bad
Google Now has already been one of the most loved features of Android JellyBean update and many people found it more useful than Siri. The best part about Google Now is that it presents you with the information when you need it. For example- your Hotel booking information or flight details will be showed up just a day before. Thought the app required to turn on the location always, battery life isn't affected because it is optimized for minimal use of GPS.
Since, Google Now is just an app and not a default feature, so it can't be opened directly from the home screen, one has to open the Google Search app first to use it. It also can't provide alerts in the notification bar, so one has to check the app regularly. For this very reason, it can't be used for opening contacts, shooting a message and more.
Overall, the search quality is really wonderful and it understands our accent without any hassles.
Osito touts itself as a predictive intelligence engine which learns your usage and acts accordingly. It provides information in the similar manner of Google Now with cards.
How to use
1) Download Osito app from App store. (This app is not yet available for Indian users)
2) Open the app.
3) It will ask for various permissions to use Location services, Push notifications and Calendar Access. You can also connect your Google account with the app.
4) Similar to Google Now, you will be presented with Card and if not needed you can remove them.
App might take about a day to learn your activities and function properly.
Features
The app currently provides information about these:
Weather
Appointment
Flight details
Traffic conditions
The good and The Bad
The app is recently released and developers have promised for more updates to the app. The app started as an alternative to Google Now for iOS, but since it's already available for iOS, so there doesn't seems to be compelling reason to use Osito. However, if the app is able to integrate with other services/ apps, then it could become a really good choice. Also, the app aim is to provide information when actually you need it, instead of giving you everything at all times, which is the exact reason people want to use such apps.
Also, for timely alerts for appointments, it doesn't work with a name of whom you're meeting, but the location where you're meeting might do the trick.
The app is not available in India, so we weren't able to test it out.
These apps are certainly the better way of maintaining one's daily schedule and focusing on one thing at at time, with the promise of getting the right prompt at right time. And, it seems technology required to make such apps to function properly is already there, but still there is no app which can actually be smart enough for one's need. It's also difficult to make an app that fits everyone lifestyle since everyone's workflow is different from each other.
What do you think? How are you using these apps? Share with us in comments.