Mobile Number Portability (MNP)
, a facility which allows users to change the mobile operators while retaining the existing mobile number, kicks off nationwide across India tomorrow, January 20th 2011.
MNP was piloted in haryana
since November 25th 2010. Looks like all the mobile operators are ready and set to tackle the mobile number portability requests. Every major mobile operator has been campaigning about MNP on Television, print and other media for last few weeks the notable among them are Vodafone and Idea Cellular. TRAI has issued a circular on national dailies today regarding the rollout of MNP across the country. The circular can be found below: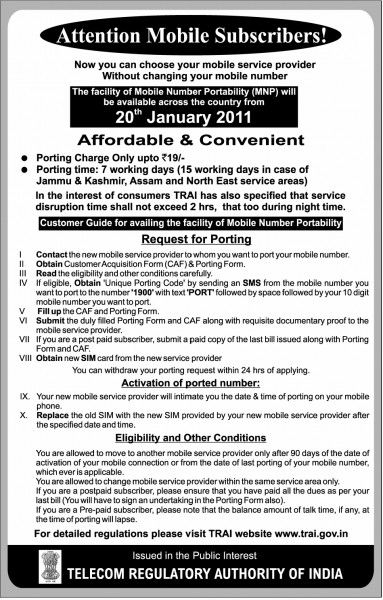 It reads:
Attention Mobile Subscribers! Now you can choose your mobile service provider without changing your mobile number. The facility of Mobile Number Portability (MNP) will be available across the country from 20th January 2011. Porting Chargers only upto Rs. 19/- Portint Time: 7 working days (15 working days in case of Jammu and kashmir, Assam and North east service areas) In the interest of consumers, TRAI has also specified that service disruption time shall not exceed 2 hrs, that too during night time. Customer guide for availing the facility of MNP Request for Porting 1. Contact the new mobile service provider to whom you want to port your mobile number. 2. Obtain Customer Acquisition Form (CAF) & Porting Form. 3. Read the eligibility and other conditions carefully. 4. If eligible, Obtain "Unique Porting Code" by sending an SMS from the mobile number you want to port to the number "1900" with text "PORT" followed by space followed by your 10 digit mobile number you want to port. 5. Fill up the CAF and Porting Form. 6. Submit the duly filled porting form and CAF along with requisite documentary proof to the mobile service provider. 7. If you are a post paid subscriber, submit a paid copy of the last bill issued along with Porting Form and CAF. 8. Obtain new SIM card from the new service provider. Note: You can withdraw your porting request within 24 hours of applying. Activation of Ported number: 1. Your new mobile service provider will intimate you the date & time of porting on your mobile phone. 2. Replace the old SIM with the new SIM provided by your new mobile service provider after the specified date and time. Eligibility and Other Conditions You are allowed to move to another mobile service provider only after 90 days of the date of the activation of your mobile connection or from the date of last porting of your mobile number, whichever is applicable. You are allowed to change mobile service provider within the same service area only. If you are postpaid subscriber, please ensure that you have paid all the dues as per your last bill. If you are a pre-paid subscriber, please note that the balance amount of talk-time, if any, at the time of porting will lapse.