Milagrow, a little known and upcoming company has come up with a tablet pc for Women professionals. Very recently, Sony also came with VAIO series of laptops targetting women professionals. As far as the tablet space is concerned Milagrow is probably the first! What makes this women-friendly? Well, the COLOURS. You got it. Milagrow is launching the variant of existing tablet in 4 different colour choices such as pink, sky blue, silver and black. Also, the device is tad lighter than its predecessors. And Finally, the UI is apparently customized for women (we are still to see the official pictures).
The 7-inc capacitive tablet is powered by Android 2.3 OS, 1.2 GHz processor and 1GB DDR3 RAM. Ample horsepower for a tablet. The device also comes pre-loaded with 50 applications. The tablet has ample connectivity options including 3G, USB (2 ports!), WiFi, LAN Connectivity. The 4000 mAH battery provides enough life and lasts 8 hours. This tablet costs Rs. 13,990. Should be available very shortly in online as well as offline stores.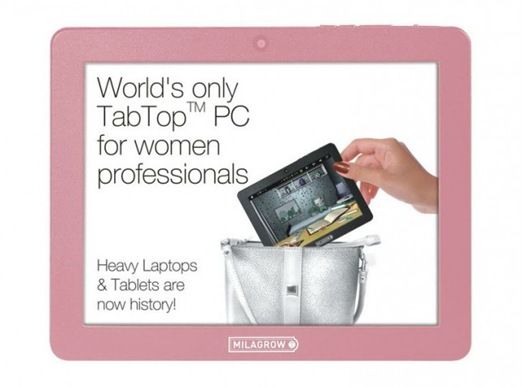 "Women have fast evolved as intelligent consumers of electronics. They know and look for features that are easy-to-use and carry. The TabTop weighs 275 grams and slides easily into a woman's handbag. We have also preloaded it with special security and anti theft applications," said Rajeev Karwal, Founder, Milagrow TabTops.