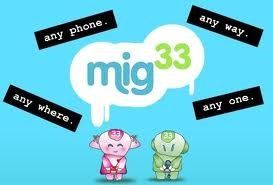 Mig33 is the world's largest mobile community and one of the most downloaded mobile applications. The application is now making a count in India by gaining a double growth in June 2010. Surprisingly the downloads are majorly from Tier 2 and 3 Towns.
"We have grown by word of mouth in India," said Mohit Gundecha, Director of Business Development and Head of India. "Mig33 provides a perfect platform for youth in small townships and cities, interested and excited about making friends across the world and playing real time games."
Mig33 has more than million users in India, paying entertainment services and instant messaging,including social games and virtual gifts. Head to Head games like 'mig wars' and 'heads and tails' are liked in India, leaderboards and virtual currency has guided to the stickiness of the application and user loyalty. It can be used on most of the available mobile phones.
"Like a lot of mobile services, we have active users in over 200 countries, but we've especially thrived in mobile-first markets where the mobile phone is – and will continue to be – the first internet experience for millions and millions of people. The Indian market is thriving and has responded very well to mig33 and the concept of social mobile community," said Gundecha.
Mig33 operates on more than 2,000 different mobile handsets worldwide. In the last several months, Mig33 has released over 1,000 new virtual gifts and avatar items, several new games, and provides new WAP services and web platforms.