Microsoft's new Surface tablet has already started giving iPad a run in India. Not in terms of sale but in terms of gaining momentum unofficially. Microsoft unveiled the price of Microsoft Surface RT tablets a couple of days back when it started accepting pre-orders. Though unofficially, but the tablet has gone for preorder in India as well. A seller on ebay has listed the tablets for pre-order at following prices: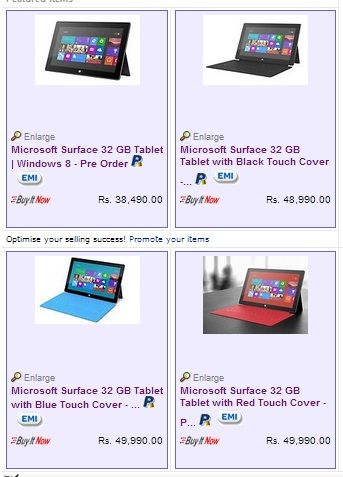 32GB, Wi-Fi, without touch cover – Rs 38,490
32GB, Wi-Fi, with Black touch cover – Rs 48,990
32GB, Wi-Fi, with White, Pink. Blue or Red touch cover – Rs 49,990
Though the pricing is quoted on a premium (obviously), but we feel the premium is not insane as in case of Apple products. The price of 32GB, Wi-Fi model in US is $499 which comes to Rs 26,900 in Indian currency. Considering the taxes and all, we assume it to be officially priced somewhere around 30k in India. So a premium of Rs 8.5k seems ok here. Another fact worth noting is that the similarly featured
Apple iPad 3
(32GB, Wi-Fi) is already selling in India for 35k. Apple iPad here is cheaper and instantly available, where as Microsoft Surface will cost you around 4k more. Plus as per the seller's promise, you will get it in the mid of November. So take your time comparing and deciding which one you actually want to buy.