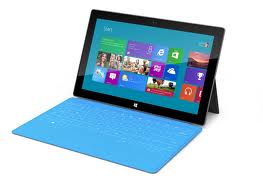 Microsoft's much publicized Surface Tablet,
which just got a price tag
, is no longer to stay in US market, Chinese consumers will also be able to get it from their local market and decide whether it is as good as iPod from Apple or other Android based devices. Microsoft has made an agreement with the Sunning Company, a Chinese retailer to sell its Surface Tablet through its network of gadget stores across china. Microsoft has now made a global vision for selling the device and also made a plan to become OEM for the software in a logical way, on a market share basis. Microsoft and Sunning Company have a long business relationship. Sunning is the official distributor of Windows Phone devices in Chinese region. It is in the air that President and chairman of Sunning Company has met with the Microsoft CEO Steve Ballmer recently for the ongoing co-operation. The "RT" version of Surface Tablet is expected to launch by the Microsoft on October 26. A higher specification 'Pro' model features an Intel chip which has power to run full Desktop version of applications, including Microsoft Office and Adobe Photoshop.It is expected to launch by the first quarter of 2013. It is believed initially the Microsoft Windows 8 would be rolled out worldwide. The latest Tablet from Microsoft will be available to US consumers via its temporary Pop-Up and permanent Microsoft Stores. Microsoft and Sunning Company has not disclosed any details regarding price of the Surface Tablet and when it will be launched in China till yet.