Microsoft India has announced an AppFest for Indian developers, which will be taking place on 26th February 2013 at more than 50 locations in India.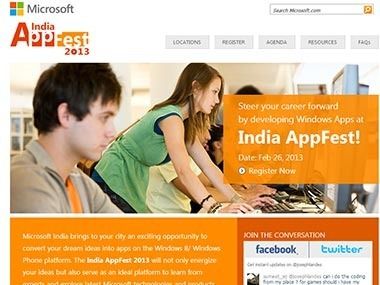 Around 10,000 students from all over the country are expected to participate in this fest, where they will develop new application for Microsoft's windows operating System. The 50 centers where this fest will take place is holding a couple of training sessions to polish the skills of students who have already registered.
On 26th Feb, these 10,000 students will submit their applications online, which can have a online appearance later on App store after a long process.
Pratima Amonkar, Director for Strategic Audience Marketing, Microsoft said, "On one hand, the trends in the IT space have evolved over the past few years, creating greater opportunities for students and budding developers. On the other, the global youth unemployment rate is currently at 12.7 percent – double the overall unemployment rate."
Microsoft will provide all the students, a bunch of softwares including Microsoft Visual Studio Express for Windows 8 OS and free Windows Store registration codes through the Microsoft's DreamSpark.
"The focus will be on broad-based consumer applications, incorporating education, games, apps for social good etc. In addition to submitting the apps for evaluation for a chance to get on the Microsoft Store, the training and experience received via this program will boost the students' employability, and create a more capable developer ecosystem in the country." Amonkar added.
This is a nice step from Microsoft to discover the hidden talents in India.