"The new Canvas LAPTAb stands out as a value-for-money hybrid"
The smartphone boom we're currently witnessing is all thanks to new budget performance devices that bring loaded specs at affordable prices. However, the world of mobile computing has also been going through a revolution of sorts, courtesy newer form factors that bring great versatility and flexibility, not to mention some mind-boggling innovation. Convergence used to be just a buzzword, but now, we see quite a few devices that can adapt to user requirements at a moment's notice, donning several hats at one time. Hybrids are a great example – we're referring to the devices that combine a tablet to an attachable keyboard, so it can be used in two different modes – as a tablet for content consumption and as a laptop for content creation. These hybrids, also called 2-in-1s, offer great flexibility, and have now dropped within affordable limits. The latest to join the league is the Micromax LAPTAb… and as the name signifies, can work both as a tablet as well as a laptop.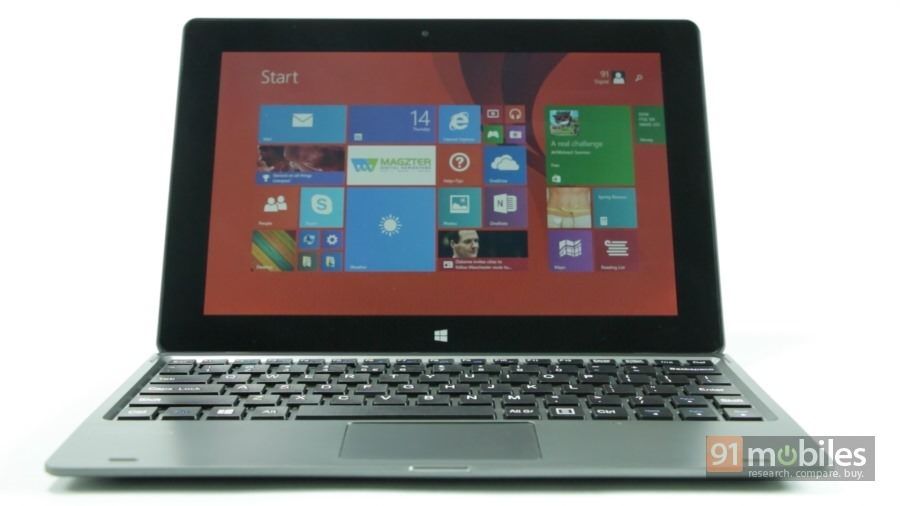 The Canvas LAPTAb (quick look) sports a 10.1-inch display bearing a resolution of 1,280 x 800 pixels, and is powered by a 4th-gen Intel Atom 3735F quad-core processor (up to 1.83GHz) which works in tandem with 2GB of RAM. There's 32GB of internal storage, out of which almost 20GB is available to use. You can add up to 64GB more via a microSD card slot. The tablet, when held in landscape mode, sports a capacitive Windows key below the screen, a power button and a volume rocker on the right, and a headset socket, microSD slot, a micro-USB port and a 3G SIM slot on top. The latter has to be one of its key highlights, as 3G data connectivity is a feature not offered by most hybrids in a similar price range.
Standard connectivity options like Wi-Fi and Bluetooth are there of course, but 3G comes in handy when you're out and about… helping you stay connected even without Wi-Fi. We do miss an HDMI port though, which could have been handy for connecting it to a larger monitor or a television. The micro-USB port, which is used for charging, also supports OTG to let you connect external peripherals like flash drives etc. 2-megapixel cameras at both the front and the rear handle casual photography and video calling needs.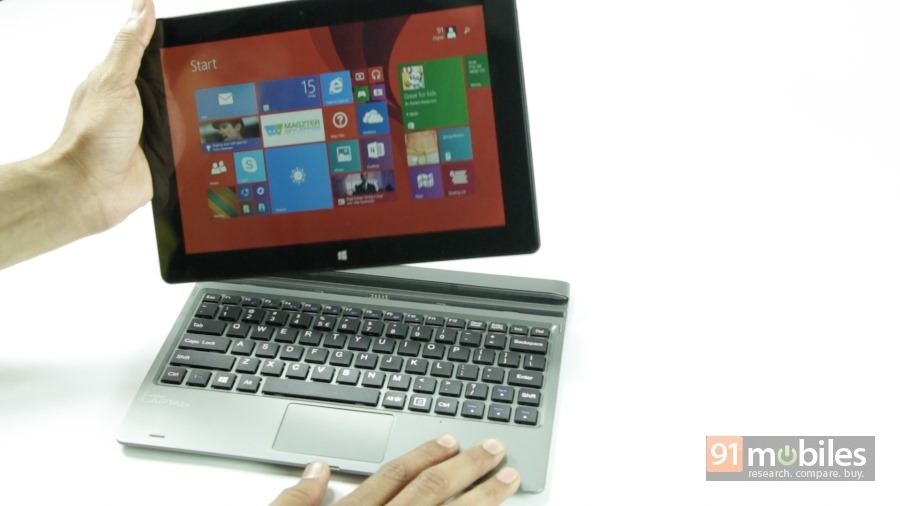 The build quality is pretty good, and the device doesn't feel cheap. It's quite lightweight too, tipping the scales at a little over a kg. We do have one complaint regarding its design though. Since the tablet attaches to the keyboard dock magnetically and doesn't utilise a proper hinge, it can be prone to toppling in case you're using the device on your lap. The viewing angles can't be adjusted, but you should be fine as long as you're using it on a fixed surface like a desk. However, using it in a moving vehicle could be a problem.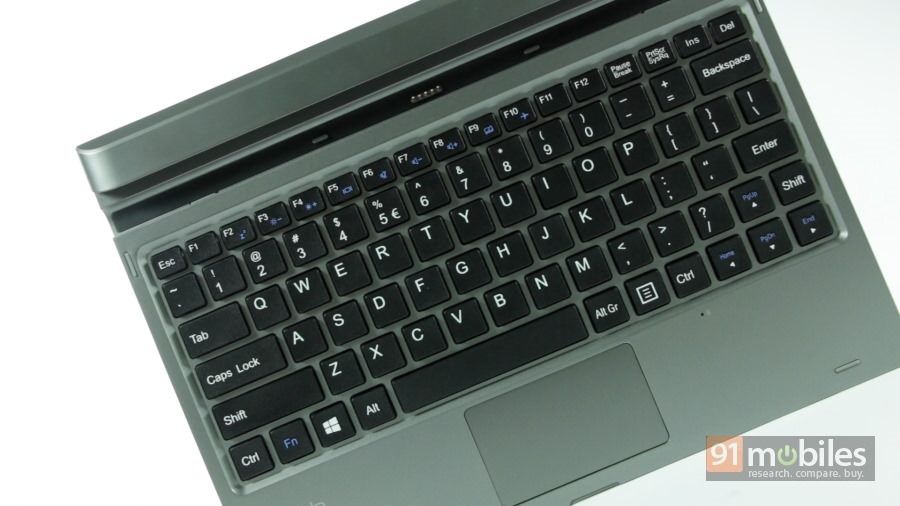 That 10.1-inch screen serves up reasonably good visuals. It's quite responsive to touch too. The keyboard dock, apart from bringing in a full-fledged keyboard and a touchpad, also adds a full-sized USB port to the mix… so you can hook up peripherals like mice or printers etc. As you'd expect, the size of the keys and the touchpad isn't too generous. If you're used to a full-sized keyboard, you'd need some time coming to grips with the smaller keys before you can start typing at a fast clip. The same goes for the touchpad, though we should mention that it's quite responsive and accurate too, and supports the usual gestures such as two-finger swipes.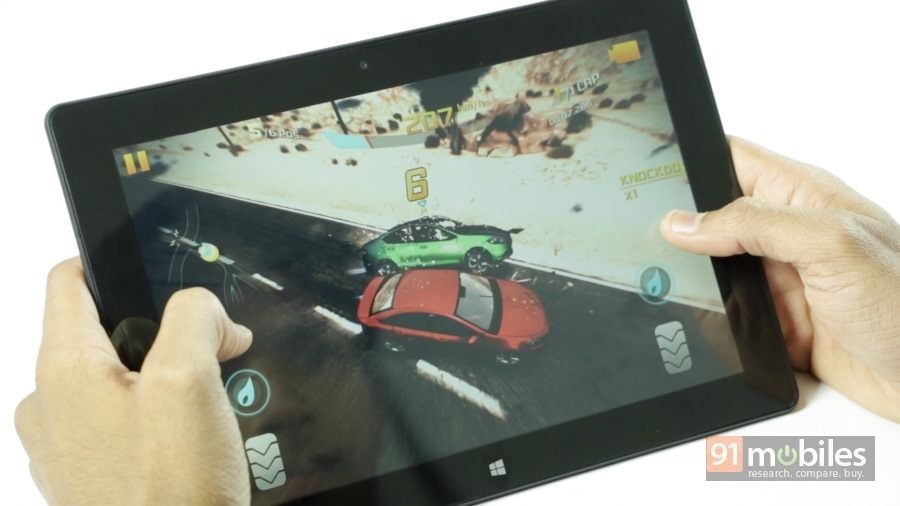 As far as performance is concerned, the 4th-gen Intel Atom processor keeps things fairly smooth, especially as far as regular productivity tasks like web browsing, editing documents etc is concerned. We even tried heavy games like Asphalt 8, and they played smoothly. Coming to the battery life, the 7,700mAh battery should be enough to last you a full working day with moderate use, though it takes a while to juice up.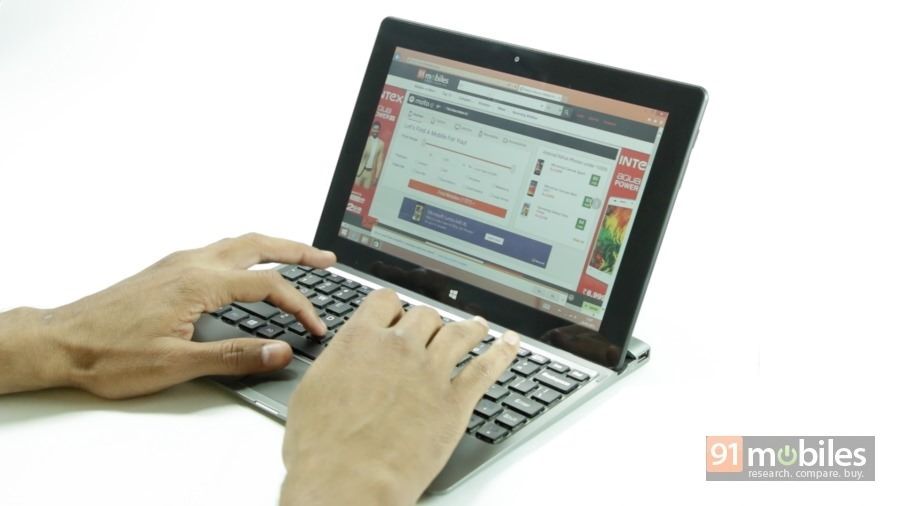 With full-fledged Windows 8.1 and its vast ecosystem of apps, you'd be spoilt for choice when it comes to software. Micromax even throws in 1TB OneDrive cloud storage, and a year's subscription to Office 365, sweetening the deal further. A carry pouch, a set of earphones and an OTG cable are included in the box too.
Overall, the Micromax Canvas LAPTAb is a mixed bag, but scores where it counts. The performance is smooth thanks to Intel inside, and it works well as a portable computing device when you need something handy, but with the added benefit of the full Windows platform along with Office 365. Use it as a tablet for entertainment or reading, or as a laptop when you need to get some work done. At a price point of Rs 14,999, it's a compelling, useful offering that delivers on most promises without hurting the pocket.