It feels good to see two smartphones which are no less than any flagship devices from some MNCs, are made by two well known Indian tech giants. Both the recently launched devices, Micromax Canvas 4 and Karbonn Titanium S9, are having phenomenal features and truly deserve to be amongst the best smartphones of India. Micromax Canvas 4 A210 was undoubtedly one of the much awaited smartphones of the year, unveiled by the company this week. Karbonn Titanium S9, on the other hand, is not too far in the race and was also launched later last week. Both the devices are newest members of well renowned smartphone series Canvas and Titanium respectively. Now, when such great devices are all set to hit the Indian market, which is going to be your choice? Here, we compare the two flagship devices to find out what must be the right pick as your next smartphone.
Micromax Canvas 4 A210 vs Karbonn Titanium S9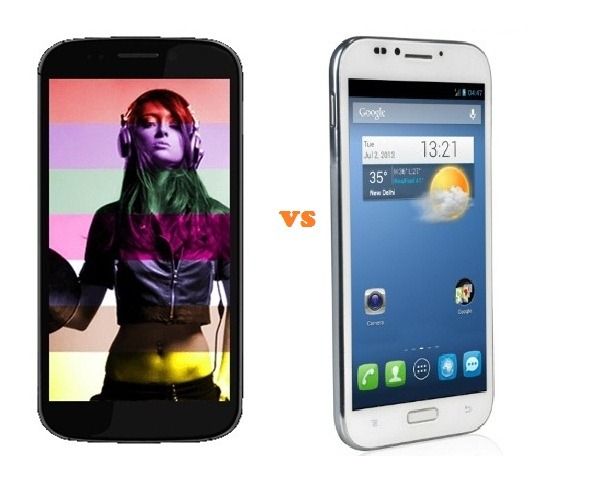 1. Display:
Both Micromax Canvas 4 and Karbonn Titanium S9 poses almost similar features to each other, with next to nothing difference. But, slight to slightest difference in such devices can turn the table at any time. Micromax Canvas 4 poses a beautiful 5.0 inch HD display with a resolution of 720×1280 px. The 16M colors over the device look punchy, clear and sharp defining Canvas 4's appreciable Graphics. But here Karbonn Titanium S9 becomes undoubtedly a winner with a 5.5 inch full HD IPS display with a resolution of 1920×1080 px. The capacitive screen is specially engineered for an ultimate Big-Screen viewing pleasure.
2. Design:
In context of body build and design both the devices are lovely pieces of art one would love to flaunt. Micromax Canvas 4 has been given a glossy plastic body with a beautiful aluminium cover around the screen . Sturdy, classy and sort of elite look , a look that can easily win the heart of the spectators wasting no time is a characteristic of the device. Titanium S9 has acquired a slim and dashing look accompanied by large display. The slimness and rounded edges of the Titanium S9 makes it similar to Samsung Galaxy Grand. It comes with a stylish flip made by sturdy material to shields the device from falls, cuts, chips and mishandling. But Titanium loses this chance to Canvas 4, which poses more vibrant design.
3. Software interface and OS:
Here again Canvas 4 wins the hearts of the spectators with Android 4.2.1 Jelly Bean OS and amazingly interesting Smart features like Blow to unlock, Touchwiz because of which the display will sleep the moment you take your eyes away from it, Smart pause and flip to turn on speaker as compared to Titanium S9's Android 4.2 Jelly Bean OS no new features.
4. Performance:
Here comes the most important factor that will decide which is the superior device on the base of performance. The Micromax Canvas 4 is powered by a 1.2GHz MediaTek MT6589 quad-core processor, PowerVR SGX 544 graphics chip and 1GB RAM with 16GB internal memory expandable up to 32GB via microSD card. Whereas, the Karbonn Titanium S9 is powered by a Mediatek chipset enabled processor with 1.2 GHz quad-core CPU's, along with a 1 GB RAM and 16GB internal memory expandable up to 32GB via microSD card. On performance front both the devices are exactly same so we have a draw here.
5. Camera:
Surprisingly both the devices pose a 13MP rear camera along with a 5MP front facing camera but difference is the camera features of the devices. Micromax Canvas 4 sports dual LED flash, Autofocus, Face detection, Geo tagging, Auto Flash, Continuous (Burst) mode, Smile detection, Photo Solid, High Dynamic Range Synthesis, 4 direction Panorama, Effects Library and so on. On the other side, Karbonn Titanium S9 sports Auto-Focus with Flash rear camera with promisingly radiant snaps and yet again the winner is Canvas 4.
6. Pricing:
Both the companies are known for their low budget devices and they did it yet again devices. In terms of pricing, there is a very slight difference with Micromax Canvas 4 at a price of Rs 17,999/- and Karbonn Titanium at Rs 19,990/- only.
Verdict:
Micromax Canvas 4 and
Karbonn Titanium S9
both are lovely devices with all features and low price, so in a way or another creating confusion for the smartphone buyers. Full HD feature of Karbonn Titanium S9 gives it a significant advantage over Canvas 4. Micromax Canvas 4 will be best for those who want high end experience but have low budget. On the other hand Titanium S9 will be considered best for those who want a power packed device for full on gaming and full HD enjoyment. Which way would you like to go? Also read: