"A comparison of the core features and functionalities offered by popular instant messaging services"
The year 2012 witnessed a huge shift in the way people communicated with each other through their mobile phones, reflected by the fact that texts sent through messaging apps overtook the number of SMSes sent. The gap is set to become wider this year with 50 billion instant messages projected against just 21 billion text messages. The messaging phenomenon got a major impetus when
Facebook bought WhatsApp
, just five days after another popular IM service Viber got acquired by Japanese firm Rakuten. A simple search on any mobile app store will throw up a smorgasbord of options for instant messaging. While each individual may have his or her own reasons to choose a specific service (such as peer group, platform, features desired etc.), on surface at least, most of them tend to look quite similar if looked upon with an untrained eye. After the dust settled on WhatsApp's acquisition, we thought it'd be apt to find out what these apps, or rather services, offer users and how they are the same, yet so different.

The contenders
We've shortlisted the following contenders based on their user base and their popularity in India. 1)
WhatsApp
: One of the first cross-platform messaging apps, and the fastest-growing IM service. 2)
WeChat:
Simply put, it's everything that WhatsApp offers plus voice and video calls, social networking, stickers, games and more. 3)
LINE:
A messaging service with roots in gaming. Apart from messaging, it offers several other capabilities. 4)
Skype:
An app from the desktop era, having a stronghold in the video-calling domain. It was acquired by eBay, and later by Microsoft. 5)
Hangouts:
Google's salvo in the mobile messaging wars, a successor to its popular Google Talk instant messenger. 6)
Viber:
A close rival to Skype, it offers the ability to call other Viber users as well as regular phone numbers. 7)
BBM:
The one that started it all, and made BlackBerry smartphones extremely popular amongst youngsters. After being exclusive to BlackBerry, the service went cross platforms not too long ago.
How they fare against each other
We'll be taking a peek at some of the core features and functionalities offered by these services, but note that some of them are beyond the scope of this comparison. WeChat, for example offers social networking capabilities with
Moments
and LINE also provides
Timeline
. Some of the messengers like WeChat, Line, BBM also provide an option to follow branded accounts.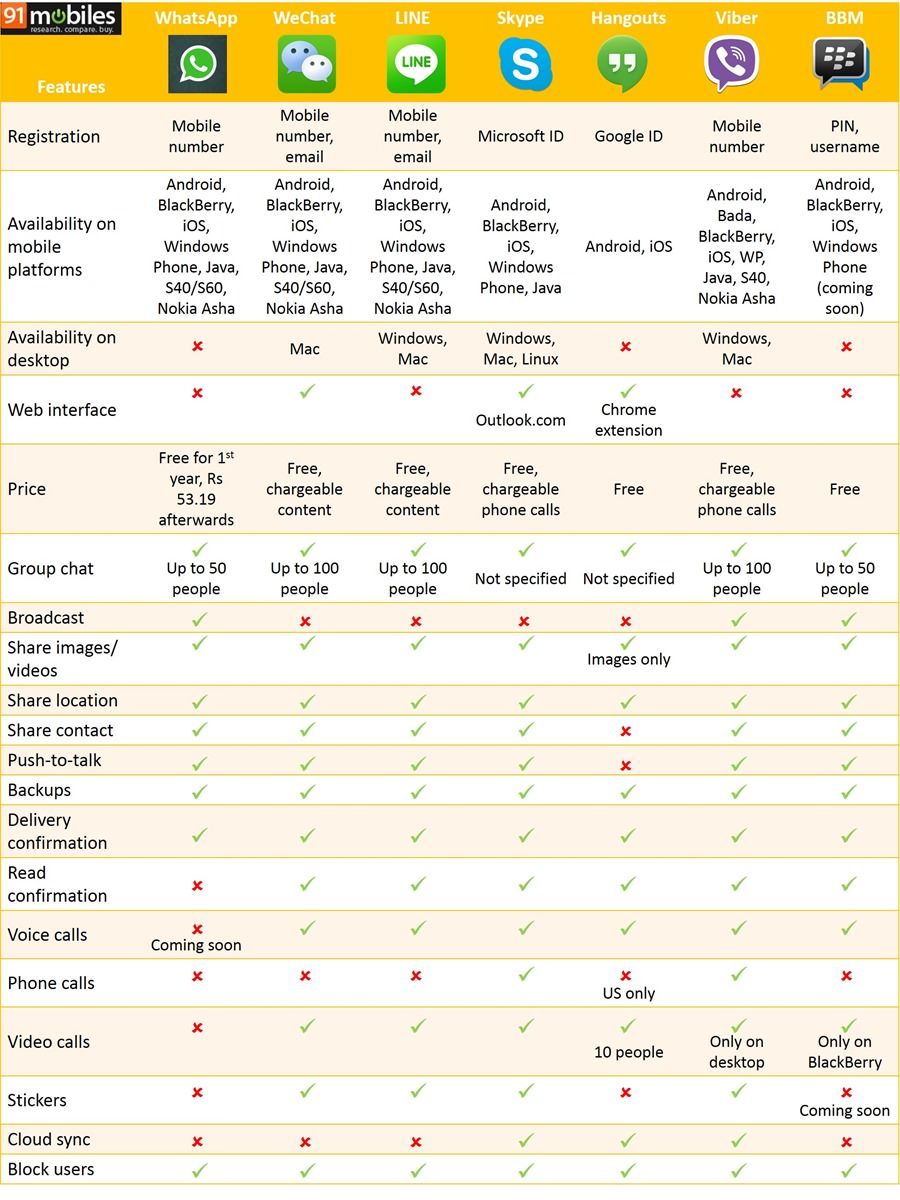 Which app is right for you?
As can be seen from the comprehensive comparison between the apps, there can't be any clear winner here. Moreover, apart from which apps others in your network are using, it's also important to check the functionalities offered by them.
If you want to get the best texting experience without marring your experience with any other distractions, then WhatsApp is for you.
However, if you want to pep up your chats with stuff likes games and stickers, then WeChat and LINE should serve you well.
To connect with friends via phone or video calls along with texts, Skype wins hands down. However, if you're on a slow data network, phone calling with Viber works a tad better.
BBM is for those who don't want to sacrifice their privacy as the service identifies you by a unique PIN instead of your mobile number.
Hangouts leaves something to be desired when it comes to offering a seamless experience, especially on the desktop using the Chrome browser extension. However, it's pretty much your only choice if you're chatting across multiple devices including desktops.
As far as mobile apps and services are concerned, there's a good reason why WhatsApp is so popular, and that's its obsession with the KISS principle. Keeping things simple, straightforward and gimmick-free has what helped WhatsApp amass a massive user base, and while added features and functionality (such as the impending arrival of voice calling abilities) are welcome, the Facebook-owned service will need to ensure it sticks to its core ethos in the time to come.
Also read:
How WhatsApp is likely to change after the Facebook buyout
|
The key to Facebook's WhatsApp acquisition: a slice of the users' minds