"The MEIZU m2 note is a small yet significant upgrade over its predecessor. Our review"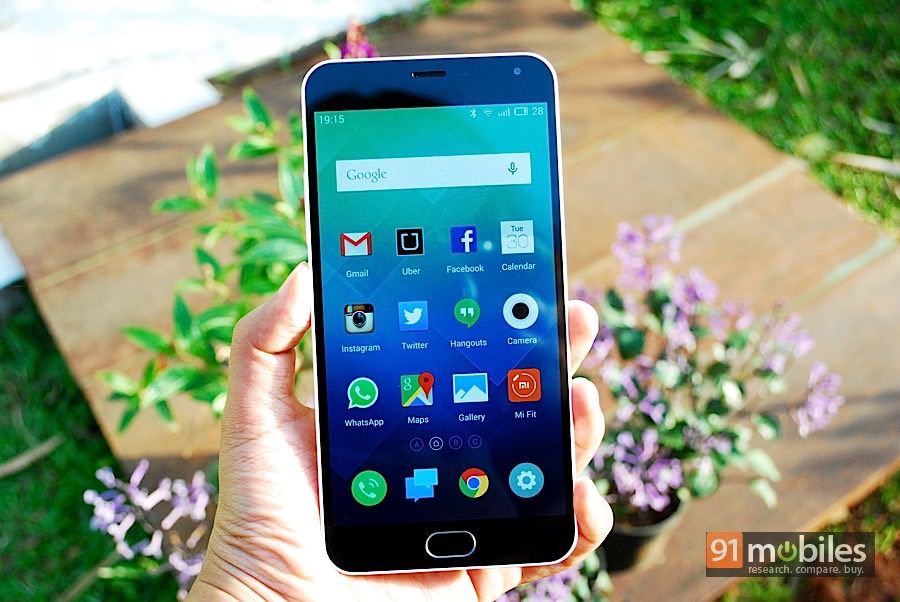 In China, smartphone manufacturer MEIZU might be Xiaomi's biggest rival, but its Indian innings tells a different story. Nearly a year after Xiaomi's entry into the country, MEIZU made its debut with the m1 note (unboxing and first impressions). Boasting impressive specs and killer pricing, the m1 note should have lapped up prime phablet market share, but didn't succeed in creating much of a stir. Partly owing to the quiet release on Amazon, and partly due to the lack of a dedicated India team, MEIZU has stayed in the background so far. Just a few weeks after launching the m1 note here, the company unveiled its successor, the m2 note in China. We were present at the launch event where we got our hands on an international variant of the device. MEIZU is expected to launch the m2 note in India in soon, and we expect it to be as competitively priced as its predecessor. We've been spending some quality time with the device over the last few weeks, and here's what we thought.
Specs At A Glance
5.5-inch, 1,080 x 1,920 pixel display (403ppi)
1.3GHz octa-core MediaTek MT6753 processor
2GB RAM, Mali-T720 MP3 GPU
13-megapixel primary camera, 5MP front camera
16GB/32GB internal storage (expandable up to 128GB)
4G, dual-SIM, dual-band Wi-Fi 802.11, Wi-Fi Direct, Bluetooth 4.0, GPS, USB OTG
Android 5.1 Lollipop with Flyme UI 4.5
3,100mAh battery

Nearly identical


Looking at the MEIZU m2 note for the first time, you'd be hard pressed to tell it apart from its predecessor. The new mBack home button aside, the two devices are nearly identical, featuring the same rounded edges and polycarbonate back panel. On the facade you'll find the earpiece, front 5MP camera, sensors and notification LED above the display. Below the screen you'll see the oval-shaped mBack button encased in a chrome trim.
The bottom edge houses the primary microphone, micro-USB port and loudspeaker, while the top edge features the 3.5mm audio jack and secondary microphone. The volume rocker and power button are located on the left spine instead of their usual place on the right, which takes a while to get used to. On the right you'll find an ejectable tray that houses the dual nano-SIM card slots. The first slot is a hybrid SIM card slot, also accepting a microSD card in place of the secondary SIM for storage expansion. The back panel is non-removable, and comes in colours like white, blue, black and grey.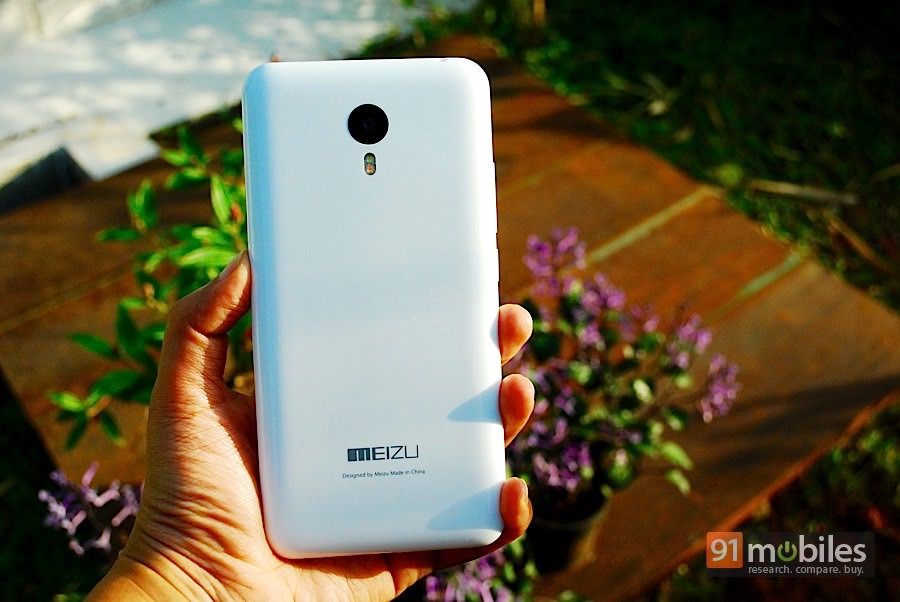 Towards the top you'll find the 13MP primary camera with the dual-tone LED flash, and MEIZU branding at the bottom. While the m2 note isn't suitable for one-handed usage owing to its large display, the curved edges and slim 8.7mm profile make it very ergonomic for extended usage.
5.5-inches of real estate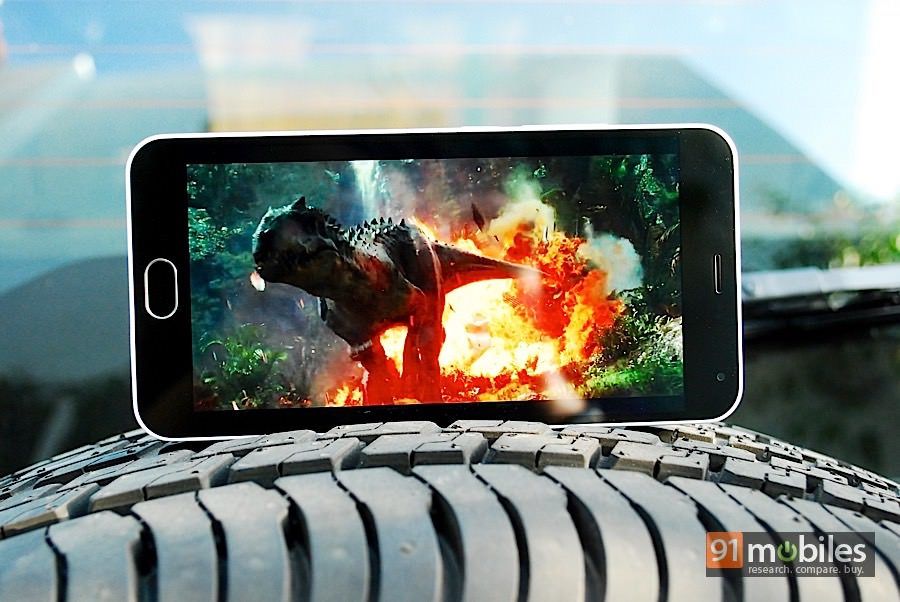 The m2 note features a 5.5-inch IGZO display bearing full HD resolution, just like its predecessor. The resulting pixel density of 403ppi means that the screen is really sharp, with icons and text clearly defined. Touch response is fluid and smooth, and viewing angles are decent. The brightness levels are fine for indoor usage, but in sunlight, the screen struggles with legibility. In the display settings, you can tweak the colour temperature to your liking.
The m2 note is among the few budget phablets to feature a 1080p display, but it misses out on a very important feature – screen protection. MEIZU hasn't added Corning Gorilla Glass or Asahi Dragontrail Glass over the screen, instead using just tempered glass as a shield. You'll definitely need to invest in a screen protector to safeguard against scratches and minor knocks.
Noteworthy snappers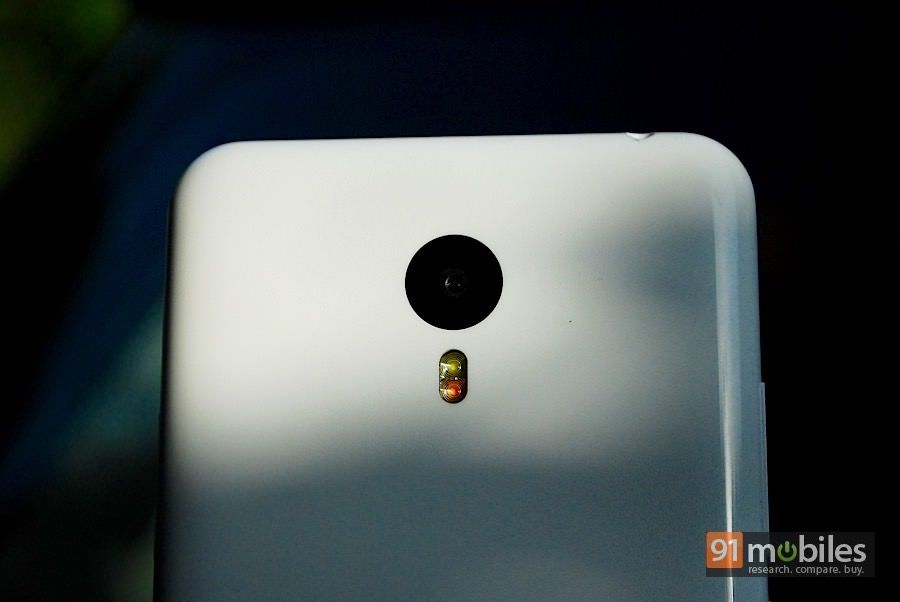 The M2 note features a 13MP primary snapper and a 5MP front shooter. The camera app is simple and devoid of frills, perfect for when you want to shoot in a jiffy. You can swipe down on the viewfinder to bring up the list of modes, or alternatively swipe between them.
The modes include Auto, Manual, Beauty, Panorama, Lightfield, Scan and Slowmotion. The Auto mode features auto focus/auto exposure, but you can separate the focus and exposure points if you want more control. The Manual mode brings up onscreen controls for focus, ISO, exposure compensation and shutter speed which you can adjust via a slider. The Beauty mode lets you enhance eyes, slim faces, and smoothen and whiten skin. The Lightfield mode is similar to the Lumia Refocus tool. It lets you snap a photo and adjust the focus point later. This mode actually works really well, creating realistic depth-of-field and bokeh effects. The Scan tool is basically a QR code scanner. While there are several free QR code scanners available on the Play Store, it's nice to have this feature built into the camera.
In the camera settings, you'll find the HDR mode and countdown timer, as well as options like gridlines and a level gauge. On the viewfinder, you'll also see a filter icon, which brings up a range of live filters you can apply.

The MEIZU m2 note has one of the better cameras we've seen on budget phablets. It captures sharp, evenly exposed photos with natural colour reproduction. It's fast to focus and captures detailed macro and daylight shots. Low-light images are very usable, without much grain and colour loss. The HDR mode wasn't the most effective, and tended to oversharpen photos, making them appear artificial. The dual-tone LED flash was another problem area, sometimes completely washing out the subjects, and at other times firing only one of the two LEDs, resulting in either a cool white or warm yellow illumination. The front camera can take a good selfie in daylight, but indoors and in artificial light, a lot of grain creeps in. Here are some image samples taken with the primary camera.
A first look at Flyme
The m2 note runs Android 5.1 Lollipop with Flyme OS 4.5. Flyme (pronounced fly-me) completely alters the stock Android interface, and adds unique navigation and gesture control features. The international version of Flyme is still a work-in-progress, and comes with just a handful of Google services pre-installed, limited to the Play Store, Maps, Google Now and Google settings. All other apps including Chrome, YouTube, Google+, Photos, Hangouts, etc., need to be manually downloaded and installed. A few apps, including the browser, AppCenter (MEIZU's app store in China) and Personalize (the theme store) are all in Chinese. Like most Chinese UI's, Flyme also skips on an app drawer, with all the icons scattered across the various homescreens. By default, the UI displays Flyme icons, which are square-shaped and blocky. If, like us, you're not a fan of this, MEIZU has provided an option to switch to the default Google icons in settings. The settings menu has also been modified, displaying a sidebar with icons on the left, which can be swiped out to expand the view of each item.
Among the pre-loaded apps, you'll find one called Painter, which lets you write notes and draw, similar to Samsung's S Note app. There's also a Security app, which has become the norm on Chinese UI's. It features a one-click scan, junk cleaner, app cleaner, virus scanner, permissions manager, traffic manager and power savings mode. In the power savings section, you'll find options for Smart and Super power savings. You can also configure a customised mode, and manage which apps continue to run when the screen is idle. The m2 note comes pre-installed with the TouchPal keyboard, in addition to the default Google keyboard. TouchPal features roomy, evenly-spaced keys that are great for typing. The auto-correction and word prediction features also work well. The theme store which we mentioned earlier has a large selection of themes, wallpapers, ringtones, etc, available, but since it's in Chinese, it isn't of much use to international users.
Under the accessibility section in settings, you'll find a bunch of gesture controls. Gesture Wakeup lets you cold-access apps from the lockscreen by tracing specific gestures or letters. You can assign particular tasks to each of the gestures available, although you can't customise the gestures themselves. There's a feature called Smart Touch which displays a floating button that functions as an onscreen navigation control. You can program it to perform various functions. For example, you can click on it to mimic the return function, slide up to go to the homescreen or slide down to open the notification bar. When enabled, the button will remain on the screen, where you can drag it around to reposition it. It's opacity can also be tweaked to your liking. A feature called Slide Rightward in Lockscreen (a prime example of badly translated text) lets you choose which app to launch when you slide to the right from the lockscreen. Sliding to the left opens the camera by default, and this action can't be changed.

Unlike the conventional Android interface that features home, return and multi-tasking navigation keys, the MEIZU m2 note features a very unique setup thanks to its the mBack button. What makes mBack unique is that it responds to capacitive and mechanical touch, and doubles up as both the home and return key. Tapping the button serves the return function, while pressing it takes you back to the homescreen. Long-pressing the mBack button locks the device, so you don't need to use the power button unless you want to.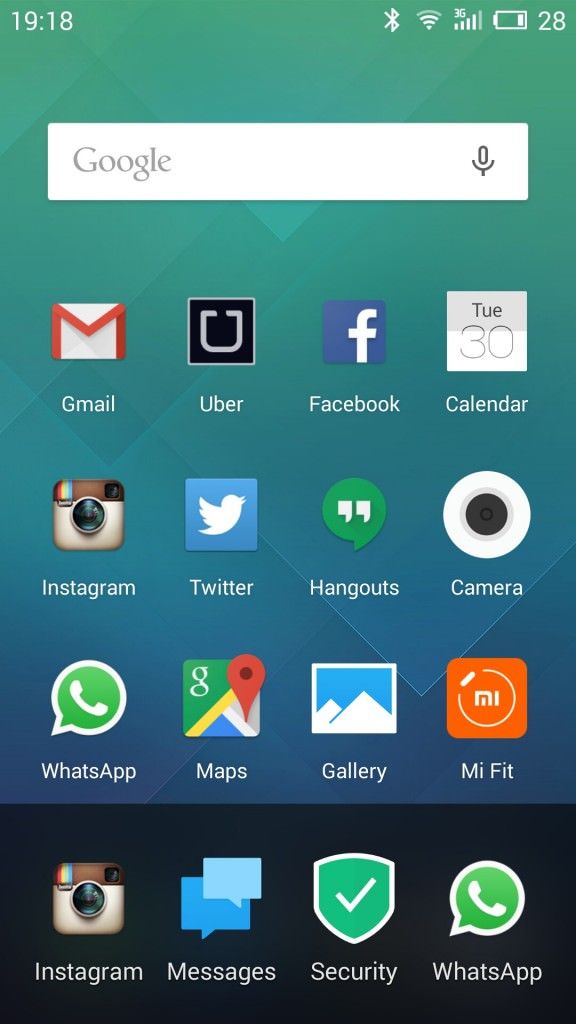 The multi-tasking menu can be brought up by swiping up from the bottom of the screen. From here, you can switch between or close running apps. You can close individual apps by swiping up on a particular icon. To close all the running apps, you just need to swipe down on any of the icons. The navigation system seems alien at first and takes a few days to get used to, but once you get the hang of it, it's actually very fluid. It helps that the mBack button is extremely responsive, and that you can access the multi-tasking menu within running apps.

As far as custom UI's go, Flyme is one of the lighter interfaces we've seen. It's smooth and user friendly, and adds several useful features to stock Android without seeming overwhelming. Unfortunately, at this point, the international version Flyme still feels like an unfinished product. The incomplete Google services and badly translated text aside, we also noticed several instances in the settings menu where text was cut off halfway. There was also a strange bug that prevented us from adding more than one Google account. Since we had a non-retail unit, we assumed that the final software for international units would be more polished. But it appears that the MEIZU m1 note, which is currently on sale in India, features the same software, which is problematic.
Trusty Engine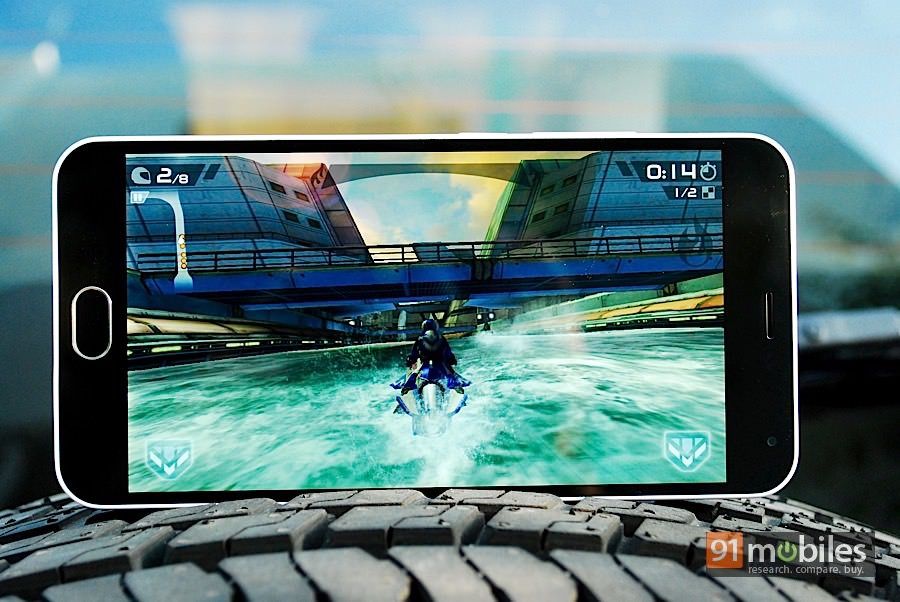 The MEIZU m2 note is powered by an octa-core MediaTek MT6753 processor clocked at 1.3GHz. It gets 2GB of RAM and a Mali T720-MP3 GPU for company. Day-to-day usage and multi-tasking on the m2 note was smooth and zippy, without any significant lags or sudden app crashes during our two-week testing period. The smartphone was able to handle gaming well too, and we were able to play Riptide GP2 without any jitters despite the heavy graphics. The device gets warm after 10 minutes of gameplay, but doesn't overheat to uncomfortable temperatures.
On our 16GB unit, we got approximately 10GB of free storage out of the box. There's also a 32GB variant, but we're not sure if MEIZU will launch this one in India. One of the m1 note's biggest failings was the lack of a microSD card slot, and MEIZU has rectified this with the m2 note, which accepts cards up to 128GB in size. As we mentioned earlier, it's a hybrid SIM card slot, so you'll need to choose between dual-SIM and expandable storage.
The m2 note is fitted with a 3,100mAh fixed battery. We found the battery to be more than adequate for a day's usage comprising phone calls, Facebook, Twitter, WhatsApp and use of the camera. We usually didn't need to plug in the charger until before bed, unless our usage was very heavy. In our standard battery test, where we loop a 720p video with brightness and volume set to 50 percent, we got just under 11 hours of juice, which is a fantastic result.
As far as the connectivity options go, the m2 note supports both 4G bands in India on both SIM card slots, which is great. The other features include dual-band Wi-Fi, Wi-Fi Direct, Bluetooth 4.0 and USB OTG.
Verdict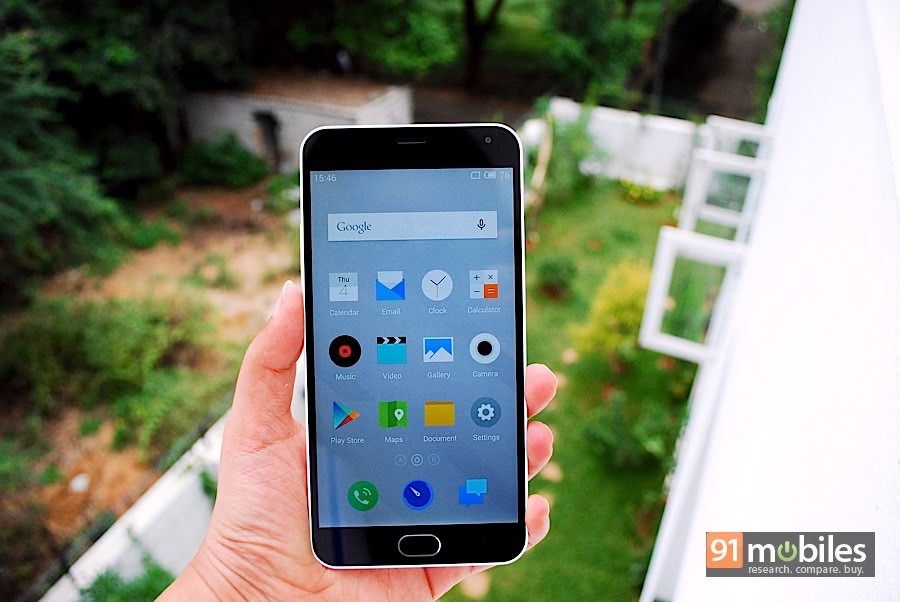 After a few weeks of using the m2 note as our primary driver, we can confidently say that this is one of the best budget phablets available today. The sharp screen, good cameras, smooth performance, long-lasting battery life and refreshing navigation system all work in its favour, and assuming MEIZU gets its right, the pricing should too. In China, the m2 note costs approximately Rs 8,200 for the 16GB version, and Rs 10,200 for the 32GB model. It's bound to be priced higher when it launches in India, but considering that the similarly specc'd Lenovo K3 Note (first impressions) costs Rs 9,999, we expect MEIZU to be aggressive with pricing. Our only concern with the m2 note has to do with the software issues we mentioned earlier, but this is something that can easily be rectified with an update. MEIZU will also need to establish a reliable customer support network in India, which is currently lacking. But given the fact that the company is expected to launch the MX5 (unboxing and first impressions) flagship in the country as well, we suspect it won't be long before its India operations are up and running. And when it does, users will have yet another Chinese firecracker to choose from.
Price: N/A
Editor's Rating: 8 / 10
Pros:
Sharp display
Battery that easily lasts a day
Good cameras
Smooth performance
Intuitive navigation system
Cons:
No protective coating on display
Software needs to be polished
No proper service network in India
Competitors for Meizu M2 Note