Rejoice Android, Mediafire is launching its mobile application today that will offer you 50GB online storage space. This will be a free app. The online storage and collaboration provider in their official announcement said that the app has been designed to enable productivity on the go by allowing users to quickly access and share files whenever and wherever they are. This app was so far available to iOS users alone.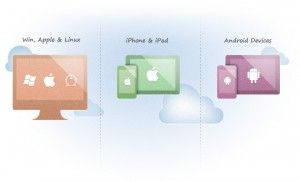 Keeping in mind the fact that smartphones are taking over the traditional desktop roles of content storage such as business documents or other files, the new MediaFire for Android app provides desktop capabilities in a mobile experience, allowing users to quickly and securely store, backup, organize and share all their personal and work data. The new Android app joins the iOS app for iPhone and iPad devices, making it even easier to access content across devices. Files are safely stored in users' personal MediaFire accounts and accessible directly on mediafires website. The important features of this app include:
50GB online storage
All types of file supported for storing
Viewing documents, spreadsheets, presentations, video, and listen to audio
Take and upload pictures and videos directly in the MediaFire app
Upload Android gallery images
File sharing via email, SMS, links and other Android apps
Quick search of MediaFire files and folders
Files stored on Mediafire app will be available on iPhone, Android and the Web. MediaFire is the only online storage solution to offer unlimited downloads, download resuming, zero wait times and more. Currently, every month, more than 150 million people use MediaFire to securely store, organize and share all their personal and work data.