Smartphones
have dominated the tech industry with its incredible features that the public can no longer survive without a smartphone.
Smartphones
have the efficiency and features to actually match up to a computer. The crucial elements in a smartphone are contacts, notes, photos, videos, banking, surfing and social networking with enterprising features of online shopping. If the phone was to be lost, it would be equal to the lost worth of a computer. For those who crave smartphones, you should look into the McAfee's WaveSecure
app
.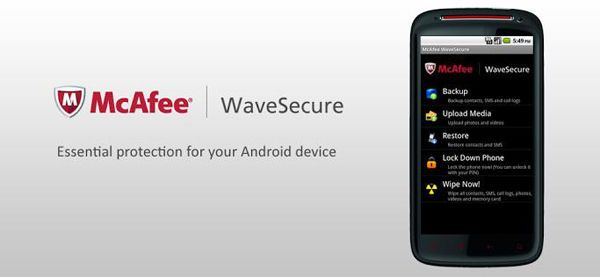 The WaveSecure app is extremely easy to use, the UI is pretty simple to browse through. There are a few easy steps to install this app, the user will have to provide phone number which will be verified. Furthermore you can add another contact number of a known person who you want to contact in case of the phone being stolen and when another person tries to insert a new SIM card. This is extremely beneficial, since the new SIM card in you device will send an SMS to those in the buddy list which is the contact number of a known person. When the new SIM is inserted your device gets locked that will prevent access to your phone data. The user can roll out a new message that will be displayed when the device is locked. The buddy list can be modified at your convenience. This app will also preserve or back up important data such as contacts, SMS, call logs, calendar entries and photos and videos. With this app you can also use auto back up which can be accessed by logging on the WaveSecure site and from here you can restore your data. The data can also be exported into Excel to create additional backup file. MacAfee WaveSecure app offers immense security even when your phone is lost in a remote area. In the event of a lost phone there is a system where you can log into your account and remove the entire date on your phone and even lock your device. The problem with this app is it can delete important data such as contacts, messages, photos and videos. The amazing feature of this app is it can trace the current location of your phone on the map.