The Superhero comic book pioneer and giant is thinking up ways to push themselves into the digital world in a big way. As a new way to promote Marvel's digital comic books, the company is giving away 700 first issue digital comics free till 11PM Eastern time on 12th March, 2013.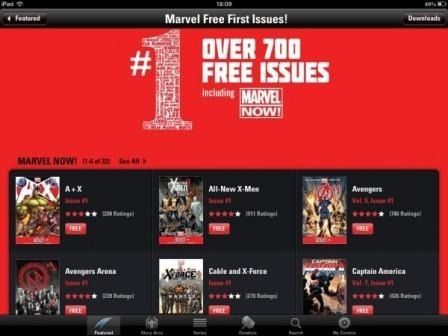 Marvel comics made the announcement at the SXSW event held in USA. The Marvel officials said that, "At its core, Marvel #1 is all about bringing new readers into the fold. That doesn't just mean fans who have never read a comic, but [also] longtime fans [who want] to jump into books they may have been waiting to try. With a plethora of great content and digital devices—be it tablets or smart phones—in more hands than ever, there is no better time to launch an initiative such as this."
The free editions can be downloaded from Marvel Comics Digital Comics Shop or the Marvel Comics app available for iOS and Android.
The download will however, not be as easy and smooth sailing as you imagine. Considering the fame Marvel comics has garnered with such famous comic series as the Avengers, Captain America, Fantastic Four, Guardians of the Galaxy, Iron Fist, Spider-Man, Thanos, X-Men, and many more.
A regular Marvel comic issue can cost around $2 to $4, which roughly translates to Rs. 100 to Rs. 500 in Indian currency. So, for fans of the popular comic series, this can mean some really huge savings.
The servers are running very slow just now due to the huge traffic. However, if you rush, you might be able to download at least a part of the entire collection.