MapmyIndia, well known for mapping solutions and GPS accessories is foraying into many other interesting gadget areas. Most recently, they had launched a "CarPad" – a in-car GPS mapping device that is also an android Tablet. Now, they have unveiled another product called Portable Mobile Charger. This portable gadget charger is nothing but a 2200mAH rechargeable battery encased inside an housing with a USB port. This portable mobile charger can be used to charge your day-to-day gadgets such as Mobile phones, Tablets, GPS devices, Portable gaming device and Multimedia gadgets.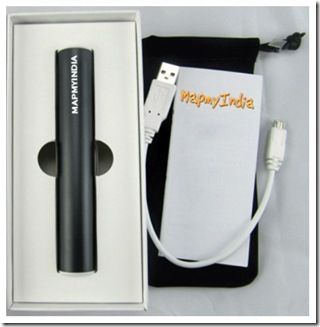 MapmyIndia Portable Gadget charger comes in 4 different bright and lively colour choices such as Green, Red, grey and black. The portable charger has an input port to charge the rechargeable battery and an output port that can recharge other gadgets. The input port is a micro-USB Port while the output port is a USB Port (A type). If you are charging the portable charger from devices like PC, it will take about 5 hours to recharge fully. If you recharge the portable charger from wall socket, then it will take about 3 hours to recharge fully.
MapMyIndia Portable Gadget Charger Price in India is Rs. 2,490. You can buy a gadget by visiting this link.
Key Features
High capacity
Slim and stylish with metallic body
Charge and discharge with USB
Charge and discharge at the same time
External power for your digital product