Lumigon mobiles
has launched its latest touch screen Android 2.2 based Smartphone called
'Lumigon T1'
in Denmark. Besides Android operating system, the mobile features a special
P-GUI software implementation to give the users even more user friendliness. Lumigon T1 comes with an in built remote controller which can be used to control any electrical appliances. The mobile is powered by ultra fast Freescale1Ghz i.MH51 3D processor and integrated FM transmitter for pushing tunes to vehicle audio systems, and a built-in sound system powered by the high-end entertainment gear maker
'Bang & Olufsen'. It also sports a 5 Mega pixel autofocus camera with flash.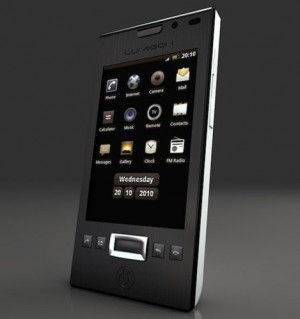 Lumigon T1 Specification:
3.5-inch touch screen (800×400 pixel)
5 mega pixel autofocus camera with flash
Android 2.2 (Froyo)
Accelerometer
Built-in remote controller
1 GHz i.MX51 3D processor
Wi-Fi/Bluetooth/ HSDPA/ A-GPS
Lumigon T1 is built with the fine materials like aluminum, steel and scratch-free glass. Lumigon T1 will be available in market in first quarter of 2011 and the price is yet to be announced.