"The Logitech PowerShell is a first-generation Made for iOS game controller."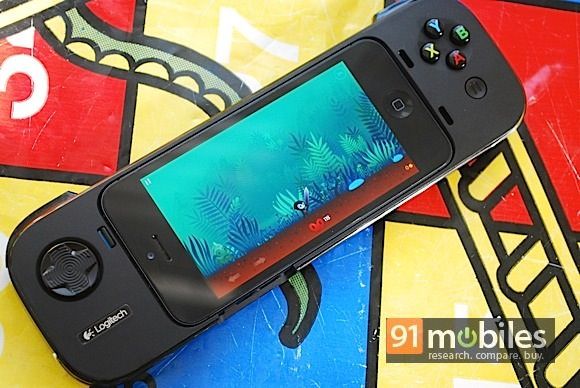 One of the most significant announcements Apple made at WWDC last year was the MFi (Made for iOS) program for certified game controllers. Developers can now add MFi support to their games, to let users play hitherto touchscreen-only games with a physical controller. Apple also released a template for controller types – a 'standard' version with a D-Pad, four standard buttons and left/right shoulder buttons, and an 'extended' version with two analogue sticks and two sets of shoulder buttons. The Logitech PowerShell falls into the 'standard' category, and is a first-generation MFi controller. We've had the PowerShell with us for over a week now, so if you're curious about how it works, read on for our full review.
Almost a hollowed-out PS Vita
On its own, the PowerShell resembles a hollowed-out frame of a Sony PlayStation Vita, and is designed to fit around an iPhone or iPod Touch. There's a Lightning connector on one end attached to a flexible bit of plastic, which securely holds your iDevice in place. The PowerShell also manages to fit in a 1,500mAh battery, which can charge your iPhone when it is docked.
The PowerShell is compatible with the iPhone 5 and 5s, and the fifth-gen iPod Touch, which fits with the help of a rubber insert that comes in the box. Unfortunately, the bulkier iPhone 5c isn't supported. A Logitech spokesperson told 91mobiles that an iPhone 5c only model is available in select markets, but India isn't one of them.


The PowerShell has conveniently placed cut-outs for the iPhone or iPod's controls, like the volume buttons and rear camera. The hollow for the rear camera also helps to pop the iPhone or iPod out of the socket. The power button isn't accessible the conventional way, and instead there's a tiny lever directly above it, which you can pull down to lock or unlock your iDevice. The lever feels a tad flimsy, and sometimes it takes a few pulls for it to activate the power button.
The PowerShell doesn't provide direct access to the iPhone or iPod's 3.5mm headphone jack too. Instead, you'll have to use an elbow adapter that juts out of the corner. The adapter feels awkward, and is likely to be misplaced or left behind at home.
Coming to the PowerShell itself, you get four face buttons that resemble those on an Xbox controller, a Start/Pause button, analogue D-Pad and two left/right shoulder buttons. Directly below the iPhone's speaker are two cut-outs, which are meant to amplify sound.


The PowerShell is made entirely of plastic, which makes it lightweight and ideal for long hours of gaming. The front and back panels sport a matte finish which remained smudge-free throughout our testing period. The rear panel features curved hand-rests to comfortably hold the PowerShell, and a textured pattern for extra grip. The top and bottom panels don a shiny plastic finish, which tends to scratch easily.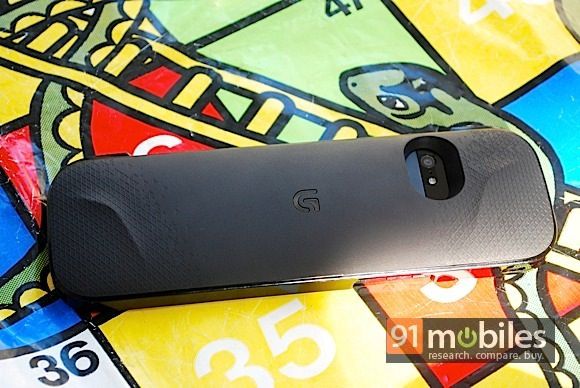 There's a micro-USB port for charging, and while Logitech has included a charging cable in the box, you'll have to use your iDevice's power adapter to plug it in. To check battery level, there's an LED logo at the back, which flashes red when the PowerShell is low on power. The logo flashes blue when the controller is charging, and glows a steady blue when there's enough power. Unfortunately, there's no other battery indicator to tell you the exact battery level, so it's just hit and miss.
Games are few, but the numbers are rising

Using the PowerShell is incredibly easy. All you have to do is dock your iDevice, and you're ready to rock. Sadly, finding compatible games is far more complicated. Apple doesn't have a separate category on the App Store listing all the MFi compatible games, so you'll have to search for them manually.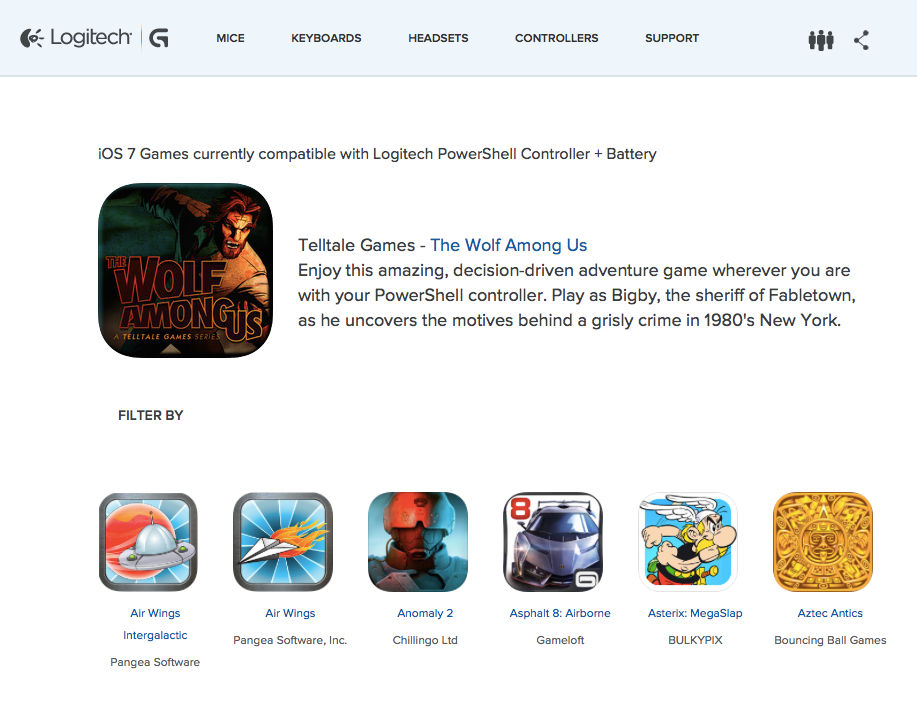 Logitech has helpfully compiled a list of all MFi games on its website, but we found the easiest way was to use the Phonejoy app. Not only does it provide a complete list of compatible games, it lets you filter results by title, rating, release date, price and more. You can read a description of a game from within the app, and if you decide to download it, it'll redirect you to the listing on the App Store.
Currently, there are about 140 MFi compatible games available. This is a tiny percentage, but it's a number that has been steadily growing.
Great for RPGs and side-scrollers, but so much for racing
A point to note is that the PowerShell's performance differs from game to game, and depends entirely on how well developers have baked in controller support. The PowerShell can only be used in-game, so don't expect it to navigate the iOS 7 interface. At any point while the PowerShell is connected, touchscreen controls will continue to work normally, and you can even switch between touch and physical controls during gameplay.
We tested a variety of game genres with the PowerShell, and our overall experience was patchy, with RPGs and typical hack-and-slash games significantly improved, but racing games taking a setback.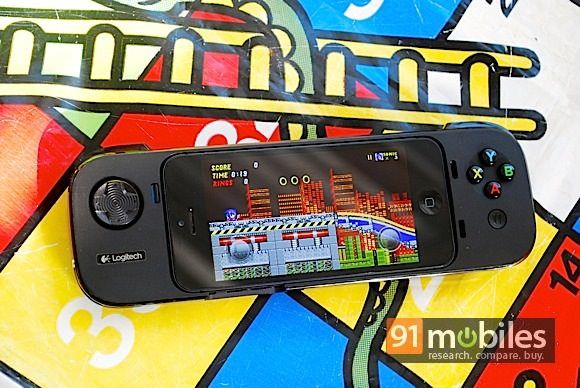 The main reason for the patchiness is the lack of analogue sticks. With sophisticated 3D games, navigation is the key, and the D Pad doesn't offer the same level of control as an analogue stick. Even though the D Pad is analogue, it isn't as responsive as we'd like it to be, and you're likely to get a sore thumb after an hour of usage. For any sort of racing game, navigating sharp turns is next to impossible with a directional pad, and we got much better results using the regular tilt controls. In Riptide GP2, using power boosts or performing jumps have to be done on the touchscreen, and switching between the two is tough in the middle of gameplay.

Competing controllers like the Moga Ace Power and SteelSeries Stratus have not just one, but two analogue sticks, with one being used for navigation and the second used for adjusting camera angle, very useful for games with 3D visuals, such as Infinity Blade and Grand Theft Auto: San Andreas.
However, games like Reaper, Sonic the Hedgehog 2 and Terraria which have complicated touchscreen controls and were frankly quite unplayable earlier, were suddenly enjoyable, and are almost intuitive if you're familiar with any sort of console controller.

The battery on the PowerShell can charge an iPhone for almost an entire cycle. We found it drained completely in about three hours of gameplay.
Verdict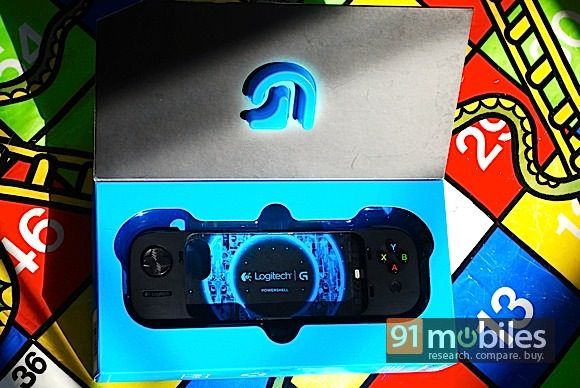 We're not going to get into the whole handheld console vs MFi controller debate, because mobile games have a long way to go before they catch up with PS Vita or Nintendo 3DS titles. It's still early days for MFi controllers, which leaves lots of room for improvement, both from the hardware manufacturers and game developers. Plus, the average mobile gamer is a casual one, with serious gamers preferring the advanced abilities of dedicated consoles.
There are two main issues with the PowerShell. The first is the lack of analogue sticks, and the second is that it isn't future-proof. The SteelSeries Stratus offers Bluetooth connectivity, and while it doesn't have an included battery, it is compatible with iPads, and is likely to support future iDevices.
The PowerShell isn't cheap either, and pegged at an MRP of Rs 8,995, is half the price of a PS Vita or Nintendo 3DS. There is some good news though. With Apple slashing MFi licencing fees by 20 percent, we can expect cheaper controllers in the future.
That said, Logitech does produce some of the best mobile accessories, and we expect the next-generation PowerShell to address most of our concerns. And, if the idea of a mobile game controller appeals to you, the PowerShell is already available for as little as Rs 6,995 on select online retailers. With the added benefit of a battery pack, it's bound to provide you with adequate entertainment during long commutes or boring waits.

Price: Rs 8,995

Editor's rating: 7 / 10

Pros:
Slim and lightweight
Included battery
Great for RPGs and hack-and-slash games
Cons:
Compatible with a handful of devices
Doesn't come cheap
No analogue sticks
Limited set of compatible games