Today I decided to take the plunge and started incorporating Galaxy Tab 2 in daily usage. Since, one of the differentiating features in Galaxy Tab 2 against many other tablets is the ability to insert SIM card, thus doubling up as a normal phone for Calling and Messaging purposes, so I went ahead and inserted my SIM card. Though, the SIM card slot was really tight, and I had to try 2-3 times to insert the SIM card. As soon as I inserted SIM, my network provider- MTNL sent me configuration settings for using data services in the device.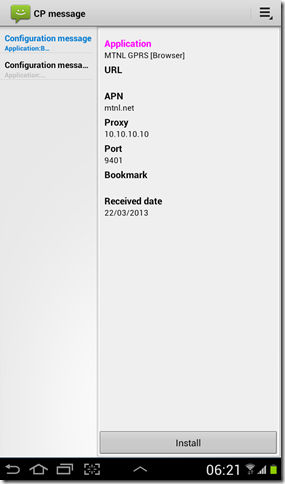 While, even to think of using a 7" tablet as a normal phone may seem awkward, but the fact that Galaxy Tab 2 can used as one can prove to be useful at times when your smartphone battery dies and it can be used as a backup device. While commuting using metro or trains, I have often seen many people using such Tablets for making calls.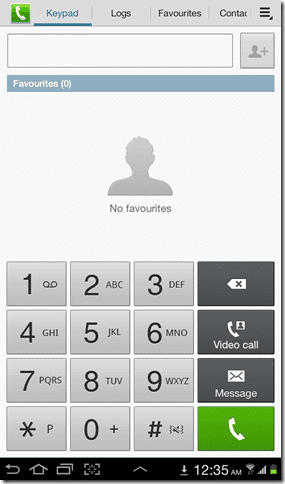 Though, I could use the tablet as a phone by bringing it near to my ears, but the fact that it's not handy and have considerable weight caused pain in my hands when it was held for long durations. Using earphones was certainly a better option for using the phone functionality in the tablet. I paired my Dell BH-200 Bluetooth earphones with the tablet, and since then using tablet for making and receiving calls was very convenient as I didn't need to worry about carrying it. Moreover, being connected wirelessly gave me the freedom to put the tablet in my bag!
After testing out the calling features, I moved on to start using messaging capability. The biggest role for using messaging in any device is played by its keypad, since that determines the speed and easiness with which I could type messages. Due to large screen size, the keypad is certainly bigger than found on other mobile phones, but in this particular case 'bigger is definitely not better'. In portrait orientation, typing with one hand by keeping the tablet in another hand or on some surface was very slow and there was many typos. Keeping the tablet in both hands and then typing through thumbs was faster and better. Still, it couldn't be compared to a normal qwerty phone or a touchscreen phone. Even, in landscape orientation, typing through thumbs by keeping it in between both hands was the only option.
I was able to use the keypad for typing easily at home or office, it was very big problem to use it while standing in a bus or metro as both of my hands were on tablet and one can't stand in a moving vehicle without support.
But, once I got familiar with the keyboard after spending some time with it, I was able to type with good speed, though still incomparable to the fluency in my touchscreen phone.
I also started using the tablet for emailing purposes, since the tablet is from Google, it already had Gmail installed. I really loved the two-tabbed interface of Gmail in the tablet due to which I could easily read and reply to mails. It also made me browse through all of my mails faster.
Internet browsing on the tablet is a charm! Really, the big screen is very helpful for reading long articles and/ or seeing images. The websites loaded pretty fast as well. The touchscreen also responded well to my multi-touch for zooming in to particular sections of the website.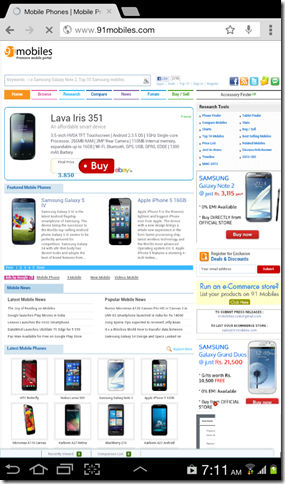 Overall, I think the tablet offers a good mix of features for using its phone functionality or sometimes doing basic work like emailing, browsing and document viewing on the tablet itself, without the need to open my laptop. It also gives me lot of freedom to use it wherever I want (with a little bit of precaution) since its very portable. However, keypad will require some more practicing for fast typing with less typos.
If you want to read my previous days experience, please follow the links below: