Continuing with my endeavor of using Samsung Galaxy Tab 2 after Day 1, today I checked the interface, basic functionalities and apps bundled by Samsung in the tablet.
As stated earlier, the Galaxy Tab runs on Android version 4.0.4 with customized TouchWiz skin from Samsung. Compared to previous versions, Ice Cream Sandwich focuses on easy multitasking, rich notifications, customizable home screens, resizable widgets, and deep interactivity with device. The first thing I tried was to check if it's the latest update from Samsung by clicking on the Software update option, I got the prompt that there are no new update. Rumors suggests that Samsung will be releasing Android 4.1 (JellyBean) for Galaxy Tab 2 by Q2 2013.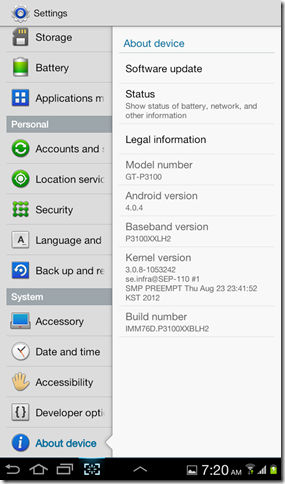 Settings provided in the Galaxy Tab 2 are pretty standard for managing Wireless networks, Display, Sound, Applications, Security, Accounts, etc.
The Home screen had 5 screens which could be increased or removed depending upon one's requirements. Main screen has various widgets for Weather, Video Player, etc. and icons for Phone, Readers Hub, ChatON, Play Store, etc. Other screens also had one or two widgets by Samsung. These screens can be modified according to one's wish or can also be overhauled using a home screen launcher.
Samsung has provided multitude of apps with Galaxy Tab 2, some of them just as an alternative to default apps and others of immense utility. These apps are:
Samsung Apps- An alternative to Google Play Store for downloading apps.
S Suggest: Similar on the lines of Samsung Apps, it suggests you various apps that you may install in the tablet.
Game Hub: For downloading games on Galaxy Tab 2 (Although one could download games from Play Store as well).
Readers Hub: A centralized place for reading News, Books and Magazines.
Polaris Office: A document viewing and editing app able to read documents, presentations or spreadsheets.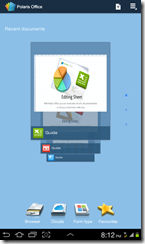 All Share Play: It lets you share Galaxy Tab's content with other compatible technologies like smartphones, tablets, TVs, etc.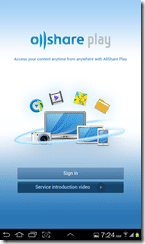 S Planner: An alternative to calendar app on a device.
Other apps like Photo editor, Video maker, Music Player, etc. will be discussed when I test multimedia features of the tablet. Apart from them, the Galaxy Tab 2 features the normal apps which one finds on Android devices.
Samsung also offers 'Mini-Apps' which can be called from anywhere in the tablet- home screen or otherwise by clicking on Upwards Arrow button in the status bar. These apps will open on top of the app you might be working upon, thus you can use the functionality of such apps without the need of opening dedicated app. Such apps are Calculator, S Planner, Messaging, etc.
While some of the apps may seem like bloatware, most of the apps are extremely useful. Especially concept of Mini-Apps is really nice giving you access to few apps quickly without closing the app you are working upon and then opening that app.
All the other functionalities of the apps work normally, since it runs on Android.
Till now, the tablet seems to offer a good choice for use in between my phone and laptop. I'm eagerly waiting for tomorrow to test it out from the perspective of daily hand-held device or maybe replacing one of my device- mobile or laptop.