Tablets are becoming one of the most in-demand gadgets in consumer electronics. Their appeal is near universal, from kids to seniors, consumers to business users. They are quickly evolving from nice-to-have to must-have digital devices. According to Gartner, the worldwide tablet sales would be touching 197 million units in 2013, an increase of 69.8 % from sales of 130 million units in 2012. Because of this reason, I was keen to test out a tablet and see how it impacts and helps in my day to day chores of life. Being an ardent fan of Android and using Samsung Galaxy Y having fairly old Android 2.3 (GingerBread) operating system, I wished to use an Android Tablet, that too with Android 4.0 or above.
When I came to know that I would be getting Samsung Galaxy Tab 2 P3100 for testing, my joy knew no bounds. Please note that its not an in-depth review of Galaxy Tab or why Android Tablet is better than iPad, through these posts over the next 7 days, I am sharing my experience of using an Android tablet on day to day basis and how it adds (or doesn't adds) value to the same.
Unboxing
I can hardly contain my excitement when I got my hands on the box, and immediately opened the box.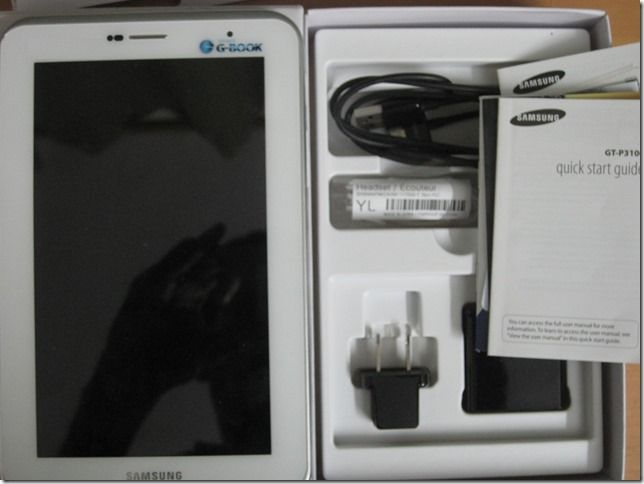 The Galaxy Tab 2 box includes the following contents:
1) Galaxy Tab 2 P3100
2) Charger
3) Earphones
4) USB cable cum charger
5) Galaxy Tab 2 Quick Start Guide
First Look
The prominent part of the front of the Galaxy Tab is taken by 7-inches LCD screen with a resolution of 1024 x 600 pixels, equating to pixel density of 170 ppi (pixel per inches). Unlike earlier Android devices, the Galaxy Tab 2 doesn't feature any physical button for Home, Back or Options menu. There's also front-facing VGA camera for video calling, few sensors and an earpiece on the front.
At the top, there's 3.5mm audio jack and the secondary microphone is used for stereo audio in camcorder mode. The Galaxy Tab 2 has a proprietary 30-pin connector for charging and connectivity, which is located at the bottom of the tablet, in between the two speakers.
The left side has a SIM compartment and a Micro SD slot, both covered by plastic lids. The right side features the power button and a volume rocker.
At 345g of weight, the tablet does feel heavy if carried for long durations in one hand. Though it can be comfortably held in two hands.
The back of tablet sports a 3 MP camera capable of capturing videos of 720p @ 30fps. The back has a matte finish making it very slippery when hands are sweaty.
Without wasting much time at the exterior of the tablet, I switched it on. The phone runs on Android 4.0 (Ice Cream Sandwich) with Samsung's proprietary TouchWiz UI.
The navigation keys of Android are at the bottom- Back, Home and app switcher and a special screenshot-taking key from Samsung (helped me a lot while for these posts). The bottom also features notification area and quick toggles for 3G, Bluetooth Wi-Fi, Screen Roatation, etc at the bottom right. The Google search shortcut is in the top left and app drawer is in the top right.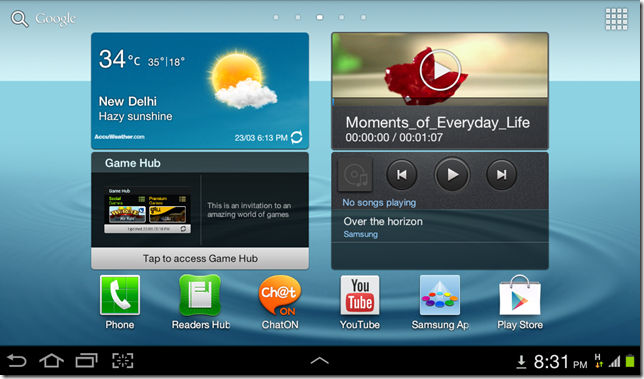 In short, Galaxy Tab 2 holds a lot of promise and I was already excited for trying it over the next few days.