"The Watch Urbane looks drop-dead gorgeous with its metallic circular dial and strap."
Since the launch of Android Wear last year, there have been a slew of smartwatches in the market. However, none of them have been able to wow us, especially when compared to conventional watches that not only display the time, but double up as fashionable accessories too. Even though the Moto 360 (first impressions) and G Watch R came strikingly close, they had their share of limitations such as low battery life, a black bar at the bottom (in case of the Moto 360) and thick bezels (on the G Watch R).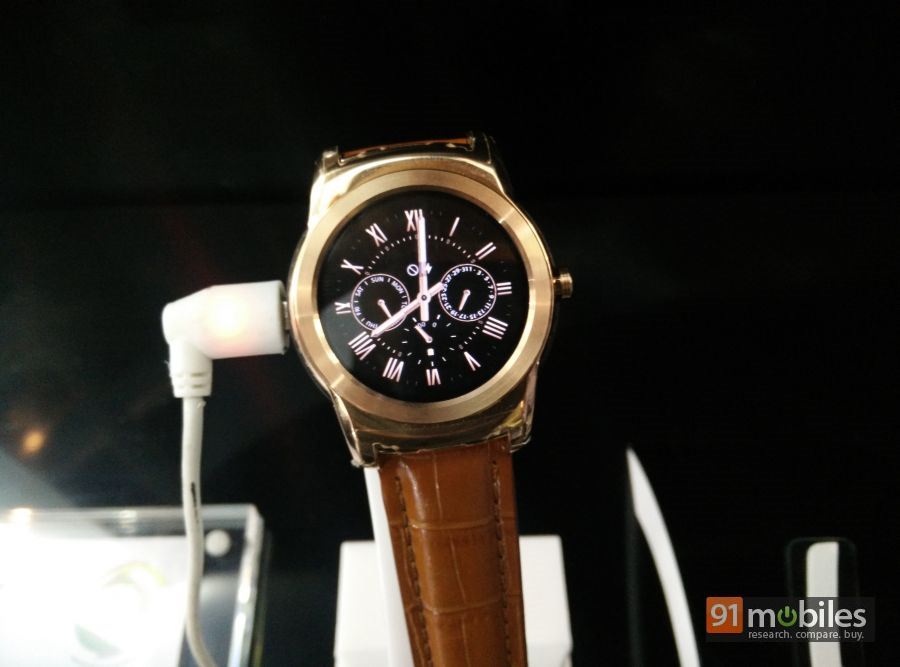 With the Watch Urbane however, the South Korean manufacturer LG has now come up with an offering that not only looks premium, but feels good too. At the brand's annual tech show held in New Delhi, we were able to go hands on (quite literally) with the latest smartwatch from its stable and here's what we thought.
The Watch Urbane sports a circular dial just like its sibling, the G Watch R, but instead of plastic, it's constructed out of metal. The dial around the screen isn't as thick as predecessor, and it's available in classy choices of silver and gold. Opting for a minimalistic design, the watch only features a circular P-OLED display up front.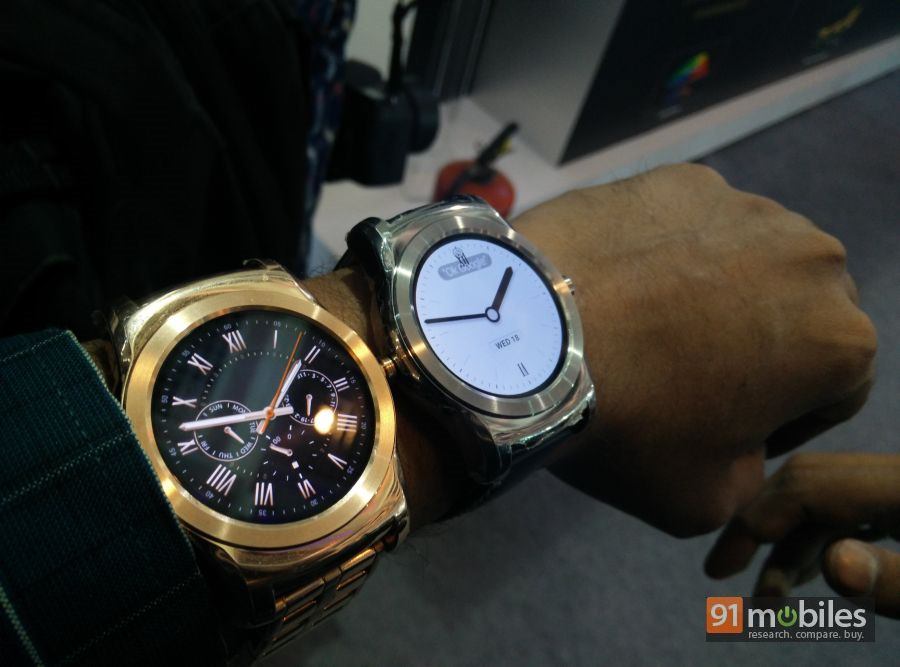 Towards the right of the LG Watch Urbane, you'll find a button a shaped a conventional crown. The rear of the device is quite busy yet looks nice with brushed metal, and here you'll find pogo pins for charging it (via the charging cradle), as well as a heart-rate sensor. The Watch Urbane is durable too thanks to its IP67 certification, making it impervious to dust and water.
Complementing the metallic dial of the Watch Urbane are its straps. LG has used 18mm straps for the smartwatch, which means you can swap them out quite easily. By default, you can get the watch with either real leather or metal straps. The leather strap features a traditional buckle and will be available in brown and black options. The metal strap on the other hand features a clasp. If we had to pick a favourite though, it would be the metal strap.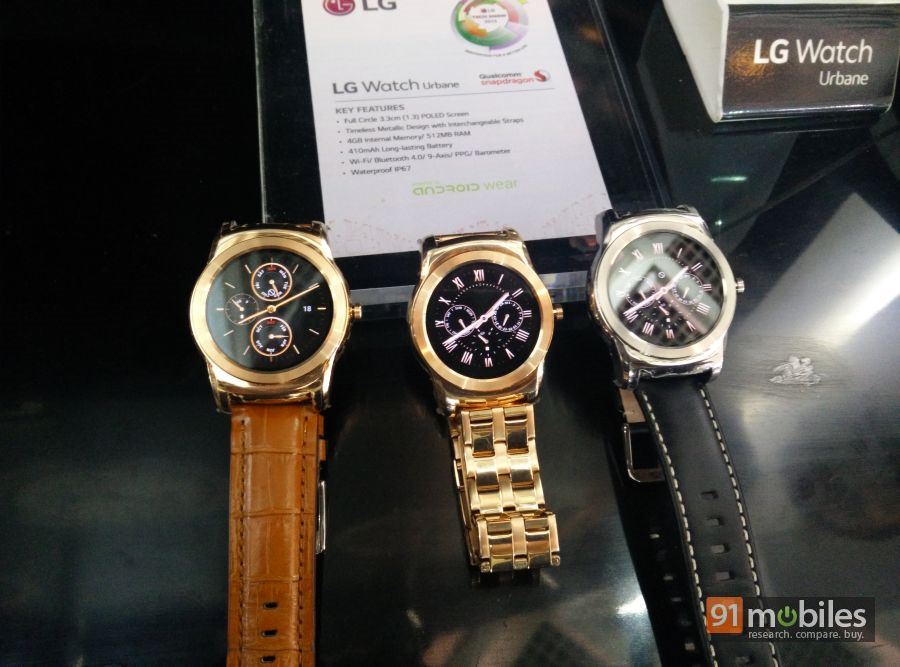 The LG Watch Urbane flaunts a 1.3-inch display with a resolution of 320 x 320 pixels. The display reproduces nice visuals and sharp text, and brightness was also up to the mark, although it remains to be seen if it's legible outdoors.
Hiding under the beautiful exterior is hardware that powers most Android Wear smartwatches – a quad-core Qualcomm processor humming at 1.2GHz, which is backed by 512MB of RAM. Performance was never an issue with Google's OS for wearables as we found in our review as well, and we believe the same would be the case with the Watch Urbane. It comes with 4GB of storage on board, out of which around 2.7GB is available, which can be utilised to install watch faces, watch-specific apps and store music locally. Juicing up the smartwatch is a 410mAh battery, which can last for a couple of days. This isn't really impressive, but is similar to what other Android Wear watches are able to deliver.
The watch runs Android Wear v5.0.2, and also comes with several apps such as an alarm and torch. It's compatible with all Android mobile devices running Android 4.3 Jelly Bean and up. There's an app to check your heart-rate too, since the Watch Urbane is equipped with the heart-rate monitor.
The Watch Urbane is also among the rare Android Wear offerings that come with Wi-Fi connectivity, along with Bluetooth 4.0. This means you can use it to perform web searches or access Google Now. In case you want a watch that can offer more standalone functionality, you can take a look at its sibling, the Watch Urbane LTE (first impressions). While the smartwatches are quite similar in terms of their design and internals, there are some notable differences between them. The LTE-enabled version can be used for making calls since it accepts a nano-SIM and gets a microphone input. It also has three buttons for navigation along with GPS and NFC support. Most importantly, it runs LG's own webOS instead of Android Wear. Lastly, it's heftier, tipping the scales at 115g due to its beefier 700mAh battery. In comparison, the Watch Urbane weighs 45g.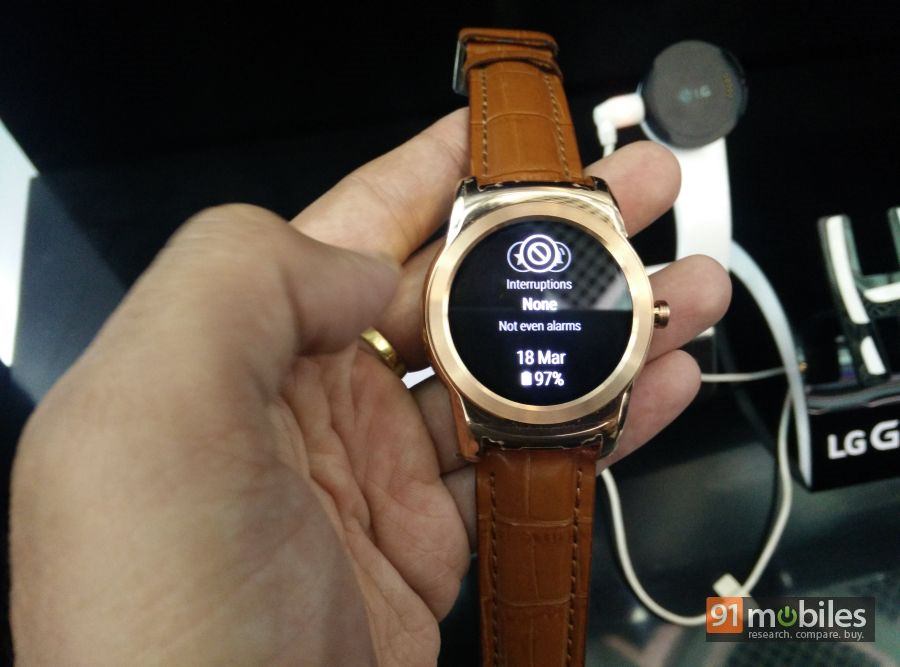 The LG Watch Urbane is expected to go on sale in India next month. Perhaps the only thing that has stopped us from drooling over LG's offering is its estimated retail pricing, which will be in the range of Rs 25,000 and 30,000. However, we'll have more to say on the watch and its worthiness when we are able to test it out extensively, so stay tuned for our review.