LG unveiled the Windows 8 Tab-Book Ultra Z160 at the CES, 2013 and now the new tablet is all set to be launched in Korea this month.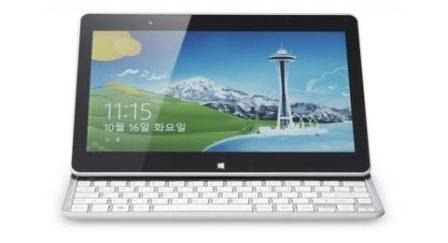 The tablet is another new launch in the laptop cum tablet segment which is becoming popular among the developers. The Ultra Z160 comes with a 11.6inch IPS touch screen with 720 pixel display. The Tab-Book is 19.4mm thick and weighs a mere 1.24 kg, putting it in the slim and light ultra book category.
The Ultra Z160 is powered by the third-generation Intel Core i5 and will come with IPS touch panel, HDMI and USB and standard SD card port. Its battery will yield around 6.4 hours of life.
Not much details are revealed about the the Tab-Books technical specialties. However, the Ultra Z160 looks quite great and handy. The Screen can be detached from the keyboard by pressing a button to release it from the keyboard dock and slid off the panel.
The tablet looks quite classy and handy, it might be one of the high end ultra book offerings from LG. However, we will have to wait for the launch to get any further details.