LG's three upcoming smartphones under the second generation Optimus L-series have been leaked online. The devices were expected to make their debut at the Mobile World Congress 2013. Reportedly, the trio of device that has been leaked are simply the upgraded versions of the L3, L5 and L7 smartphones that come under the LG Optimus L hood. The upcoming LG Optimus L3 II, Optimus L5 II and Optimus L7 II are expected to have received hardware upgrades over their predecessors keeping the same design that had lured more than 10 million buyers to the previous editions.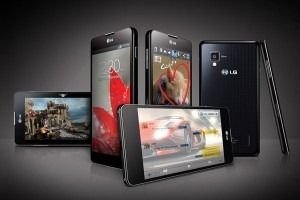 LG Optimus L3 II is will be an entry level smartphone which will flaunt a 1GHz processor, 5-megapixel Rear Camera and a gorgeous IPS display panel. However, the size and resolution of the display screen will be the same as its predecessor.
On the other hand The Optimus L5 II will be powered with a 1GHz Cortex A9 processor accompanied by a PowerVR SGX531 GPU. The display screen will be 4-inch WVGA unit while the operating system will be Android 4.1.2 Jelly Bean. This is a vital upgrade for the device as compared to the Optimus L5.
Whereas, LG Optimus L7 II will get a 1GHz Qualcomm Snapdragon MSM8225 processing unit that will get the graphic performance delivered tremendously by an Adreno 320 GPU. It will boast a 4.3-inch WVGA Display and an 8MP Rear Camera. The successor of the Optimus L7 will arrive with a 2,460 mAh battery along with Jelly Bean operating system at its launch.
One may also expect the arrival of the Dual-SIM versions of the Optimus L5 II and L7 II from the South Korean manufacturer in the coming time in order to let the Optimus L-series gain popularity in the market.