"The Android Wear-laden LG G Watch in action"
El Goog unleashed its Android Wear platform for wearables at its I/O Developer conference, and one of the first devices to sport this is the LG G Watch. The smartwatch was made available on pre-order in India very shortly thereafter and is now available to buy from the Play Store (out of stock as we write this) for Rs 14,999. Samsung also has one in the form of the Gear Live, priced marginally higher at Rs 15,900, though Motorola's stylish Moto 360 is still to be officially launched, and we're hoping it lands in India too. We got up close and personal with the LG G Watch at the G3 launch event in Mumbai, and here's a quick look at the device and what it brings to the table, or in this case, your wrist.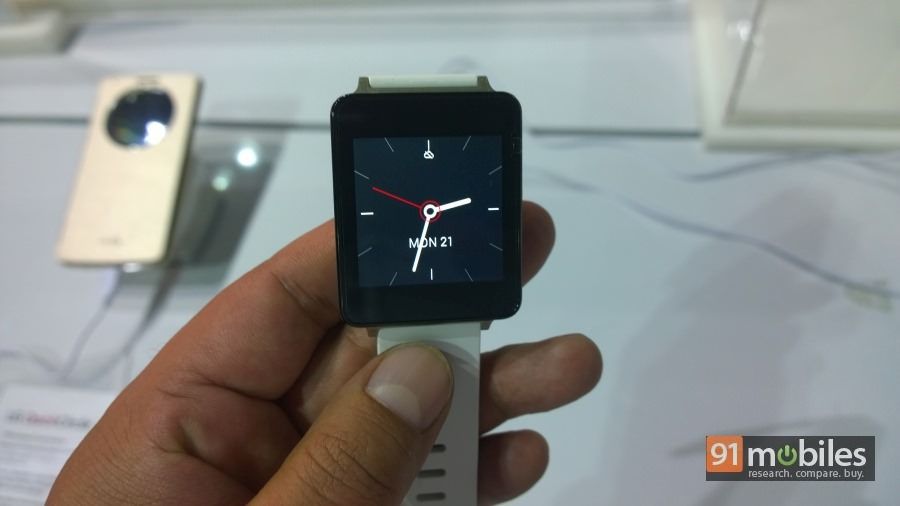 The G Watch sports a rather minimalistic design, with no physical controls on the fascia. So what you get is a chunky gadget that goes on your wrist using a basic rubber strap, similar to the one on the first-generation Pebble. The 1.65-inch IPS display takes centrestage, and inside sits a 1.2GHz Snapdragon 400 processor, along with 512MB of RAM and 4GB storage, along with a variety of sensors including an accelerometer, compass and gyro. At the rear, you'll find four tiny pins for charging.
There's no port on the watch itself, so an included charging dock handles that responsibility. The dock is a small slab with a micro-USB port on the side, and contacts that align with the aforementioned pins on the watch so it can juice up the 400mAh battery inside the watch.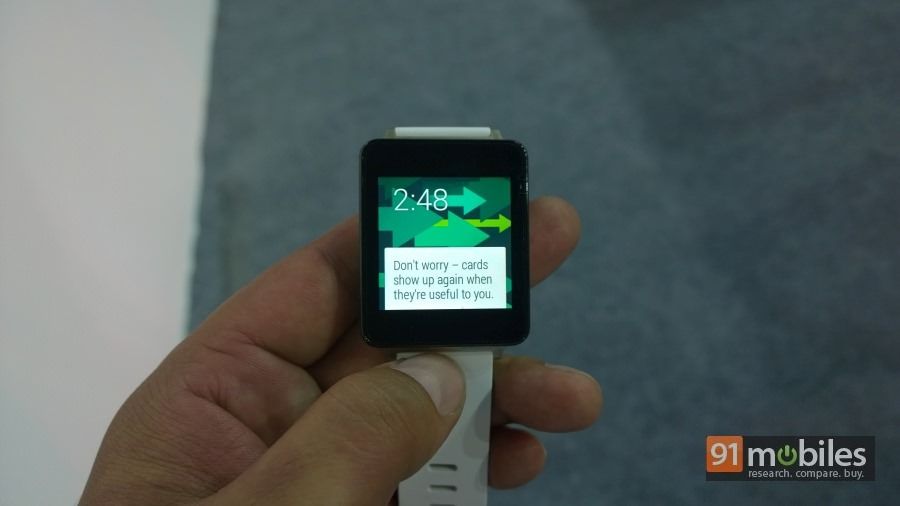 You need a device running Android 4.3 or later to use the G Watch, along with the free Android Wear companion app from the Play Store. Pairing is a simple process, though it does require the smartphone you're pairing with to be connected to the web via 3G or Wi-Fi. The initial setup process on the watch takes you through the UI and gets you up to speed with the basic operation.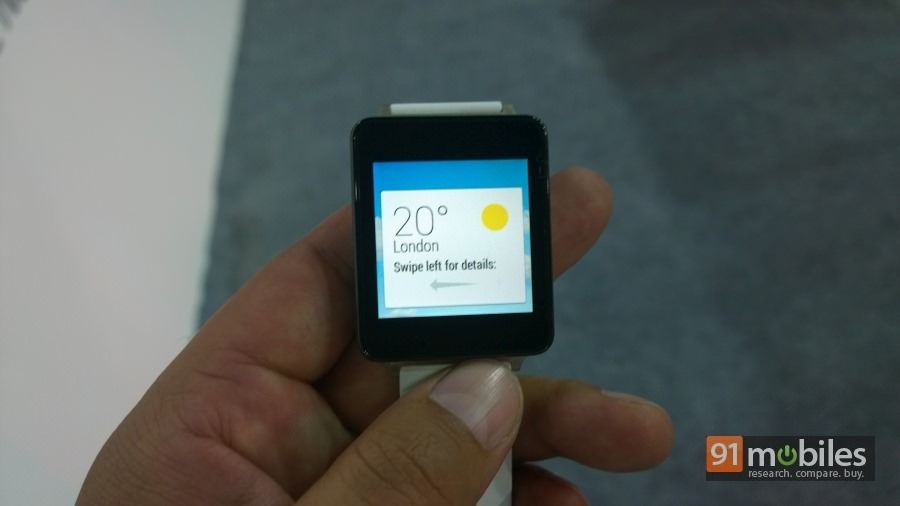 We could only spend a few minutes with the G Watch, but enough to tell you that in essence, it's like having Google Now on your wrist. Notifications and Google Now cards appear on its face, and you can swipe them away by flicking them sideways.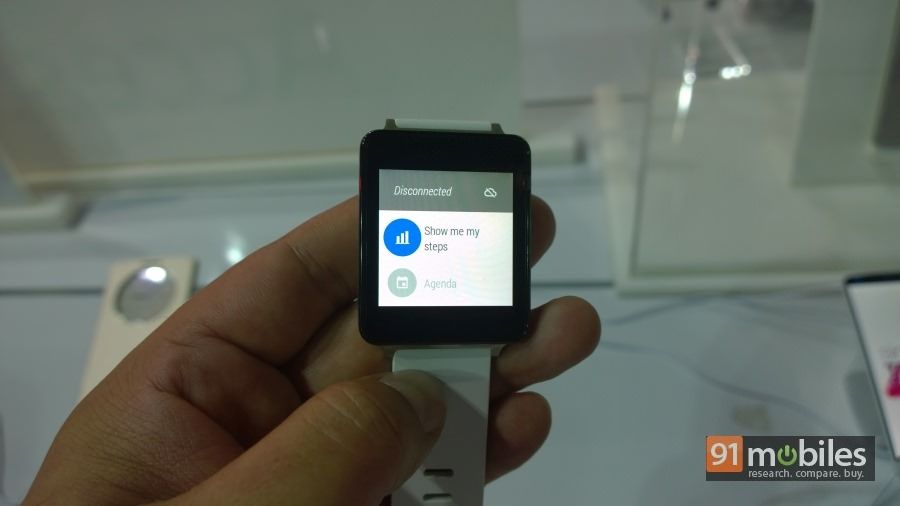 The watch is always on, displaying the time and other info like weather or step counter depending upon your preferences. You can use the "OK Google" hotword to trigger voice commands and then it takes on the role of Google's voice assistant, but on your wrist instead of your smartphone.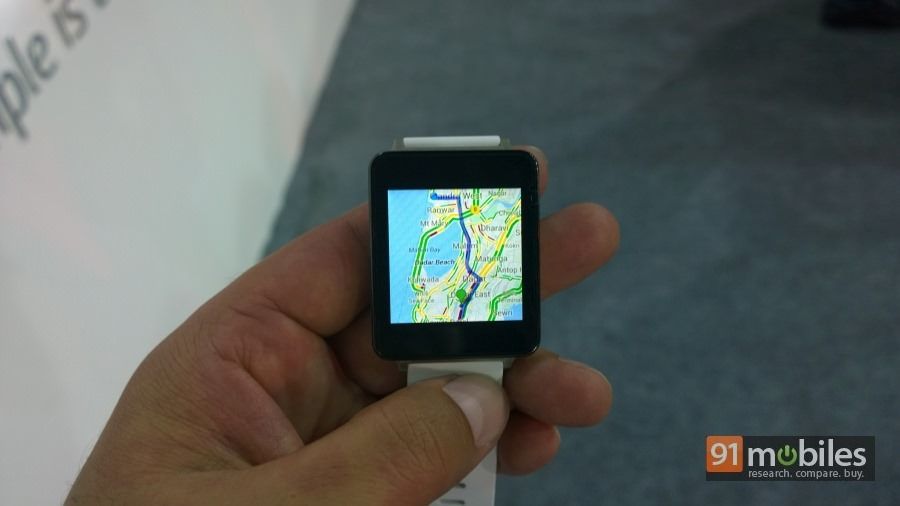 There's a tiny mic placed on the side of the watch facing you and uttering "OK Google" activates the watch, allowing you to control it via voice. The same set of Google voice commands are available as on your smartphone, so you can do stuff like check weather, start navigation, set reminders and alarms and more.
The watch faces are customisable and there are quite a few options that come built in. In addition, you get a variety of other functions such as pedometer and compass.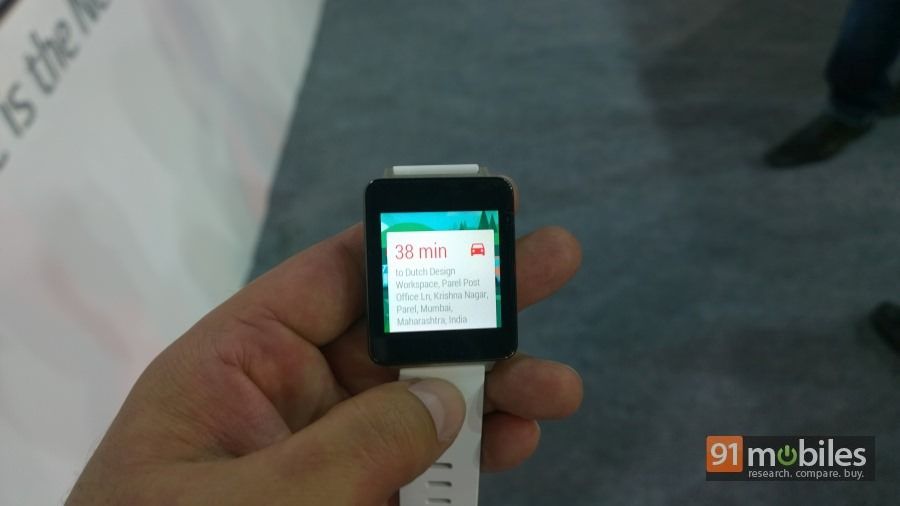 Though our time with the G Watch was rather limited, it's easy to see that it could be a handy gadget, especially for those who would like to use the Google Now capabilities to their fullest and are interested in a more convenient way of interacting with them. Android Wear (and the G Watch) is in nascent stages right now, but things should only get better. Android Wear has already received a few updates along with new apps, and we're sure more refreshes in the future can make the wearables powered by this platform more compelling, and who knows, must-haves even.