LG announced their latest handset called LG Optimus Sol (also known as E730) yesterday. LG Optimus Sol is an android gingerbread powered smartphone with 1GHz Snapdragon processor, 512MB RAM and 2GB Internal storage memory. The highlight of the phone is the display and efficient power management capabilities. Optimus Sol comes with a 3.8 inch ultra-AMOLED display with a resolution of 480×800 pixels. According to LG, AMOLED display has a two-fold advanced reflection rate compared to standard AMOLED displays, and reduces image quality degradation. The Ultra AMOLED integrates the touch panel and the display panel thereby reducing the gap between the two layers and thus enhancing the visibility by reducing reflections and refractions. The new LG's Optimus UI 2.0 feature black menu backgrounds reducing OLED power consumption by 20-30%. It was initially rumoured that the back cover of this handset would be made of solar panels. But there is no official confirmation on this yet. LG differentiates this smartphone by saying "most affordable 1 GHz Android smartphone with an AMOLED display".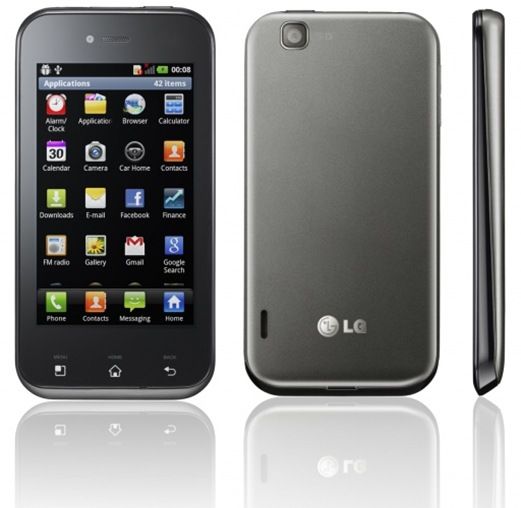 The Optimus Sol stands out from its competitors as the most affordable 1 GHz Android smartphone with an AMOLED display. – Dr. Jong-seok Park, President & CEO of LG Electronics Mobile Communications
Availability and Pricing
LG Optimus Sol would be initially rolled out in Europe in the middle of September 2011. The handset will subsequently be rolled out to Central and South America. Finally the handset will be rolled out to other parts of the world including Asia. LG hasn't provided info on pricing. But going by their ambition to make this the most affordable 1GHz android smartphone with AMOLED display, we can guess that this would be priced in the mid-range (say Rs. 15,000 to Rs. 20,000). We will have to wait for the official confirmation though.
Quick Specifications of LG Optimus Sol
Dimensions: 122.5 x 62.5 x 9.8 mm
Qualcomm MSM8255 processor at 1GHz
Network: Quad-band GSM (850/900/1800/1900), dual-band UMTS (900/2100)
RAM: 512MB
ROM: 2GB
Program memory: 150MB internal
External memory: 2GB microSD card included
Rear camera: 5MP with autofocus
Bluetooth 3.0
Wifi 802.11 b/g/n
aGPS
DLNA and Wi-Fi Direct
Battery: 1,500 mAh