It all started with an over-enthusiastic fan eagerly asking LG when he can expect gingerbread for LG Optimus S (currently powered by Froyo). LG replied back saying that the current line of LG Optimus series handsets are powered by 600 MHz processor and the minimum requirement for Gingerbread is 1GHz processor and therefore customers cannot expect Gingerbread upgrade on LG Optimus handsets! Quite naturally, it is a kind of puncture to the balloon of interest that the customer had. This news reached an androind engineer through multiple tweets and he replied back about the non-existence of any such requirements. According to him there's no such minimum requirement for gingerbread. This made a fool out of LG and LG came under attack for such reckless comment (!). But when you perform a simple search for 'gingerbread minimum requirements' you get so many results pointing to the '1GHz processor requirements' though most of them are 'speculations' and 'gossips'. No wonder there is so much confusion! Checkout the complete conversation here: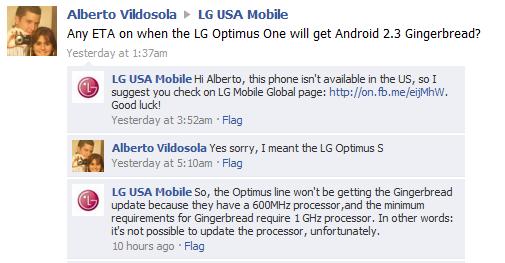 Via LG USA Mobile Facebook page Android Engineer and Tech lead reply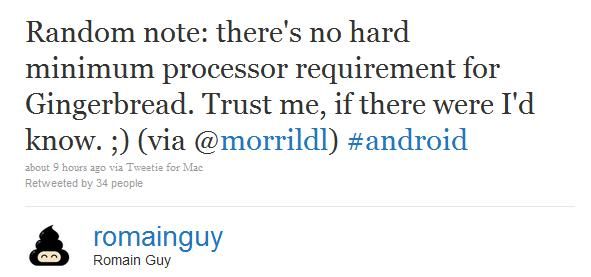 Via romainguy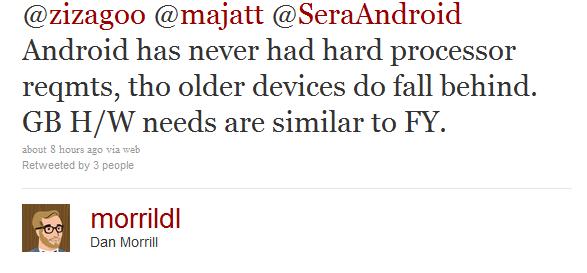 Via morrildl The reaction to LG's recklessness is quite severe as witnessed in the comments of engagdget post In the meantime, there's has been rumours about Samsung Galaxy S to be the first handset to get gingerbread update since they manufactured Nexus S.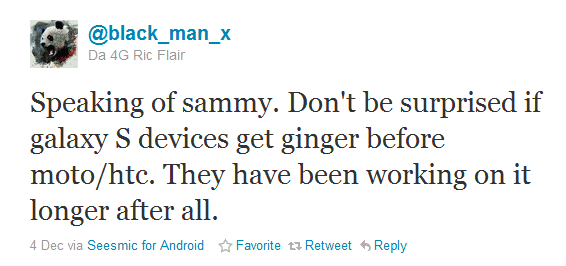 The above incident is just an example of the growing undercurrent in the android landscape. First of all, Android is very much fragmented and every manufacturer customizes the OS. So when google releases newer versions, it's up to the manufacturer to offer upgrades to their customers. Take for example Galaxy S, it took so many months before the device could see the froyo update! I am not sure how many more months before froyo handsets would see gingerbread upgrade! Also, if LG decides not to offer Gingerbread upgrade, normal customers cant do much about it. This is one area where google is lacking and it needs to centrally control and standardize the upgrades! Going by this trend, I guess a manufacturer who offers quickest OS upgrades to the existing line of handsets might hold some upper hand and can differentiate from the competition!