Like a Diwali blast, LG has a good news for Indian consumers. LG Mobiles has launched six new CDMA mobiles phones in the Indian market. LG has launched LG 6160, LG 6210, LG 6300, LG 6400, LG 510 and LG 235 in india. Their are a number of CDMA operators in Indian market offering their services for a very competitive tarrif plan. Infact players like MTS have gone ahead than GSM operators by offering 1/2 paise/sec calling tariff. One thing which CDMA platform lacks is the availibility of good handsets. The newly launched CDMA mobile phones of LG allow customers to choose any CDMA provider just like in the case of GSM phones.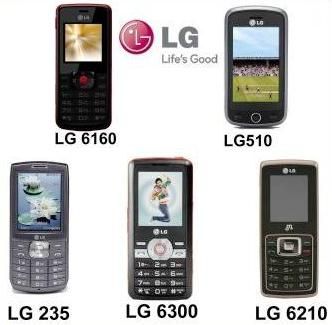 LG CDMA Mobiles Price in India:
LG 6160 price at Rs. 2,649
LG 6210 is price at Rs. 2,899
LG 6300 price at Rs. 4,449
LG 6400 price at Rs. 4,425
LG Cookie Zip (LG 510) price at Rs. 7,899
LG Cookie Spark (LG 235) price at Rs. 5,898
Note : Above mentioned prices are through 91mobiles.com, It is subject to increase through other sources.