2015's been a busy year for Lenovo. The company has been injecting a steady stream of smartphones into the Indian market, and has gone from being a newbie in the industry to one of the best-selling smartphone brands in the country in just over a year – and that's a big feat in a crowded market like India. A bulk of Lenovo's sales have come from its budget 4G smartphones like the A6000 and A7000, and we assume the K3 Note has been a significant contributor as well. But while the demand for value-for-money smartphones will always be high, it's also important to satiate users who are looking for mid-range and flagship devices. Lenovo's Vibe series aims to do just that. The Vibe Shot was a flagship smartphone targeted at photography enthusiasts, while the Vibe P1 (and it's more affordable variant, the P1m) was aimed at power users looking for good battery life without compromising on specs. The Vibe S1, Lenovo's latest entry in the Vibe series, is aimed at a very specific, but increasingly growing audience – the selfie lover. The smartphone made headlines when it became the world's first to sport not one, but two front cameras. As you can expect, the Vibe S1 has quite a few tricks up its sleeve, but the good news is that it doesn't compromise on other specs in the bargain. So, is the Vibe S1 just a gimmick, or a mid-range smartphone worth shelling out for? We've used it as our primary driver for the past few weeks to bring you our verdict.


Specs At A Glance
Measures 143.3 x 70.8 x 7.8mm
Weighs 132g
5-inch display with full HD resolution (1,080 x 1,920 pixels, 441ppi)
MediaTek MT6752 processor (64-bit, octa-core 1.7GHz Cortex-A53)
3GB RAM
32GB storage, expandable by another 128GB
13MP primary camera with dual-tone LED flash
8MP front camera, 2MP depth sensor
2,500mAh battery
Android 5.0 Lollipop with Vibe UI
Design: Hello Moto
Dimensions
: 143.3 x 70.8 x 7.8 mm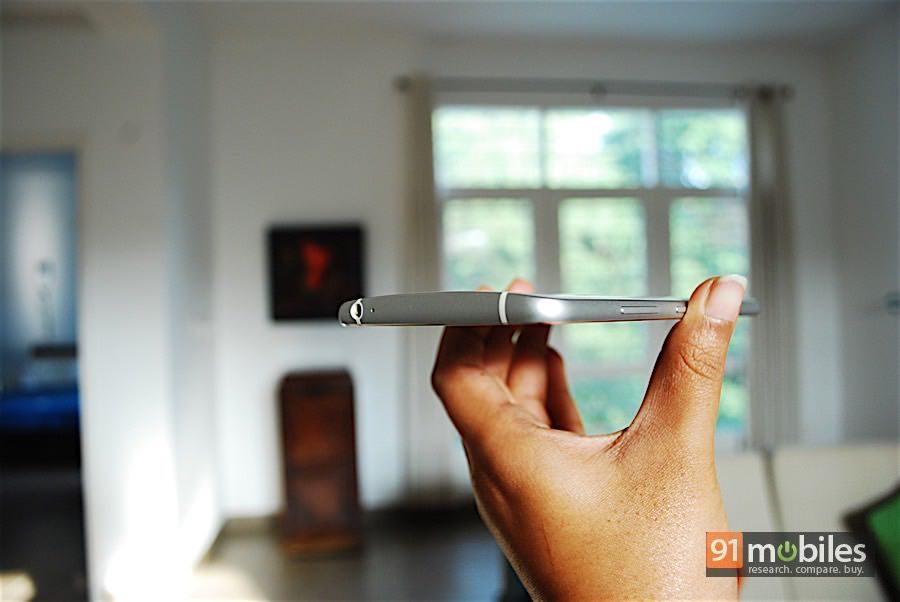 The first time we saw the Vibe S1, we mistook it for a Motorola smartphone. This wasn't just because Lenovo and Motorola (which is owned by Lenovo) were sharing the same demo space at IFA 2015, but also because the Vibe S1 gave us some very distinct Motorola…. vibes. The rounded corners, curved back panel and familiar bulge at the top and bottom are all Moto-inspired design elements, and that's not necessarily a bad thing. Combined with its smooth glass rear, lightweight aluminium frame and metal accents, the Vibe S1 looks like a slender, less chunky Motorola smartphone.
The front of the smartphone is relatively clean, with the earpiece, dual cameras and sensors placed above the display, and a trio of Android navigation keys below. For some reason, the keys miss out on backlighting – a surprising omission given the Vibe S1's price. The bottom edge of the smartphone features the micro-USB port flanked by two loudspeaker grills on either side, one of which conceals the primary microphone. On the right spine you'll find the volume rocker and power button, while the left holds the ejectable SIM card tray which accepts two nano-SIM cards (one of which is hybrid). The top edge features the 3.5mm audio jack and secondary microphone.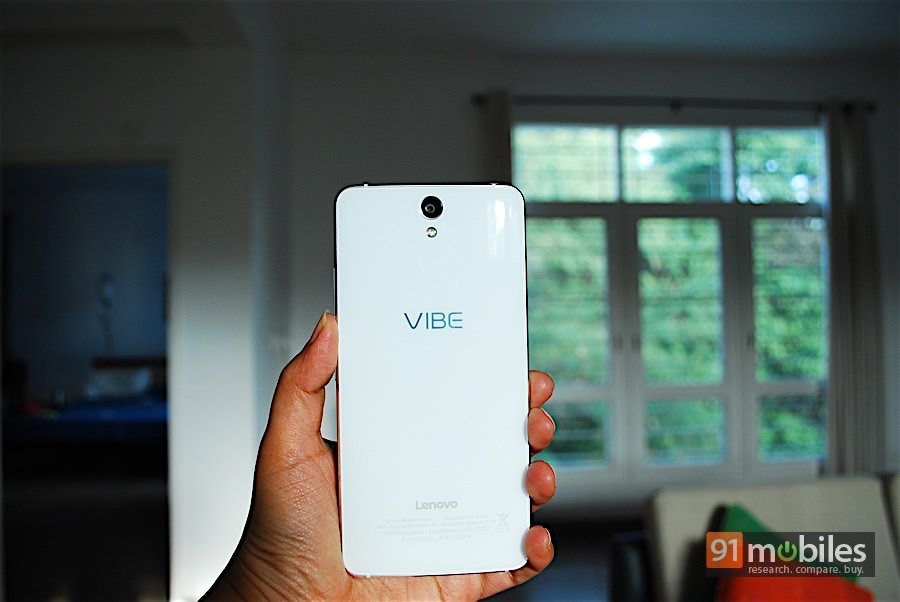 While the glass back panel takes the sex appeal up a few notches, it also has a nasty habit of picking up smudges and fingerprints, and ends up looking grubby after even a few minutes of use. The marks weren't so noticeable on our Pearl White unit, but the Midnight Blue variant ends up looking a real mess, which is a shame because it's a gorgeous colour. Another downside of the glass back panel is that it tends to become very slippery, and you're likely to end up with a spiderweb of cracks if you're clumsy. The Gorilla Glass 3 layer helps to keep scratches at bay, but we doubt it would safeguard the glass from drops. Using a case is therefore inevitable, and the bundled clear case Lenovo includes with the retail box fits the bill nicely.

Adorning the rear, you'll find the primary camera and dual-tone LED flash on top, the Vibe logo in the centre, and Lenovo branding and an overdose of certification information towards the bottom.
Display: compact and crisp
Resolution
: Full HD (1080 x 1920 pixels)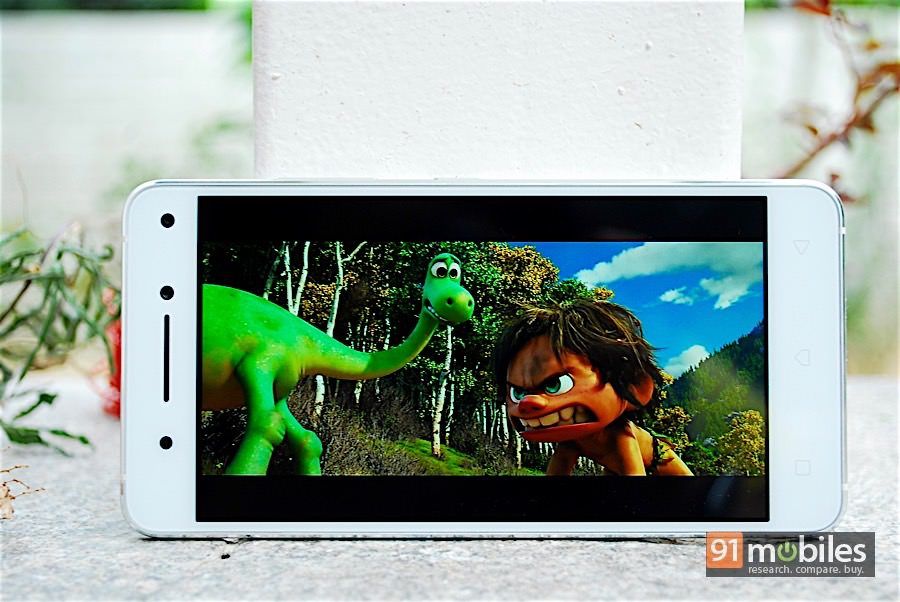 The Vibe S1 sports a 5-inch display, just like the Vibe Shot. The screen gets full HD resolution, giving you a packed pixel density of 441ppi. Just like the Vibe Shot, you'll find a number of colour balance display settings to adjust to your liking. Apart from the default mode, there's also a Comfort mode that cuts out the blue light for more comfortable viewing over longer periods. The Super Bright mode pumps the brightness up to max, while the Custom mode lets you adjust tone and saturation manually. There's also a Smart Brightness mode that detects when the display is under harsh lighting, and automatically switches to maximum brightness. For browsing at night, there's a Brightness Protection option that dims the display for low light reading. You'll also find a glove mode in settings.
The Vibe S1's display was fluid, sharp and responsive during our testing. Text and icons are clear, and the display offers good viewing angles too. Sunlight legibility is a strong point, with the screen remaining clearly visible even under harsh lighting. The screen gets Gorilla Glass 3 for protection.
Cameras: double trouble
Flash
: Dual-color LED Flash
The highlights of the Vibe S1 are undoubtedly its dual cameras. The smartphone features an 8MP front snapper with a BSI sensor and f/2.2 aperture, along with a 2MP depth sensing unit. At the rear, the Vibe S1 gets a 13MP camera with a BSI sensor, f/2.2 aperture and PDAF.
The camera app is a simple, clutter-free affair. The viewfinder is laid out with basic controls such as the shutter button, video icon and gallery shortcut. You'll also find icons to switch to the front camera, enable the HDR mode and adjust flash. Going into settings, you'll be able to adjust white balance and ISO. In terms of shooting modes, you get just Auto and Panorama. When you switch over to the front camera, you'll see a slider for the beauty mode. There's also an option to enable a fill light in settings, which lights up the display to act like a selfie flash. The fill light can be enabled in either pink or yellow tones. An icon at top centre lets you enable the dual camera feature.
Selfies captured with the dual camera are easy to spot because of the yellow icon they display in the gallery. Going to any such image shows you two options – Blur and Cut out. The Blur option lets you tap anywhere on the image to focus, and automatically defocusses the background. You can choose from simple, spiral and fast blur options, and adjust the level of blur by using the slider.
The Cut out mode automatically cuts out your selfie so you can place it on a different background. In our experience, there were always areas that needed fine tuning, which is when the Manual Cut option came in handy. You can use the Pen or Eraser tool to adjust the background to your liking. Once your selfie is cut out, you can paste in on a range of background styles, as well as backgrounds from categories like scenery, magazine, animal and cartoon. You can choose another image taken with the dual camera, highlight the part you want to retain, and paste your selfie over that too. Apart from the preloaded options, you can also paste the cut out over any image from your gallery.
The dual camera is capable of a variety of special effects, but we think that many users would probably get bored of them after the honeymoon period gets over. The Blur tool works well, but often ends up softening parts of the selfie along with the background. The fast and spiral blur modes don't look great for regular selfies, so you'll need to be creative about how you use them. The Cut out mode, which is the feature Lenovo has been harping on about, is even more gimmicky. Unless you spend a long time perfecting your selfie and cutting it out precisely, any background you use ends up looking like shoddy Photoshop work.
While we're not fans of the dual camera effects, we will give credit where its due. For regular selfies, the Vibe S1 does a stand up job. Skin tone appears natural, grain is minimal and the subject is always in focus. Even low light selfies ended up being very usable, and the fill light feature turned out to be a handy addition too. The rear camera by comparison is a mixed bag. Macro shots are detailed but not a patch on the Vibe Shot. Daylight images suffer from poor dynamic range, with washed out skies and drab colours dominating the results. In lower lighting conditions you'll find a lot of grain, and light leaks are prominent in night shots.
Our Lenovo Vibe S1 camera review has more details. Alternatively, you can take a look at the image samples below. Right click and open in a new tab to view the images in their full resolution.
Software: Same ol' Vibes
Operating System
: Android
OS Version
: 5.0, Lollipop
The Vibe S1 runs Lenovo's custom Vibe UI which is based on Android 5.0 Lollipop. Vibe UI has been covered extensively in our previous Lenovo reviews, and not much has changed. You get the same cluttered interface with a load of bloatware, most of which can be uninstalled. The apps are laid out across the various homescreens since Vibe UI lacks an app drawer. Lenovo's usual SYNCit and SHAREit apps are present, as is the Theme Center, which features the same six themes.
In settings, you'll find a few gesture controls and special features under the 'Feature' section. There's Quick Snap that lets you double press any of the volume keys when the screen is off to take a photo. When the screen is off, you can also double tap to wake it, or slide to the left or right at the bottom of the screen to unlock the phone. Smart Scene lets you enable custom notification profiles that you can name and schedule for specific times of the day. The Wide Touch floating button gives you access to select apps, and functions like a fourth onscreen button by responding in different ways depending on if you click, double click or long press it.
Vibe UI also features a Power Manager, which includes a regular Battery Saver mode plus an Ultimate Power Saver mode, which can be automatically enabled when the battery drops below a specified level.
Performance: efficient and reliable
CPU
: Octa core, 1.7 GHz, MediaTek …
Memory
: 32 GB + Up to 128 GB
SIM Slots
: Dual SIM , GSM+GSM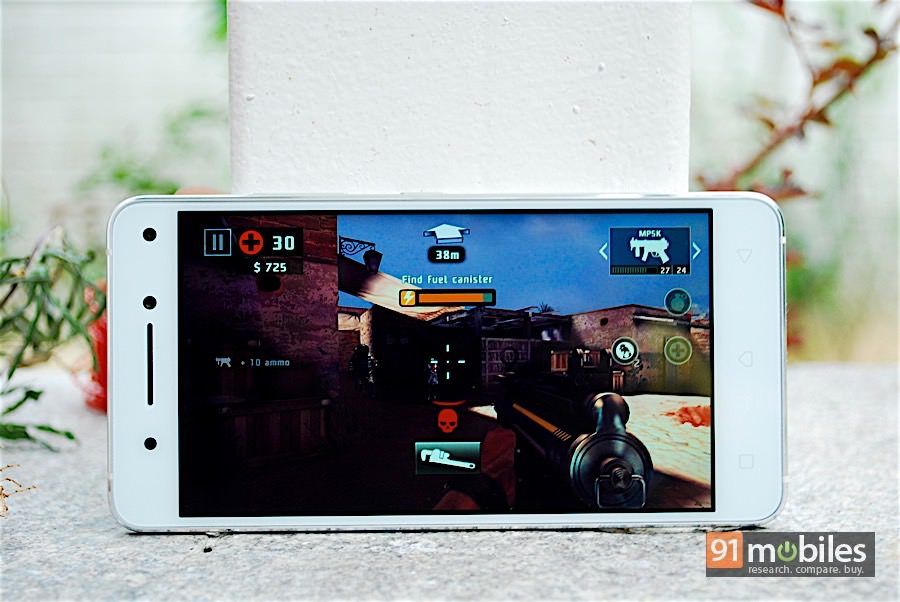 The Vibe S1 is powered by a 1.7GHz octa-core MediaTek MT6752 processor paired with 3GB of RAM. While the chipset is a popular choice for affordable smartphones, it's now outdated by the MT6753 chip that MediaTek outed this year. While we would have preferred a newer processor for the smartphone, the plus side is that performance isn't affected noticeably. The Vibe S1 remained smooth and fast during our testing period, whether it was running multiple apps or using the device for extended periods. We played Dead Trigger 2 and Riptide GP2 to test its gaming abilities, and didn't encounter any noticeable freezes or frame drops. The smartphone does tend to heat up while gaming though, with even short 5-10 minute sessions resulting in the rear panel becoming toasty. For some strange reason, Lenovo has chosen to omit two essential sensors in the Vibe S1 – the gyroscope and magnetometer. The lack of a gyroscope means you won't be able to use most VR apps, and some normal games might also end up being compromised. A magnetometer is essential to use any compass app, but unfortunately Vibe S1 users won't be able to use them. For what it's worth, you'll still be able to use Google Maps, which uses GPS to track location. Considering that even budget smartphones incorporate these sensors, we find it hard to understand why Lenovo would omit them.
On the storage front, the Vibe S1 is generously endowed for a mid-ranger, packing in 32GB of space. Out of the box, you'll find nearly 24GB user available. The microSD card slot lets you top it up by an additional 128GB, but you'll have to forgo one of the SIM card slots to do so.
Fuelling the Vibe S1 is a fixed 2,500mAh battery. With heavy usage, the battery drain was quite evident, with the charge dropping from 100 percent at around 8 am to below 15 percent by 5 pm or 6 pm. With moderate use, it lasts longer, but turns red by late evening. We averaged around 3 – 3.5 hours of screen time before we needed to plug in the charger. In our video loop battery drain test, the Vibe S1 lasted for 8 hours and 50 minutes before it ran out of juice, which is a very average result.
On the connectivity front, the Vibe S1 supports both 4G bands in India on both its SIMs. Other features include dual-band Wi-Fi, Wi-Fi Direct, Bluetooth 4.0, A-GPS and USB OTG.
Verdict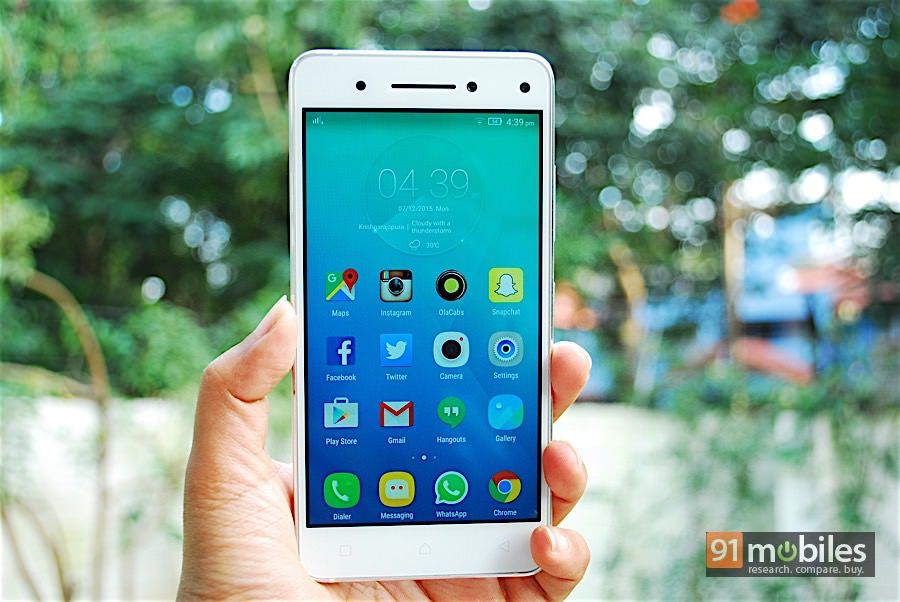 For a mid-range smartphone, the Vibe S1 should satisfy most users. The high resolution display, ample storage, reliable performance, decent cameras and classy design all work in its favour, and more than justify the price tag of Rs 15,999. But the dual camera, which is the foundation the Vibe S1 has been built on, felt more like a gimmick than a useful feature. It's interesting and can provide amusing results, but isn't something we see as a major selling point. This, in addition to the outdated processor and lack of a gyroscope and magnetometer, might deter some consumers in favour of other devices.

The Vibe S1's biggest competitor is the OnePlus X (review), a smartphone many potential users will be drawn to largely because of the hype OnePlus creates around its smartphones. The Vibe S1 and OnePlus X are on par on most counts, and in the end, it comes down to which one you prefer, although we'd personally recommend the latter over the two. Even so, if you're looking for a mid-range smartphone that scores on both design and performance, the Vibe S1 should be among your top choices.
Editor's Rating: 3.5 / 5
Pros:
Gorgeous, lightweight design
Sharp, high-res display
Impressive front camera
Ample storage
Cons:
Dual camera effects are gimmicky
Average battery life
No gyroscope or magnetometer
Back panel gets smudged easily
Competitors for Lenovo Vibe S1
| | | | | |
| --- | --- | --- | --- | --- |
| | Lenovo Vibe S1 | vs | OnePlus X | |
| | | | | |
| --- | --- | --- | --- | --- |
| | Lenovo Vibe S1 | vs | Lenovo Vibe P1 | |
| | | | | |
| --- | --- | --- | --- | --- |
| | Lenovo Vibe S1 | vs | Xiaomi Mi4 | |