Lenovo has launched 18 new All-in-One PCs with the costliest of them all being the Windows 8 IdeaCentre A720 All-in-One at a price of Rs. 1, 15, 990.
The IdeaCentre A720 is said to be the slimmest device at 27-inch AIO and has a sleek metal exterior. The device measures 24.5mm and it has a frameless display supports 10-point multi-touch. The device has a widely adjustable hinge that allows the screen to be pulled at a 50 degree angle towards the user, and folded back up to ninety degrees.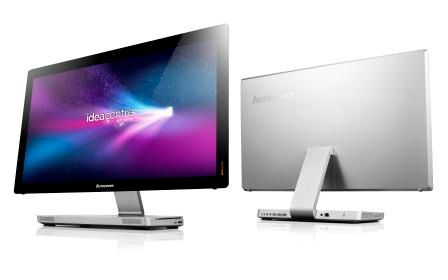 The other devices in the new collection start at a budget range of Rs. 21,990 for the Lenovo IdeaCenter C240 and the IdeaCenter B540 at Rs. 75,990. The other devices on the collection are the IdeaCenter B340, IdeaCenter C340, and IdeaCenter C440.
The IdeaCenter B340 is a multimedia entertainment device with 21.5-inch full HD widescreen and 10-point multi-touch technologies; the B540 has a 23inch full HD screen with 3D vision and the Intel 3 Core processor.
The C-series AIOs are affordable home computers that are smart, space-saving all-in-one PCs.
The C240 has an 18.5-inch display with Intel Celeron Dual core processor at an affordable price range. The C340 has adjustable screen display, Dynamic Brightness System that adjusts to user's current surroundings. The C440 has a 21.5-inch HD LED display with Intel core i5 processor.
The 10-finger multi-touch, flexible viewing angles are some versatile innovations by the company which will ensure easy operations for users. Also, the Lenovo Eye Distance System has been integrated into select devices to ensure that the users does not view the screen at close angles and the Lenovo Cloud has been installed for easy media sharing between devices.