One of the most talked-about Windows 8 laptops at the CES 2013 was the 13-inch IdeaPad Yoga. It is easy to be deceived by its standard ultrabook-style laptop look, but the name Yoga hints at the system's big selling point, that the display can fold fully over to become a tablet.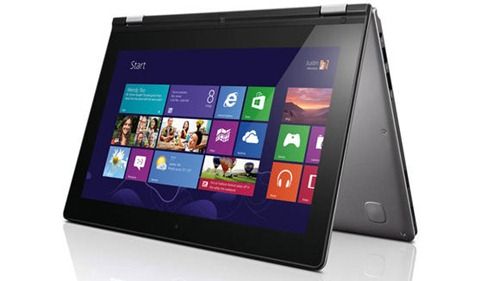 The greatest USP of the Yoga however is not the tablet mode (which is perfectly usable, but leaves the keyboard exposed, sticking out from the back), it's the stand mode. The screen is folded back about 270 degrees, turning the system into something like a small touch-screen kiosk. It is great for sharing video or presentations in a group setting.
At 1.25kg and 15.6mm thick, the Yoga 11 is thicker and heavier than the average tablet even though the IdeaPad Yoga 11 is claimed to be the world's slimmest multimode PC.
Touch isn't the only way to control the IdeaPad Yoga. The Lenovo Motion application works in tandem with software such as PowerPoint or Windows Photo Viewer. Just switch on the webcam and scroll through photos and slides with a simple wave of the hand.
The Lenovo IdeaPad Yoga packs a 1.7-GHz Intel Core i5-3317U CPU, 8GB of RAM and a 128GB solid-state drive and the IPS display runs at a resolution of 1,600 x 900 pixels, which seems perfect for a high-end ultraportable.. It is equipped with NVIDIA Tegra 3 processor – the world's only quad-core processor for Windows RT. At 13 hours, battery life is one of the Yoga's strongest points.
The IdeaPad Yoga 11S is priced at Rs 61,790. Besides basic black, new colors include pink, gray, and orange.