"Priced at half, or even one-third, of its similarly-spec'd competitors, the Super3 X55 doesn't skimp on features"
While the smartphone space enjoys the problem of plenty, where multiple brands are vying for a piece of the pie, the TV segment in comparison seems to be stale. In the case of smartphones, users research intensively before making a purchase even if it's for the purchase of a device as low as Rs 10,000, but in the case of televisions, consumers mostly go with word-of-mouth suggestions and their brand preferences. What's even more interesting is that TVs are way more expensive than smartphones.
That's why, the entry of global internet and technology conglomerate, LeEco in the TV business seems so exciting. After establishing itself as a notable player among biggies in the smartphone space in such a short span of time, the brand is now aiming to disrupt the TV market in India. It seems well set for the same too, as it has launched three power-packed yet attractively-priced Super3 range. But, to gauge how well LeEco's TVs actually are, we decided to stack the most affordable of the trio, the Super3 X55 with similarly-spec'd offerings from established brands like LG (55UF680T), Samsung (UA55JU6470U), and Sony (BRAVIA KD-55X8500D).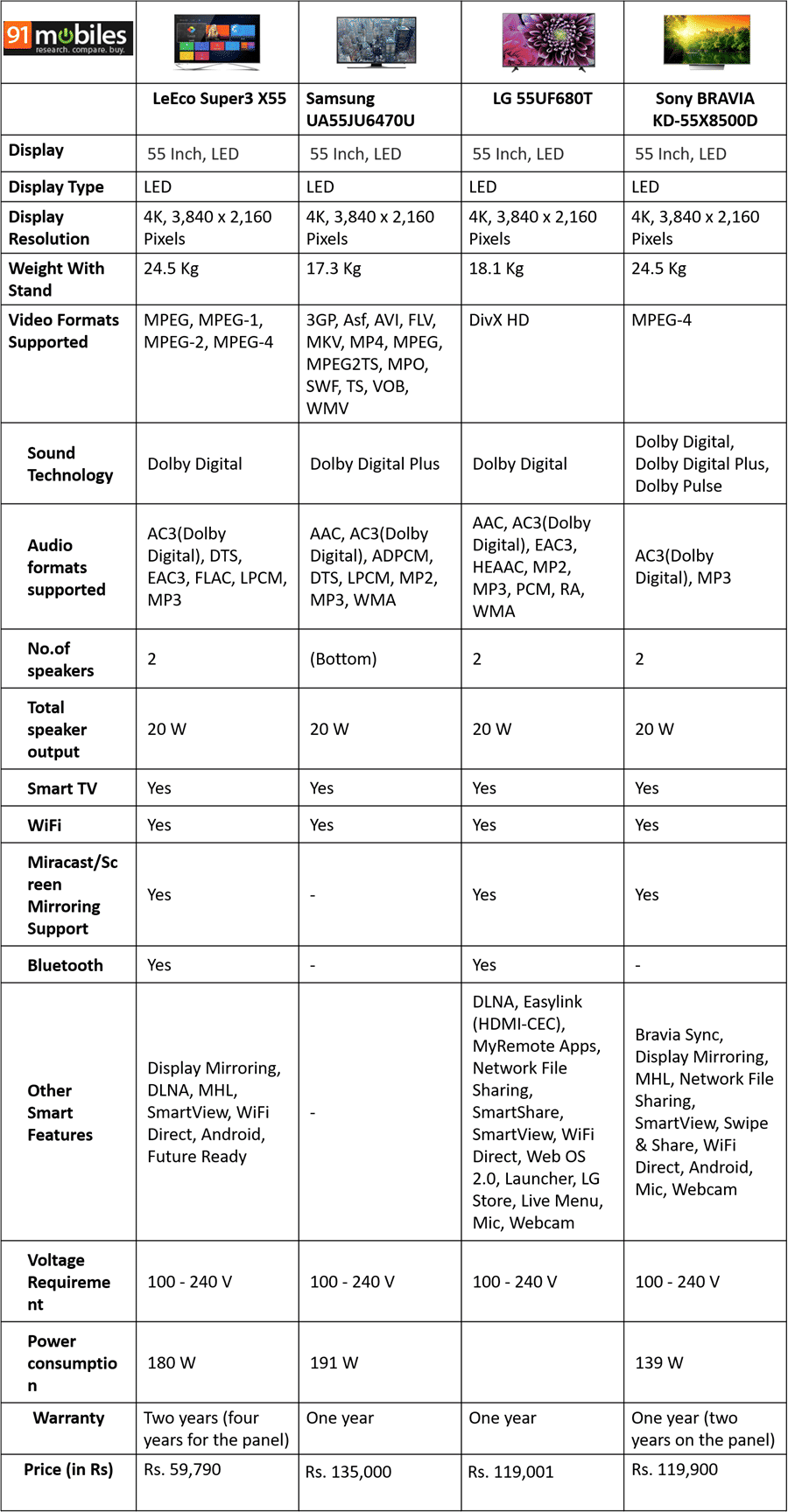 At the first glance itself, it is a no-brainer to seem that the LeEco Super3 X55 leads the pack, considering that at Rs 59,970 it's available for half or even one-third the price of TVs from other manufacturers. However, the real question is whether LeEco has cut any corners to reduce the pricing or not. To answer that, let's begin our comparison.
Design
Who'd have thought that a comparison for TVs will start with their design aspect? Well, LeEco has changed that perception, and we're glad that it did – considering it's in your living room, takes up a lot of space, and is possibly one of the first things people see when they enter your house. And therefore, it becomes doubly important that the TV in your living room looks the part.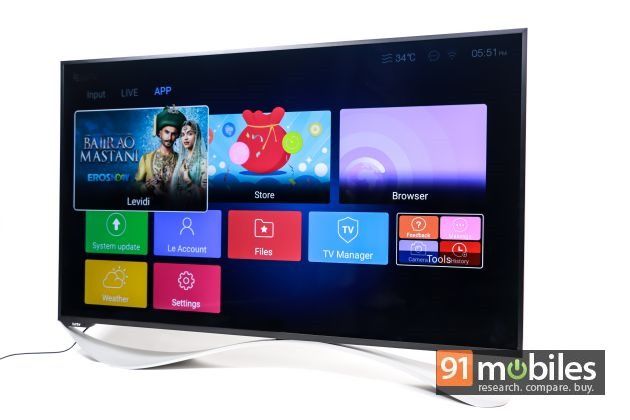 The LeEco Super3 X55 features virtually non-existent bezels and its slimness can even give some phones a run for their money. At its slimmest point, it's just 10.9mm thick. Adding to the classy appearance of the television is the cloud stand, which looks good along with being sturdy.
The LG 55UF680T, Samsung UA55JU6470U, and Sony BRAVIA KD-55X8500D, on the other hand, feature a regular design. Sure, they also have narrow bezels like the LeEco's offering, but they won't add the charm to your room as the Super3 X55 could. The same thought applies when you check out the stands offered with these TVs, which is nothing to write home about.
Display
Of course, the core functionality for any television is its display capabilities, so it's important to know how the competitors match against each other in this regard. The basics remain the same, since that's how we selected them – a 55-inch (140cm) display with UHD resolution (also called 4K, 3,840 x 2,160 pixels).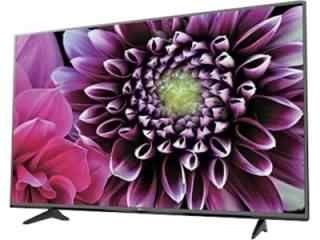 All the TVs in this comparison offer an LED panel with an aspect ratio of 16:9 (Samsung UA55JU6470U's aspect ratio isn't available). Moving on from the aspect ratio, LeEco promises darker blacks and brighter whites with a ratio of 1200:1. The Super3 X55 also features horizontal and vertical viewing angles of 178 degrees, which is a great addition too.
Audio
What's the point of a good display, if the audio isn't powerful enough to supplement it? In this aspect too, LeEco's Super3 X55 manages to offer a good experience with its Dolby Digital sound feature. Both, the Samsung UA55JU6470U and Sony BRAVIA KD-55X8500D, also feature Dolby Digital Pulse technology. The LeEco Super3 X55, LG 55UF680T, and Sony BRAVIA KD-55X8500D each offer two separate speakers. While the Samsung UA55JU6470U only features bottom speakers. All the televisions deliver an output of 20W. The Super3 X55 also offers enriching sound with Dolby 3D Virtual Surround Sound technology.
For audio support, the TVs support the popular standards like AC3, FLAC, and MP3 among others.
Connectivity
It's important to have enough I/O ports in the TV, since that gives you the flexibility to add flash drivers or connect your laptop via HDMI, and in this department, each TV seems to be one-upping each other.
The LeEco Super3 X55 offers three USB ports, which is same as what the Samsung UA55JU6470U and Sony BRAVIA KD-55X9000C have, while the LG 55UF680T lags behind with just one USB port. In terms of HDMI, both Samsung and Sony TVs win because of the four ports that are offered, but LeEco is just behind them with three ports, while LG's offering once again comes at the last with two ports. The Super3 X55 even offers an SD card slot, which is quite interesting. It also comes with a USB 3.0 port on the top, which lets you attach the webcam for video conferencing.
It today's wireless world, the TVs offer wireless capabilities too, thanks to Wi-Fi support. The Super3 X55 goes a step ahead with added support for Bluetooth 4.0 as well.
Smart capabilities
The TVs are becoming smarter, so that they can be much more than just a viewing screen, and each company is trying to offer an unparalleled experience for the same.
The LeEco Super3 X55 would please most users as its interface dubbed eUI is built on top of Android 5.0 Lollipop. It offers a plethora of options, including an app store, letting you add apps and games. In fact, the TV is equipped with a similar engine that powers our smartphones – a 1.4GHz quad-core processor coupled with 2GB of DDR3 RAM. There's also 8GB of flash memory on board.
The Samsung UA55JU6470U also offers an intuitive interface, making it easier for users to switch between live TV or online videos instantaneously. It also has a web browser and a number of apps to harness the big-screen experience.
The LG 55UF680T also shines in this regard as it has WebOS 2.0, which lets you do a lot of things on your TV, be it browsing websites or binge-watching on YouTube. It makes it easier to switch between various types of content with the launcher, and it also has a dedicated content store.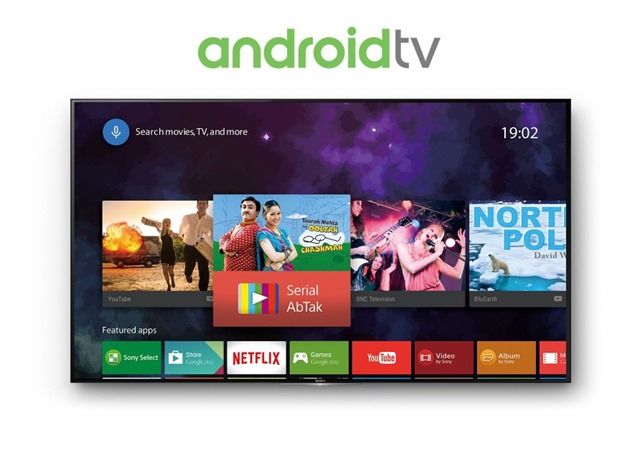 The Sony BRAVIA KD-55X8500D ships with Android TV, which is Google's take on televisions using the world's most popular smartphone OS as the base. It's filled to the brim with smart functionality, be it ease-of-use, ability to search for the content you want via the search bar or voice, use of Google Cast feature, and an entire library of apps. The TV is also recommended by Netflix, and comes with a dedicated app.
Extras
The Super3 X55 is packed with goodies that sets it apart from the competition. Prime among them is Super Remote Control 3.0, which offers minimal controls, yet is immensely useful. It lets you control the TV with its air mouse-like functionality, making it easier to surf the web or play games. The LG 55UF680T also comes bundled with the Magic Remote, which offers similar features and also supports voice commands (would be added to the LeEco Super Remote Control via a software update).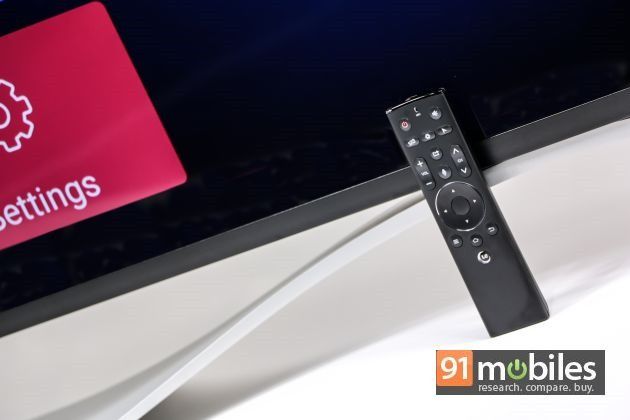 As aforementioned, LeEco is popular for its streaming services in its home country. In fact, it's called the Netflix of China, and the brand is aiming to deliver a similar value proposition to its consumers in India. To do the same, it's offering a Supertainment ecosystem, where buyers would get a two-year subscription to services like Eros Now and YuppTV, offering them the ability to watch movies and TV shows. It has also partnered with Hungama for music streaming. The best part is that the subscription worth Rs 9,800 is being offered to buyers of the TV for free.
Another important criterion for buying a TV is the warranty, and LeEco has played a masterstroke in this aspect. Unlike other manufacturers, who offer just one-year warranty (Sony offers an additional one-year warranty on the display panel), LeEco is offering a two-year warranty on the TV and double that for the LED panel, which is simply unheard of. The warranty will surely give confidence to fickle-minded buyers.
Closing thoughts
From the very beginning, the comparison seemed to be one-sided, and that has remained throughout. LeEco must be commended for bringing a disruption in the TV space, and the X55 surely seems like a potent offering. Even if you keep the pricing factor aside, the rivals might have an upper hand in one section or two, but as a whole, they don't come across as attractive a deal as the LeEco Super3 X55.