Global internet and ecosystem conglomerate, LeEco came into limelight in the Indian market when it first launched its ` and Le Max smartphones, which offered superb specifications at affordable price points. A major player in the online video streaming domain and a relatively new company in the smart devices segment, LeEco has been firing on all cylinders to build its "Le Ecosystem", an online platform with content, devices and applications. It also acquired the US TV brand VIZIO for $2 billion recently, further strengthening its hold in the television market.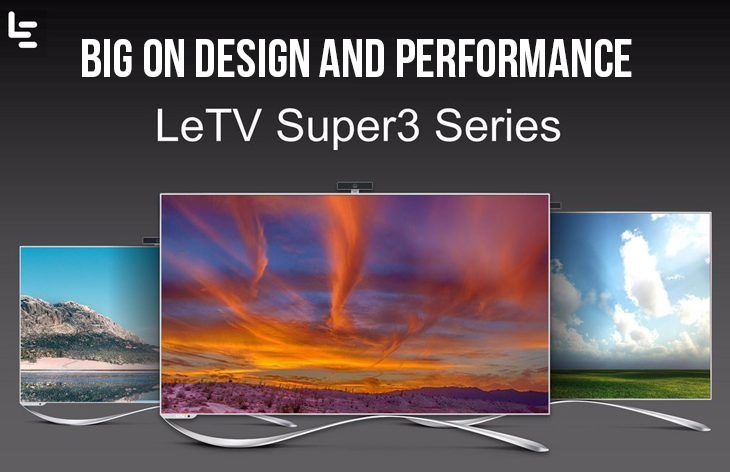 Last week, the media streaming giant launched its range of Super TVs in India comprising of three LeTV Super3 series LED TVs – the Super3 X65, Max 65, and the X55. The final question however, comes down to whether these TVs are disruptive enough in a market dominated by big brands such as Samsung, Sony and LG to name a few, and whether consumers like you should put their trust in LeEco's offerings. Let's have a look a closer look at these Super TVs to make things clearer.
The Super3 X55 is the most affordable option in the range and is priced at Rs 59,790. With its unique wave-shaped base design, the television is guaranteed to become the centrepiece of any room. It features diamond-cut bevelled edges with anodic oxide coating framed by a brushed aluminium metal bezel and is just 15.5 mm thin at its slimmest.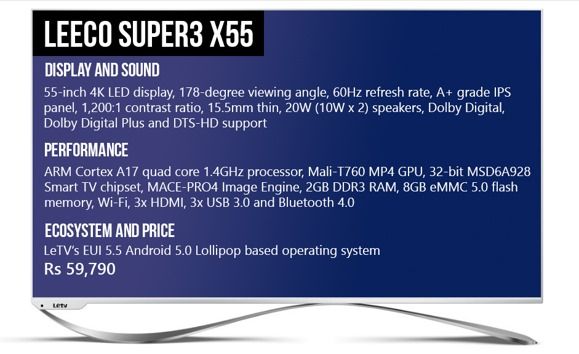 The Super3 X55 offers a 55-inch 4K LED display with 178-degree viewing angle and 60Hz refresh rate supported by an A+ grade IPS panel. The television offers good colour reproduction with 1,200:1 contrast ratio and 350-nits brightness to ensure quality entertainment even under bright lighting. To upscale content and power its resource hungry applications, smart TVs require efficient and fast processors onboard. The Super3 X55 incorporates the ARM Cortex A17 quad core 1.4GHz processor with Mali-T760 MP4 GPU on the 32-bit MSD6A928 Smart TV chipset. All this firepower paired with the MACE-PRO4 Image Engine and 2GB DDR3 RAM makes it one of the fastest televisions in the market which is capable of 4K playback at 60fps and supports native HEVC/H.265 hardware video decoding. On the connectivity front, it supports dual-band Wi-Fi, HDMI 2.0, USB 3.0 and Bluetooth 4.0 standards. The 8GB eMMC 5.0 onboard storage chip embedded in the Super3 X55 offers faster data input/output response and multitasking capability. For true connoisseurs of sound, the television packs in 20W (10W x 2) speakers with support for the latest Dolby Digital, Dolby Digital Plus and DTS-HD audio technologies.
To put things in perspective, similar offerings from LG and Samsung cost north of Rs 1.1lakh.
LeEco Super3 X65
The Super3 X65 ups the ante with a slimmer 10.9mm design which flaunts the same design ideals as the Super3 X55. Utilising the MStar 6A928 4K TV chipset, which is the latest in its category, the 65-inch 4K LED display television packed with 8.29 million pixels and 4,000:1 contrast ratio makes for a delightful viewing experience. It brings together an ARM Cortex A17 quad core 1.4GHz processor with the quad-core Mali-T760MP4 GPU, 3GB DDR3 RAM, 16GB eMMC5.0 Flash Memory, MACE-Pro4 UC+ picture engine and a 4K hardware decoder for HEVC/H.265 videos at 60 fps.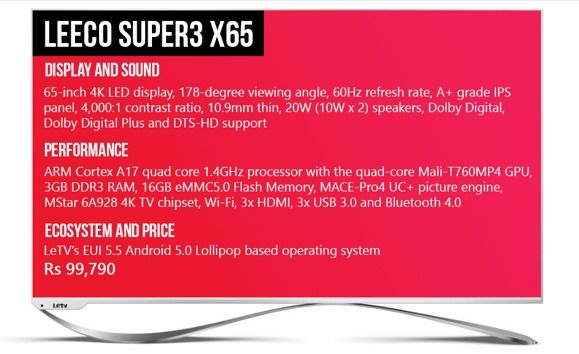 Improving over the X55, the X65 offers a wider colour gamut. Vibrant and vivid colours are brought to life with cutting-edge Phosphor technology that increases colour gamut by 20% and enables 85 percent NTSC colour gamut to reveal richer reds, livelier greens and deeper blues. With over 14 cutting-edge image processing improvements it produces brilliant image quality, down to the minutest details.
Both, left and right channels are comprised of three intelligent loudspeakers each, with a total 20W sound output for phenomenal midrange and treble reproduction.
The Super3 X65 costs Rs 99,790, which is much more affordable than the competing options from established brands which will set you back by about Rs 2.3lakhs or more.
The 18.5mm thin Super3 Max65 is the best the company has to offer in India currently. It features a 65-inch 4K polarized 3D LED display and is an upgrade over the Super3 X65. A built-in FRP Novatek 72324 chip features motion estimation/motion compensation (MEMC) technology for colour processing management that ensures smooth performance with no lags or jitters. It carries an A+ grade IPS panel with a high 120Hz refresh rate with flicker-free 3D performance. In terms of sound, the television packs quite a punch with a total of 40W (10W x 2 + 20W x 1 Woofer) sound output from seven speakers.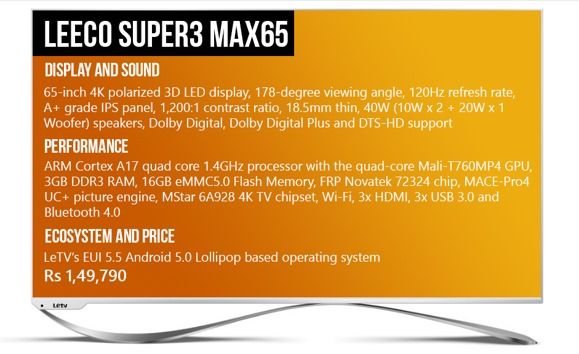 The remainder of the specifications are similar to X65 model and it will cost end users Rs 1,49,790, which is still cheaper than the starting options from LG with similar specifications that cost about Rs 2.56lakhs.
The Supertainment ecosystem
All the Super3 televisions run LeTV EUI 5.5 Android 5.0 Lollipop based operating system. The interface features a sleek layout and beautiful design with an intuitive menu which showcases content from a variety of Indian services and channels. Users will get to access to about 2,000 Full HD/HD films of international and local genres, more than 100 satellite TV channels, over 3.5 million songs and more than 50 live concerts.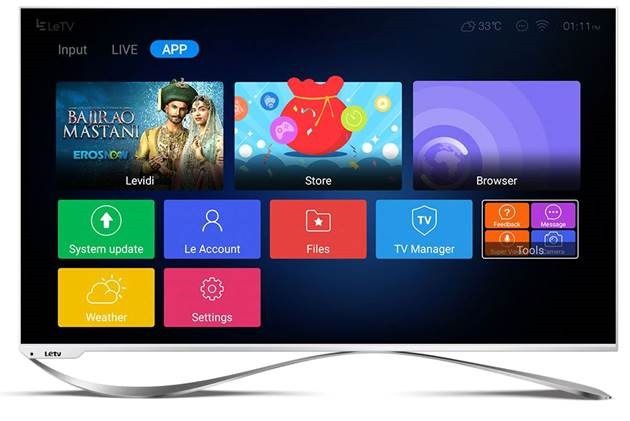 Popular games and 5TB of free cloud storage will also be offered under the Supertainment package. It also offers home-brewed service such as LeView Levidi, LIVE, Music, and LeEco Drive. While the content being streamed is not 4K currently, we can hope for the providers to push for more high-res multimedia for the select few in our country who have the bandwidth to run the same.
Super Remote Control 3.0
The Super3 series comes with LeEco's Super Remote Control 3.0 which has four-direction navigation buttons that help users easily access different applications and functions. The built-in microphone provides an alternative way to control your TV with your voice, although it currently supports Mandarin voice recognition only. The remote houses a gyro sensor and can also be used as an air mouse or gamepad to control multiple devices connected to the television.
Setup and Warranty
LeEco was quick to setup over 555 service centers for its range of smartphones in the country and we can expect similar efforts to be put in for its television portfolio. The company is currently offering free shipping and installation along with two years of LeEco Supertainment package membership. It will also provide two years of warranty on the base unit and four years warranty for the panel, which is quite generous given that it is almost double the current industry standards.
Promotional Offers
The LeEco Super TVs are being bundled with two-year LeEco content membership worth Rs 9,800. They are available on LeMall and Flipkart and are on pre-sale days, from August 10th till August 12th where the company is running a special offer with Rs 5,000 discount for users of HDFC bank's credit cards along with attractive EMI offers. LeEco will also offer more than 1,000 gifts to lucky winners, including 55-inch TVs, Le 2 and Le Max 2 smartphones during this period.