"The Le Max loads up the specs to come across as a truly powerful phablet"
India's burgeoning smartphone sector got another new brand to contend with today, and unsurprisingly, it comes from China. The lucrative growth opportunity that India presents in this particular segment has been pulling in new players by the hordes, and LeEco (formerly Letv) is the latest to join the fray. The brand is a relatively new to smartphones, but is known for its content ecosystem and its interest in various different sectors such as online video, music, smart gadgets and even the automotive space, back in its home country. It made a debut in the smartphone space by launching three models that were the world's first to come equipped with USB Type-C ports. It also grabbed headlines when it announced that it will be the first brand to launch a phone powered by the new Snapdragon 820 processor, and more recently, showcased a bunch of smart devices in India, including a connected Super Cycle. The company has rebranded itself to LeEco before its big global push, and has brought two able contenders to our shores in the form of the Le 1s and the Le Max. The Le 1s (first impressions) is the more affordable of the two, but it's the Le Max that sets our pulses racing with what it brings to the table. This phablet sticks to its Max moniker, as well as the Superphone label given to it by LeEco, and we'll tell you why we think so.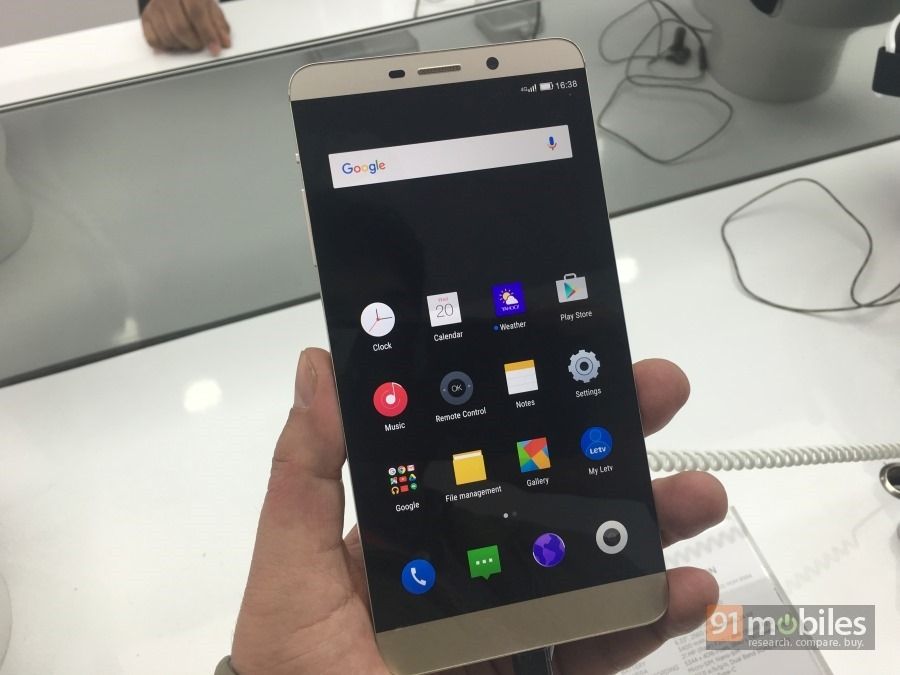 Encased in metal, the Le Max impresses at first glance with its superb build quality, and despite its large screen, doesn't seem too unwieldy thanks to super-slim bezels on the sides. It ups the ante in almost each and every sphere, starting with its massive 6.33-inch screen that boasts 2K resolution.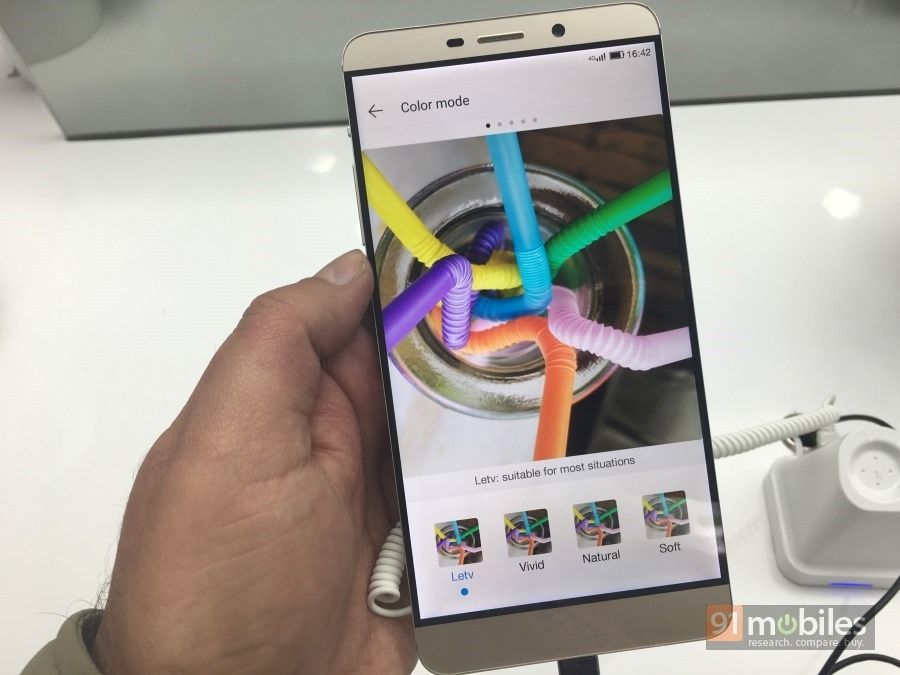 The high-res display is quite sharp too, and comes with a protective layer of Corning Gorilla glass. Under settings, you'll find a slew of colour modes to tweak the screen output just in case you aren't happy with the default. A row of capacitive navigation keys, which are backlit, are present below, and the usual combo of the earpiece, front camera and sensors adorn the top.
On the right, you'll find a pair of ejectable trays that can gobble up a micro-SIM and either a nano-SIM or a microSD card, since this is a hybrid dual-SIM device. A power key is present on the right as well. The volume rocker is located on the left, along with a hardware slider that works as a mute key – just like on the Apple iPhones.
The top is home to the 3.5mm audio socket along with an infrared blaster, while the bottom holds the speaker and a USB Type-C port. In fact, the Le Max is one of the word's first smartphones to boast a USB Type-C port, though us Indians got to see it earlier on the OnePlus 2 (review).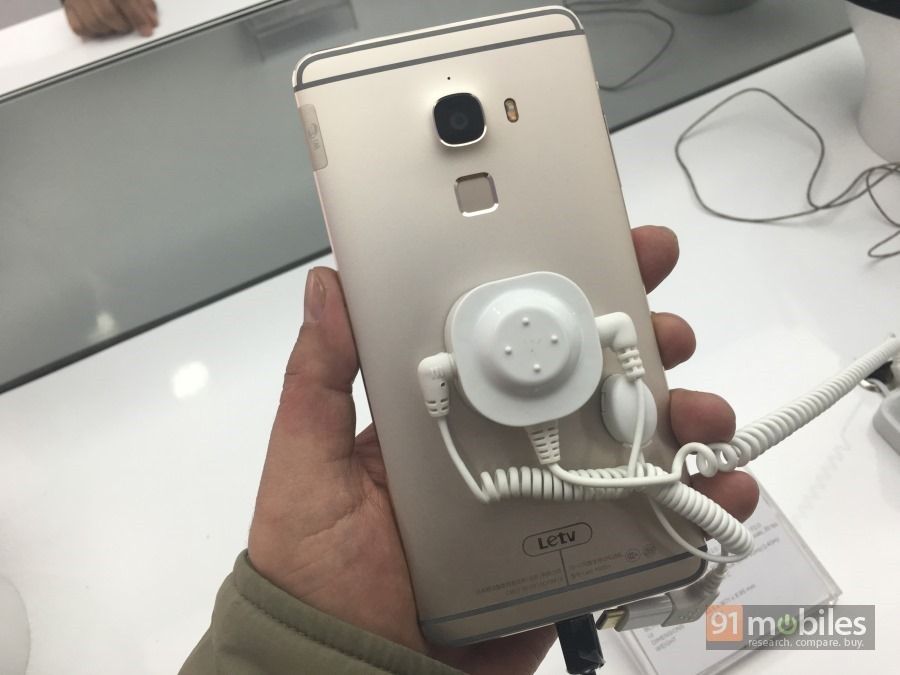 At the rear, a protruding camera lens greets you first, and you'll also see a noise-cancelling microphone, a true-tone flash, and a fingerprint scanner alongside. Letv branding is present below, though we think that the retail units would come with a LeEco label instead.
As with the rest of the smartphone, the camera department is high on specs as well. So you get a 21-meg primary shooter, while selfie-lovers can use a 4MP camera which faces the front. The primary cam boasts features like PDAF, optical image stabilisation, a 6P lens, a Blue glass infrared filter, and hardware-level HDR. The front cam utilises an OmniVision sensor with a 5P, 81-degree wide angle lens, along with f/2.0 aperture. A front-facing flash seems to be missing in action though.
Horsepower is provided by the 64-bit, octa-core Snapdragon 810 chip, which is currently the flagship SoC from Qualcomm before Snapdragon 820 becomes commercially available. The 810 chip is notorious for its heating issues, but LeEco promises that proper care has been taken to ensure the Le Max doesn't show any of those. There's 4GB of RAM to go alongside, while the storage on offer is a generous 64GB. Of course, the device brings in support for 4G along with the other usual set of connectivity options. A 3,400mAh battery that supports quick charging powers it up. During our brief usage, we didn't any lags or hiccups whatsoever – hardly surprising, given the specs.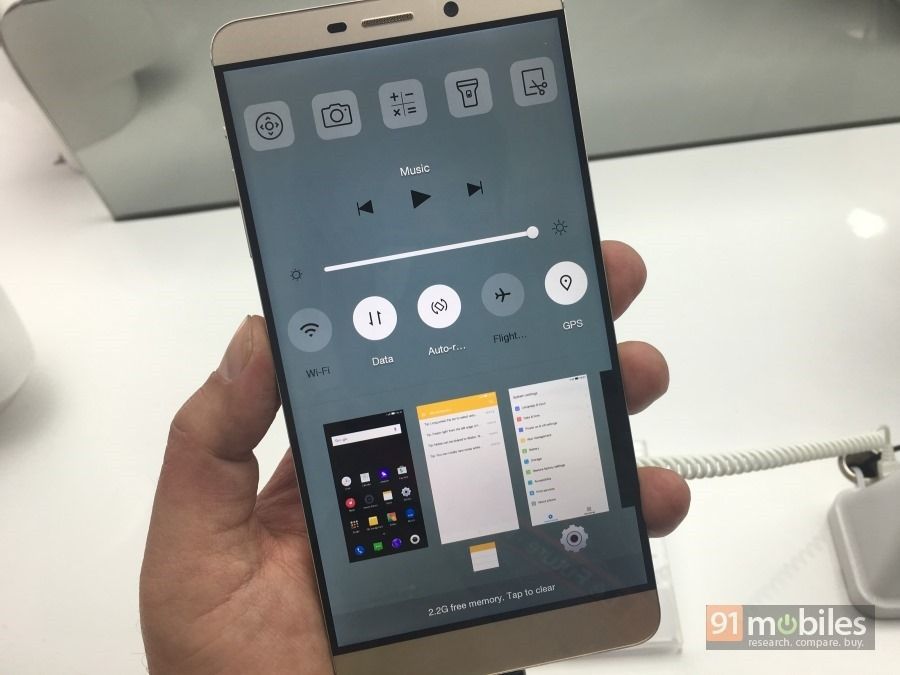 Running eui, the brand's own custom ROM that uses Android Lollipop as base, the LeEco Le Max offers a clean-looking interface that doesn't seem to be bloated with features or tons of preinstalled apps, though we'd need to wait for a review unit to confirm this. There's no dedicated app drawer, but you do get a control centre accessible with the recent apps key. This presents a list of recent apps displayed as cards, along with a row of quick settings, a brightness slider, music controls and shortcuts to common apps like the camera, torch and alarms.
The features offered by eui include control over app permissions and the ability to prohibit apps from launching on their own on startup. A bunch of battery saving modes including an Ultra-long standby time mode are also available.
The camera interface is barebones as well, and offers a beauty mode, slo-mo for video, and panorama, while camera settings let you toggle HDR and tweak parameters like exposure, while balance, ISO, contrast and saturation. A couple of quick test shots indicated fast focussing and shooting speeds, and the results looked pretty good.
This is just the tip of the iceberg though, and it'd be too early for us to comment on the capabilities of the Le Max without taking it through a proper review. Priced at Rs 32,999, the Le Max doesn't come cheap, but it definitely comes across as a powerful contender. It'd go up against the likes of the Google Nexus 6P (review), among others, and it remains to be seen whether potential buyers would be willing to shell out the asking price considering LeEco is a relatively unknown name in India. That said, if we were to judge it based on our first impressions, we'd say it deserves a second look.