Rumors have surfaced about a new Nokia device called Catwalk which supposedly gas the Lumia 920's hardware in a slimmer, aluminum casing, if the leaked images can be trusted.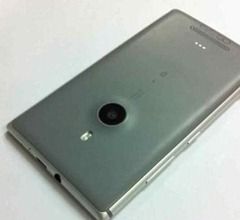 The leaked images surfaced on the Chinese website Baidu and might be a work-in-progress prototype.
The device is expected to have a 4.3-inch display with a 768×1280 pixels resolution and a front camera. The front panel looks very similar to the one on the leaked images of the Lumia 928.
Considering the fact that the Catwalk will come in a 8.4mm body, it will probably not have the Lumia 920's camera module. However, it is expected to flaunt an identical rear camera with optical image stabilization along with dual LED flash. On the bottom of the device, there is a speaker grille and three metal connectors which are used for wireless charging on the Lumia 720 with a special case.
The hardware specs of the device is expected to feature a 1.5GHz Snapdragon S4 processor with 1GB of RAM and 16GB ROM. The device is expected to be fueled by a 2000 mAh non-removable battery. The device is expected to weigh around 132 grams.
If the image we see online is true, then we can expect the Nokia Catwalk to hit the markets as soon as 15th May next month.