Lava has now introduced a new smart tablet, Xtron under the Etab series in the Indian technology market.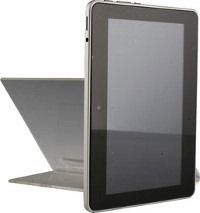 Lava has complemented the Etab Xtron with a 7-inch with an IPS Multi-touch display which bears a display resolution of 1024 x 600 pixels. It runs on Android 4.1.1 (Jelly Bean) operating system. In order to make the tablet powerful, Lava has provided it with a 1.5GHz Dual-core Cortex A9 processor along with 1GB of RAM and a Mali-400 GPU.
The other features of the Etab Xtron includes a 2-megapixel front facing camera, an 8GB Internal Memory which may be further expanded up to 32GB via Micro SD Card. Lava has stuffed USB, Wi-Fi, 3G as the connectivity features of the tablet. It has got a 3500 mAh battery.
Taking your sight on the details of the newly launched Lava Etab Xtron, if you are planning to own it then we would like to inform you that it is available from some online retailers with a price tag of Rs. 6,499. However, you can also consider the 7-inched HCL Me U2, which has been rolled out recently at a price of Rs. 6,999 featuring 1GHz ARM Cortex A8 Processor accompanied by 1GB of DDR3 RAM.
But, one thing that must be said is that the Etab Xtron has been complemented with a tremendously powered processor along with a gorgeous display resolution that makes the device a worth buy. The manufacturers have offered the product at a great price.