"We try to put to rest some doubts about the Lava Iris X1."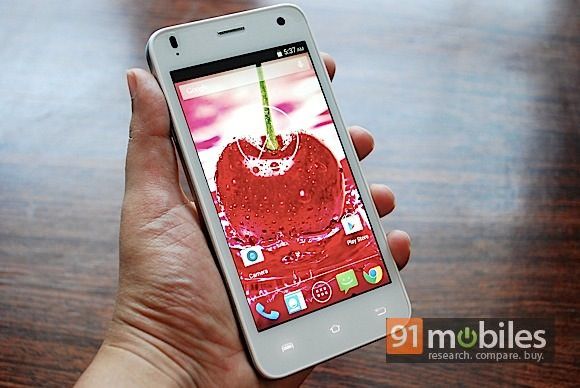 Lava's recently announced Iris X series of devices seeks to bring the latest software (in this case, Android KitKat), to budget handsets. The first smartphone in the series, the Iris X1, was launched just a week after the Moto E (Review). On paper, the Iris X1 far outshines the current darling of the smartphone world, and even the other strong contender, the Micromax Unite 2. While the Iris X1 doesn't have the colourful appeal of the Moto E, it offers a decidedly sleeker design, reminiscent of the iPhone 4/4s. The near-stock KitKat interface is also another positive, and one purists are sure to love.
We've given you a peek at the Iris X1 in our unboxing, and before we get to the main review, we're going to try and answer some queries about the smartphone. Let's get started.
Can you start with the specs and pricing?
Sure. The Lava Iris X1 features a 4.5-inch display with a resolution of 854 x 480 pixels. It's powered by a 1.2GHz quad-core Broadcom BCM23550 processor, paired with 1GB of RAM. Internal memory maxes out at 4GB, and a microSD card slot can take it up to an additional 32GB. The dual-SIM smartphone features an 8MP primary camera with dual-LED flash, and a 2MP front camera for video calls and selfies. It's backed by an 1,800mAh removable battery.
The Iris X1 retails for an MRP of Rs 7,999.
What are the connectivity options available? How about the available sensors?
Apart from dual-SIM, the remaining connectivity options include 2G/3G, Wi-Fi, Bluetooth 4.0 and GPS. There's also USB OTG support to attach an external flash drive.
The Iris X1 features both a proximity and an ambient light sensor. While the function of the former is to turn off the display when you're on a call, the latter automatically adjusts screen brightness according to the available light.
What SIM cards does the Iris X1 support? Any special dual-SIM features?
The Iris X1 accepts a micro-SIM (for 2G) in the first slot, and a regular SIM (for 3G) in the second.
Unfortunately, there's no Smart SIM functionality to forward calls between your SIMs conveniently. Instead, you get a basic setup to rename SIM cards, and assign a default SIM for calling, texting and data.
How much accessible storage do I get out of 4GB? Can I install apps on the microSD card?
You get a tad over 2GB as user available memory, but even that's partitioned. There's just under 1GB for apps, and about 1.3GB for your remaining files. You won't be able to install apps on the SD card directly. You can however, load files like documents, music, movies and photos on to it.
Does the Iris X1 come with any pre-loaded apps? Are there any UI customisations?
The Iris X1 runs an almost stock version of Android 4.4.2 KitKat, so no worries there. Lava has even decided to give bloatware a miss, with the only pre-loaded app being WhatsApp.
What colours is the phone available in?
You can get the Lava Iris X1 in a choice of black and white colours.
Anything else I should know?
The Iris X1 packs in an FM radio, for those who like their tunes. Lava is also bundling a free flip cover with the phone, which features a hall sensor to put the display to sleep when closed.
Judging by specifications alone, the Iris X1 has a lot going for it. But real-life usage always has a different tale to tell, and we'll be bringing you details on that very soon. Stay tuned.