"This budget Android smartphone offers a premium look and feel, and has support for 10 Indian languages"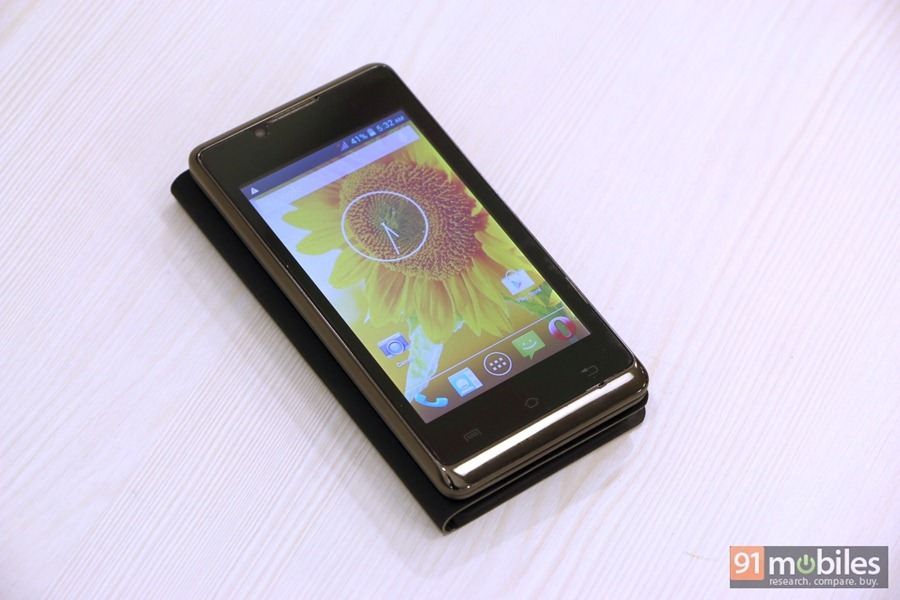 The budget Android smartphone market in India has changed considerably over the past few months. So much so, that even the sub Rs 5,000 devices today offer impressive looks and respectable hardware specifications. For instance, 1.2GHz dual-core processor based Android devices ruled the roost in the Rs 10,000 plus price category last year, but today the same set of hardware specifications are available at much lower price points. Offering something quite similar, we have the Lava Iris 402e with us for review today. Primarily a budget Android smartphone, on paper it offers decent hardware specifications and good looks as well, making it a perfect for for those who are planning to upgrade from feature phones. However, is it really worthy of its price tag or is it like a just another low-end Android smartphone? Let's find out in this review.
Premium is the word
Even though the Iris 402eis a budget Android smartphone, the designers have tried hard to make the device look stylish and have imparteda premium look and feel to the device. It comes in one colour option – graphite black and the chrome trimmings on the edges add a touch of class to it for sure. The material used for construction is plastic, but the colour and matte graphite finish makes a lot of difference and imparts a better look and feel to the device.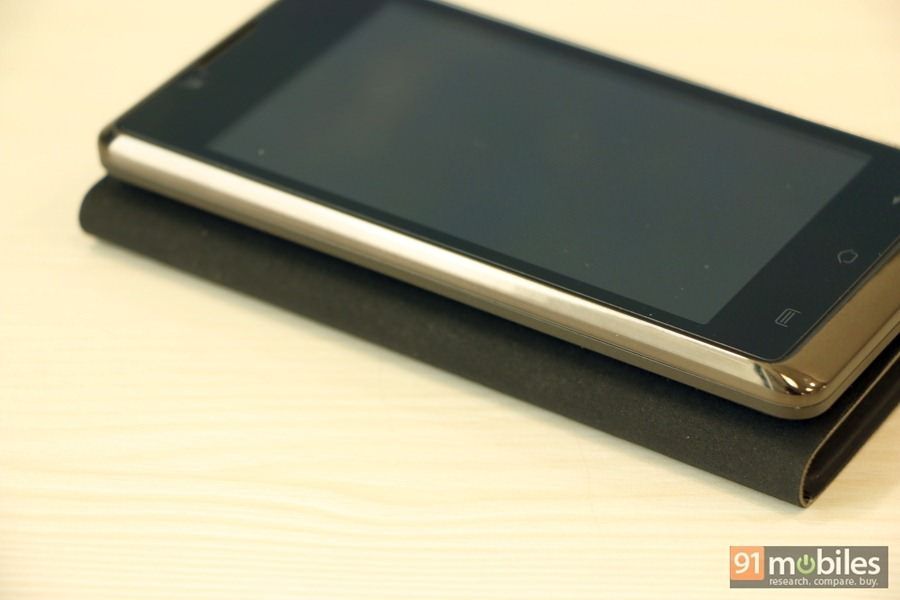 On the front, the device features a polymer-based touch surface that also doubles up as a protective layer. Below this, you have the standard Android keys, which are capacitive touchtype. The device has a compact size owing to its 4-inch display and thanks to that, the overall weight is low, which aids in better handing and easy utility as well.
The phone is designed with one-handed utility in mind and the design justifies it well. The power key placement, for instance, is on the right side of the device as opposed to on the top, unlike most other 4-inch devices. It allows for better control and the user need not use his or her other hand for turning the device on/off, while getting around the menus is easier too.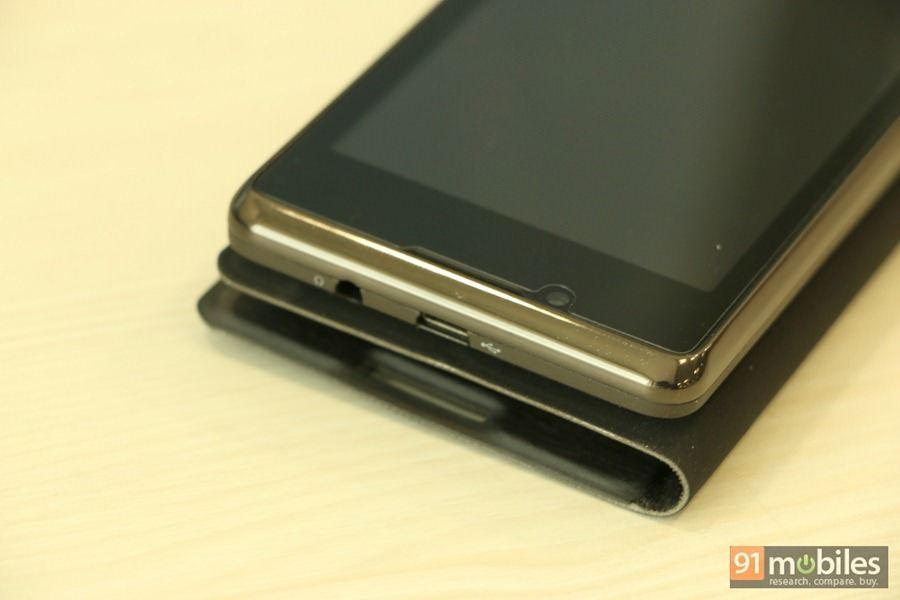 In the box, Lava has added a flip cover and a scratch protector as a bonus and these are welcome additions, especially considering the polymer based touch surface on the device.
Barebones Android and preloaded Adaptxt keyboard with support for 10 Indian languages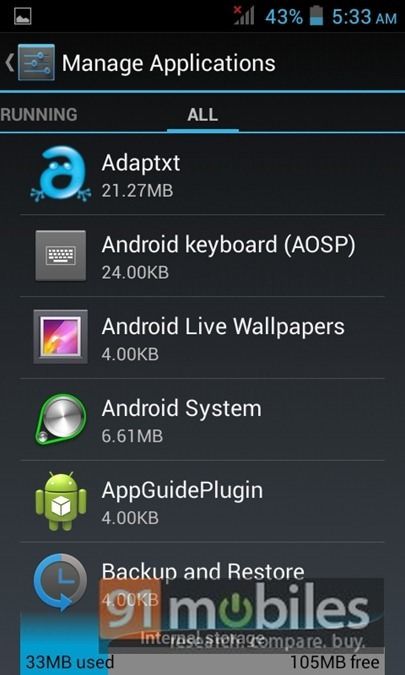 When it comes to the software bit, the Iris 402e has nothing really worth flaunting, except the inclusion of the Adaptxt keyboard, which brings support for in total of ten regional Indian languages including Hindi, Telugu, Marathi, and Gujarati. Apart from providing it in its application form, Lava has also taken its support in localising the device and users can also customise the system language to suit their needs and can choose from these ten different languages.
The device is powered by Android Jelly Bean 4.2 in its most generic form, and owing to the low application storage memory, there are hardly any other preloaded applications available. However, the operating system has been optimised well to run with the hardware and there is hardly any lag noticeable, while the application load times are reasonable too. The company has promised over-the-air upgrades for the device in the coming days and this has been clearly marked on the device as well. Exactly when the upgrades will be made available and how good they will be for the device will be known in the time to come.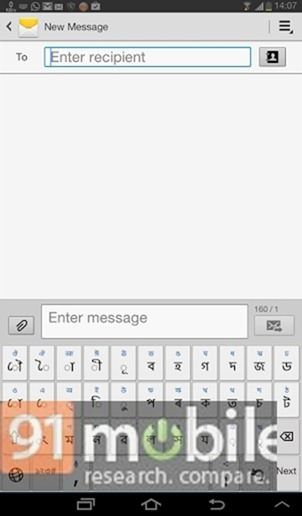 It's quite interesting to see how well Lava has leveraged Adaptxt's understanding of the Indian languages and has incorporated it in its device. As a popular third-party keyboard, Adaptxt brings support for over 100 regional languages and users can download these as per their needs. Along with the regular QWERTY/keypad based input system, Adaptxt also brings the ease of swipe-to-type functionality with its keyboard application and users are free to customise the keyboards on their device.
Overall, with the addition of local languages support, the company believes they have offered a solution for localising Android devices and it's a bold new step in this direction. The only thing that remains to be seen is how people respond to this.
Dual-SIM and multimedia ready as well
The Iris 402e is based on dual-SIM GSM+GSM connectivity and supports full-sized SIM cards, so it's great news for feature phone users who are upgrading and don't need to get hold of micro-SIMs.
In terms of local and wireless connectivity, users get Wi-Fi and Bluetooth as standard and there is a USB connection as well for wired data transfers and charging. For multimedia, the smartphone offers both audio and video players and FM radio as well, but the only thing missing is ample memory to save all the multimedia content. However, not to worry, as the handset supports expandable memory and you can add up to 32GB additional storage with the use of microSD cards.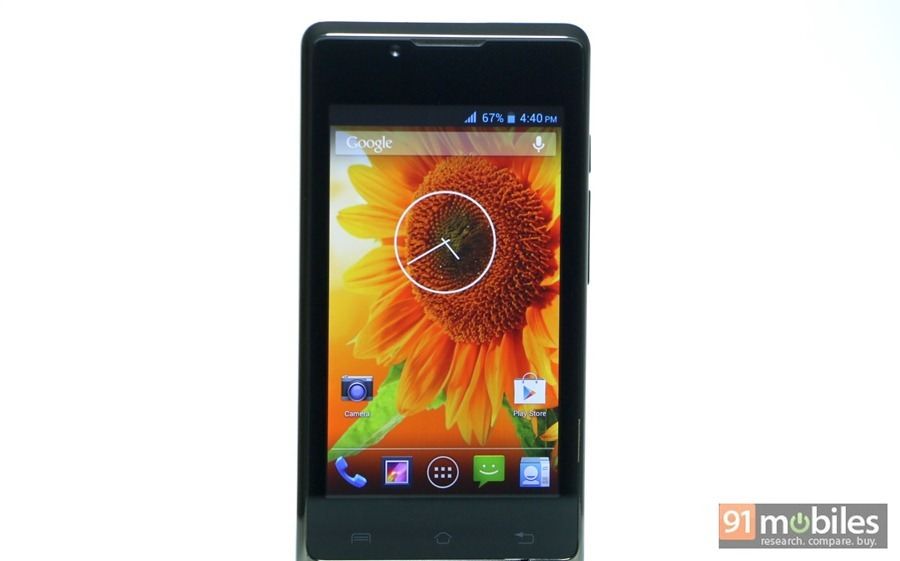 Heading the imagery department is a3-megapixel fixed-focus camera at the back of the device, which is supplemented by an LED flash for illumination during low light conditions. In the front, there is a VGA camera provided for selfies and video calling. The quality of images captured is good in bright light conditions, while in low light the quality goes down. The LED flash really offers a great deal of respite as compared to a camera with no flash at all.
Mated with speedy hardware, but low storage
The Iris 402e features a 4-inch, TFT-LCD display bearing 480 x 800 pixels resolution. Under the hood, the device gets its computing power from a MediaTek 1.3GHz dual-core processor. In addition, there is a paltry 512MB of RAM and 512MB of internal storage as well. Now for an Android device, even for an entry-level one, 512MB of storage is abysmally low and users will get just about 150MB of application storage space to use, which means that even despite reasonable hardware, the device is limited in terms of application installation and usage.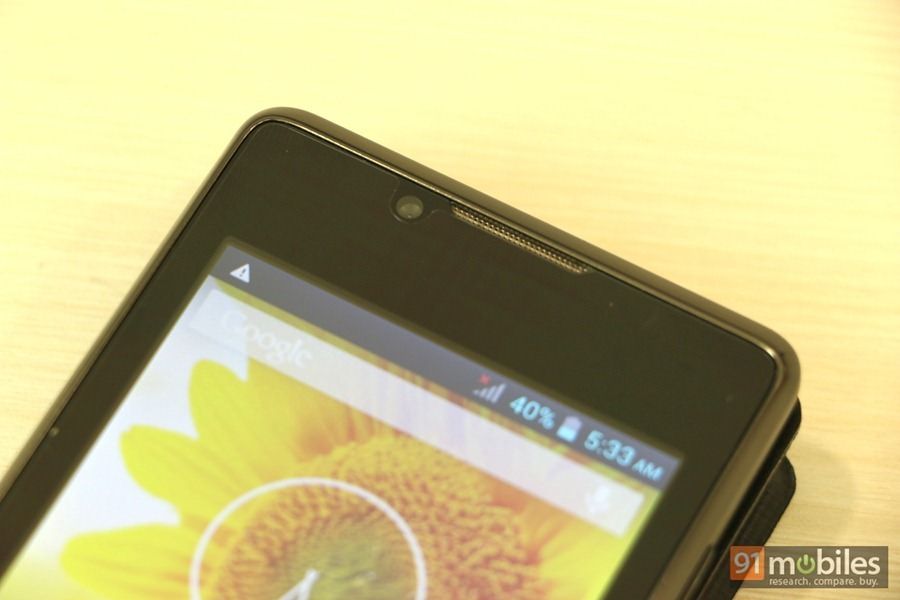 However, apps can be moved from the phone memory to the SD card and doing the same with the 402e, users could have more apps or some with bigger installation sizes on their devices.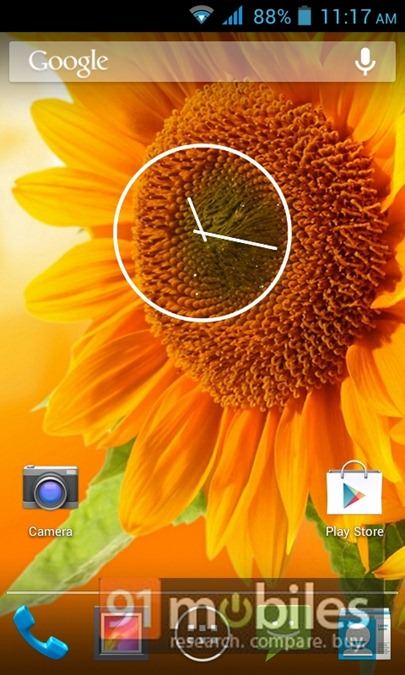 Budget smartphones are known for missing out on key sensors and the Iris 402e is no different. The device comes sans a proximity sensor, which is responsible for turning the screen off while making a call, and additionally, it misses the ambient light sensor for automatic control of screen brightness.
Verdict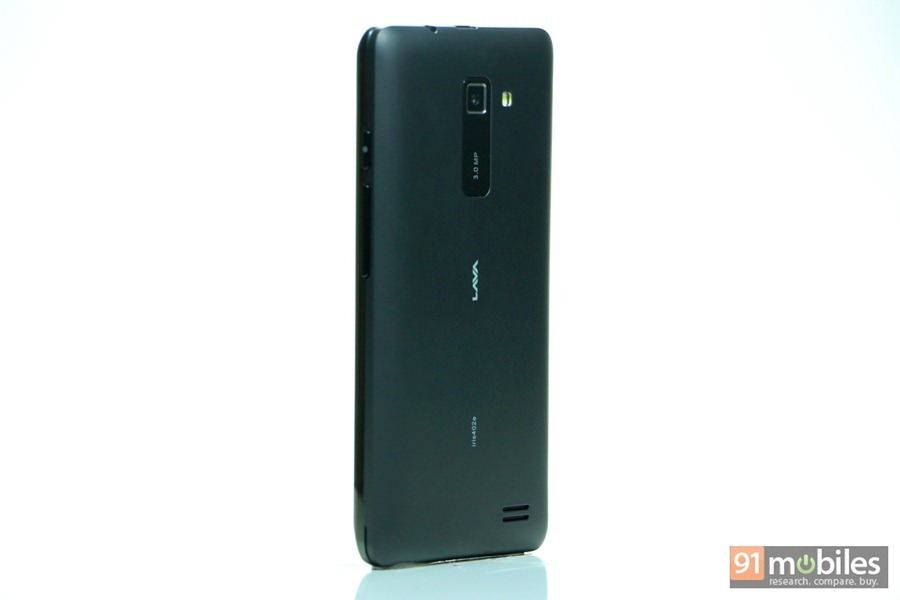 The Lava Iris 402e is a good budget Android smartphone that comes with its unique set of features to offer to the users. It has some seriously good looks to offer while the added support for local Indian languages and the preinstalled Adaptxt keyboard offers additional utility as well. The device is priced at Rs 4,999, but is currently selling at Rs 4,199, which makes it a compelling option for those who are upgrading from feature phones and want something feature-rich and not too expensive as well. So to sum it all up, the Iris 402e offers a good display, speedy hardware and a good camera for the price.It has all the features a user would seek in their first Android smartphone, but if you want to install a ton of apps and the device, then you might want to give this device a miss.
Price: Rs 4,199
Editor's rating: 7 / 10
Pros
Premium looks
Speedy hardware
Good display
Support for Indian languages
Cons