Are you acquainted with the fact that 80% of Traffic wrongdoings in Indian towns have their fine sums set to Rs.100 only? Well, we often finish up paying a lot more, thanks to our lack of knowledge.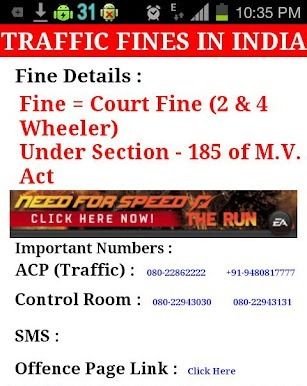 In actual fact, we are frequently reliant on the traffic cop's 'mood of the day' condition! Traffic Fines India is an Android application program formulated, which elucidates the traffic fines when you need it the most. The main characteristics of the application comprise:
Updated data on a variety of traffic crimes and fines linked with them.
Appropriate Motor Vehicle Act Sections are cited with each crime.
Data obtainable for Bangalore, Chennai, Delhi & Hyderabad
Offline Access – No web or 3G needed
Straightforward? Well, yes and prominently, a helpful application program – one of these apps, which you will repent not having when caught by a traffic cop.
The application program is built on MIT's AppInventor and is seeing ~500 downloads on a daily basis. In addition, this edition has the following enhancements:
Simple Layouts
Faster Loading
This new application is superb as it is the most simplest and dependable of all the apps that permit the user know the fine amount of the offense in just few clicks. Hope to see more upgrades on this app in the coming time.