Comparison between two phones or tablets is something which is read all over the globe on internet. A buyer always wants to grab the best device available in the market. But its high voltage competition between Gadget's manufacturers which do sometimes confuse the buyers between two different products offered by two different companies.
Now, if you are confused too about your next Smartphone, we are going to bring you a high voltage comparison test between Apple iPhone 5 and Samsung Galaxy S III mini.
We don't feel to mention that both the phones don't lie on same price range but their features somewhat bring them in the competition.
Fasten your seatbelts, hold your breath and lets start the Roller Coaster Comparison Test of both the Futuristic devices.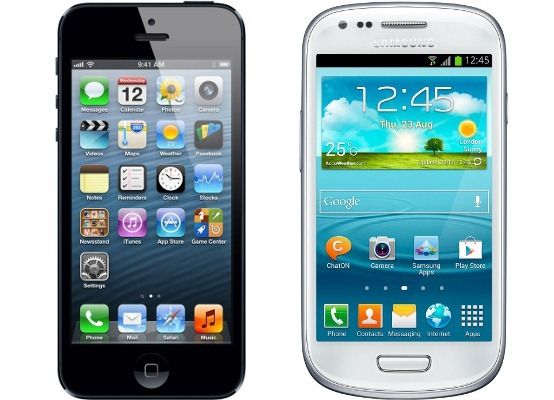 Introduction
Apple is a brand which needs no introduction. Apple iPhone 5 is the successor of iPhone 4S. This iPhone is the sixth generation of iPhone series and is the world's first device to use a Nano SIM.
Samsung is name, which defined Android Phones to the world with its galaxy series. Samsung S III mini is the successor to World's Best Selling Android Mobile Samsung Galaxy SIII. It consists a smaller screen as compared to Samsung S III.
Design
Apple iPhone is known for its beauty and sleek design. iPhone 5 possesses a nice aluminium slim body and is just 7.6mm thick and weighs 112g. Its appealing look, reflects the hard work of Apple's designers.
Samsung Galaxy SIII is packed under beautiful sleek and stylish body. The designer silver chrome on its edges appeals a lot. The Phone is just 8.6mm thick and weighs just 133g. The innovative design has attracted people from all over the globe.
Display
Apple iPhone 5 features a brilliant 4 inch, 1136 x 640 pixel, resolution at 326 ppi LED backlit IPS Touch Screen with Retina Display and supports 16 Million Colours. The screen carries Fingerprint-resistant oleophobic coating on it.
Samsung Galaxy S III mini sports 4.0 inches, 480 x 800 px WVGA Super AMOLED Capacitive Touchscreen which supports 16M Colors. It also Features Multi-Touch & Touch-Sensitive Controls.
Processor
Apple iPhone 5 is powered with 1.2GHz Quad Core A6 chip with 1GB RAM. This enables the device a faster processing experience meanwhile consuming less energy than the previous iPhone Versions.
Samsung Galaxy S III Mini is powered by 1GHz Dual Core processor, Mali-400MP GPU with 1GB Ram that ensures Smooth performance of this device.
Operating System
Apple iPhone 5 runs on World's Most Advanced operating system iOS 6, which supports one of the most advanced features.
Samsung Galaxy S III mini runs on Android 4.1 Jelly Bean OS, which also does support many futuristic applications.
Connectivity
Apple iPhone Connectivity features' list includes 4G LTE, HSPA, HSPA+, DC-HSDPA, Wi-Fi, Bluetooth 4.0, GPS & A-GPS.
Whereas Samsung Galaxy S III mini Connectivity options include 3G, Wi-Fi, DLNA, GPS, A-GPS, Bluetooth 4.0 & Micro USB.
Camera
Apple iPhone 5 packs an 8.0 MP Camera (3264×2448 Pixels) Rear Camera with Autofocus and LED Flash and a Front Camera of 1.2 MP (1280×1024 Pixels), which supports Video Calling over Wi-Fi and 3G/4G. This Camera will never let you miss your DigiCam on the go.
Samsung Galaxy S III mini packs a 5.0 MP (2592×1944 Pixels) Rear Camera with Autofocus and LED Flash and a Front 0.3 MP, CMOS VGA Camera (640×480 Pixels).
Result Time
Both Apple iPhone 5 and Samsung Galaxy S III are Powerful devices packed with great specifications around. Coming on Sales Reports, We can say that both the devices are touching new milestones around the globe.
Apple iPhone 5's Processor makes its working very smooth, whereas Samsung Galaxy S III mini's interface and finish is just superb.
Going by specifications, features, camera and 4G LTE connectivity makes Apple iPhone 5 a single step ahead but again at the offering price of Samsung Galaxy S III Mini, It is a worth buy.
You can save a big portion of your income by opting a Samsung Galaxy S III mini, of which features will never let you down. Going with a popular Quote "Money Saved is Money Earned"
But if Money hardly worries you, an Apple iPhone 5 is waiting for your hands in a nearby store.